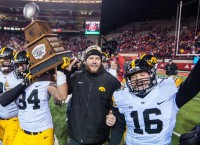 November 27 Running back Jordan Canzeri ran 17 times for 140 yards and two third-quarter touchdowns and No. 4 Iowa kept its hopes alive for the College Football Playoffs with a 28-20 victory FULL STORY
This is the big one! The greatest rivalry game in college football: The Iron Bowl! When one team has everything to gain and the other has nothing to lose, the conditions are in place for an upset of historic proportion.
New England is allowing an average of just 14 points in its last four contests. And, the Broncos' QB is once again on the shelf. Experts think New England will remain undefeated.
Lindy's
Picks To Click
College Football Overall 51%

NFL Overall 56%
See who on Lindy's team had the most accurate predictions for the Top 25 College and NFL Matchups against the spread.

SEE MORE
2015-2016 College Basketball Schedules
Each year, Lindy's makes every effort to provide our readers with accurate college basketball schedules. All schedules are tentative and subject to change; be sure to contact the individual schools to confirm days and times.

SCHEDULES
Your #1 Ticket Source
Get the seats you want for all your favorite sports and championship events!

Sports Tickets from TicketCity
College Football Tickets
NFL Tickets
MLB Tickets
NBA Tickets