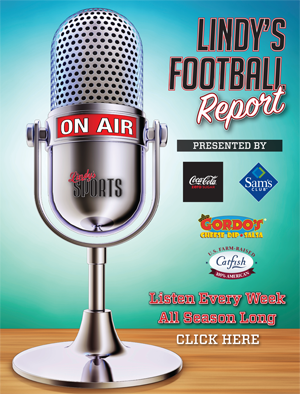 Lindy's Football Report if back for its sixth season.
Our 30-minute weekly radio show will continue through mid-December. Sponsored by Gordo's Cheese Dip, Powerade, Sam's Club, U.S. Farm-Raised Catfish, Coca-Cola and All-Spice Cafe and supported by our ticket partner, Ticket City, the show discusses games and topics impacting college football nationally with emphasis on the SEC. Co-hosts for the show are long-time sports journalists Graham Dunn and Michael Butler, joined each week by Lindy's writer/editor and columnist, Lyn Scarbrough.
Lindy's Football Report is heard on 81 stations in 12 Southeastern states. See below for days and times when the show can be heard in each market.
This week's show can heard by clicking HERE
2018 Affiliates 
| | | | | | | |
| --- | --- | --- | --- | --- | --- | --- |
| Confirmed Markets | Station | Frequency | | | Air Days | Air Times |
| Alexander City, AL | WKGA | 97.5 | | | Sat. | 9 a.m. |
| Auburn, AL | WQSI | 95.9 | | | Fri. | 6 p.m. |
| Demopolis/Linden, AL | WINL | 98.5 | | | Fri. | 10 p.m. |
| Dothan, AL | WOOF | 560/100.1 | | | Fri. | 6:30 p.m. |
| Florence, AL | WYTK | 93.9 | | | Thurs. | 6 p.m. |
| Foley, AL | WHEP | 1310 | | | Fri. | 6 p.m. |
| Headland, AL | WRMZ | 98.1 | | | Fri. | 6:30 p.m. |
| Heflin, AL | WPIL | 91.7 | | | Sat. | 6 a.m. |
| Huntsville, AL | WZZN | 97.7 | | | Fri. | 11:30 a.m. |
| Jackson, AL | WHOD | 94.1 | | | Fri. | 6:30 p.m. |
| Mobile, AL | WNSP | 105.5 | | | Sat. | 8:15 a.m. |
| Monroeville, AL | WMFC | 99.3/1360 | | | Thurs. | 6 p.m. |
| Montgomery/Selma, AL | WDXX | 100.1 | | | Fri. | 10 p.m. |
| Red Bay, AL/Corinth, MS | WRMG | 1430/97.9 | | | Thurs.  Thurs.   Fri.       Fri.        Sat. | 4:30 p.m.    10 p.m.        6 a.m.     5:30 p.m.     9 a.m. |
| Scottsboro, AL | WWIC | 1050 | | | Sat. | 9:30 a.m. |
| Shelby County, AL | WAPH | 99.9 | | | Fri. | 6 p.m. |
| Tallahassee/Wetumpka, AL | WTLS | 1300/106.5 | | | Thurs. | 6 p.m. |
| Ozark/Troy/Enterprise, AL | WOAB | 104.9 | | | Sat. | 8 p.m. |
| Tuscaloosa/Marion, AL | WTID | 102.9 | | | Thurs. | 6 p.m. |
| Arkadelphia, AR | KDEL | 100.9 | | | Sat. | 9 a.m. |
| Arkadelphia, AR | KVRC | 1240 | | | Sat. | 9 a.m. |
| Caddo Valley/Hot Springs, AR | KWPS | 99.7 | | | Sat. | 9 a.m. |
| Conway, AR | KASR | 92.7 | | | Fri. | 5 p.m. |
| Fayetteville/Mountain Home/Harrison, AR | KBCN | 104.3 | | | Sat. | Immediately before Razorback football |
| Ft. Smith, AR | KERX | 95.3 | | | Sat. | Immediately before Razorback football |
| Helena, AR | KFFA | 1360/103.1 | | | Sat. | 11 a.m. |
| Little Rock/Benton, AR | KAFN | 690 | | | Sat. | 9 a.m. |
| Malvern, AR | KZYP | 1310 | | | Sat. | 9 a.m. |
| Mena/Hot Springs, AR | KTTG | 96.3 | | | Sat. | Immediately before Razorback football |
| Viola/Mountain Home, AR | KCMC | 94.3 | | | Sat. | 8 a.m. |
| DeFuniak Springs/Panhandle, FL | WZEP | 1460 | | | Thurs. | 5:34 p.m. |
| Jacksonville, FL | WFXJ | 930 | | | Fri. | 6:30 p.m. |
| Orlando, FL | WYGM | 740 | | | Fri. | 6 p.m. |
| Tampa, FL | WDAE | 620 | | | Sat. | 7 a.m. |
| Athens/Bostwick, GA | WMOQ | 92.3 | | | Sat. | 8 a.m. |
| Bainbridge, GA | WMGR | 930 | | | Sat. | 7:30 a.m. |
| Cairo/Bainbridge, GA | WBGE | 101.9 | | | Sat. | 7:30 a.m. |
| Camilla/Pelham, GA | WQLI | 92.3 | | | Sat. | 7:30 a.m. |
| Cornelia, GA | WCON | 99.3 | | | Sat. | 12:15 a.m. |
| Donalsonville, GA | WGMK | 106.3 | | | Sat. | 7:30 a.m. |
| Donalsonville, GA | WSEM | 1500 | | | Sat. | 7:30 a.m. |
| Jesup, GA | WLOP | 1370 | | | Sat. | 10 a.m. |
| Ringgold, GA | WAAK | 94.7 | | | Fri. | 6:30 p.m. |
| Benton, KY | WCBL | 1290 | | | Fri. | 10:30 p.m. |
| Danville, KY | WKYB | 107.5 | | | Sat. | 10 a.m. |
| Lebanon, KY | WLSK | 100.9 | | | Sat. | 10 a.m. |
| Lexington, KY | WVLK | 590 | | | Sat. | 7:30 a.m. |
| Manchester, KY | WTBK | 105.7 | | | Sat. | 10 a.m. |
| Baton Rouge, LA | WNXX | 104.5 | | | Sat. | 7 p.m. |
| Lafayette, LA | WLBW | 103.7 | | | Sat. | 8:30 p.m. |
| Ruston/Monroe, LA | KNBB | 97.7 | | | Fri. | 6 p.m. |
| New Orleans, LA | WODT | 1280 | | | Sat. | 8 a.m. |
| Farmington/Festus, MO | KREI | 800 | | | Fri. | 5:30 p.m. |
| Moberly/Columbia, MO | KWIX | 1230 | | | Fri. | 6:30 p.m. |
| St. Louis, MO | KTRS | 550 | | | Thurs. | 7:30 p.m. |
| Booneville, MS | WBIP | 99.7/1400 | | | Thurs    Fri.      Sat. | 10 p.m.          10 p.m.        7:30 a.m. |
| Centreville, MS | WKJN | 104.9 | | | Sat. | 8 a.m. |
| McComb, MS | WAZA | 107.1 | | | Fri. | 6 p.m. |
| Greenville, MS | WDMS | 100.7 | | | Sat. | 11 a.m. |
| Greenville, MS | WGVM | 1260 | | | Fri. | 7 a.m. |
| Natchez, MS/Ferriday, LA | KWTG | 104.7 | | | Sat. | 7 a.m. |
| Picayune, MS | WRJW | 1320 | | | Fri. |    5 p.m. |
| Starkville/Louisville, MS | WLSM | 107.7 | | | Fri.     Sat. | 5 p.m.      10 a.m. |
| Tupelo/Saltillo, MS | WWMR | 102.9 | | | Thurs    Fri.      Sat. | 10 p.m.          10 p.m.        7:30 a.m. |
| Tylertown, MS | WFCG | 107.3 | | | Sat. | 8 a.m. |
| Vicksburg, MS | WVBG | 105.5 | | | Fri. | 6 p.m. |
| Yazoo City, MS | WBYP | 107.1 | | | Sat. | 8 a.m. |
| Baker City, OR | KBKR | 107.3 | | | Thurs.      Fri. | 5:30 p.m.           4:30 p.m. |
| La Grande, OR | KLBM | 1450 | | | Thurs.      Fri. | 5:30 p.m.           4:30 p.m. |
| Columbia, SC | WNKT | 107.5 | | | Sat. | 5 hours before Gamecock football |
| Greenwood, SC | WZSN | 103.5 | | | Fri. | 6:30 p.m. |
| Greenville/Spartanburg, SC | WCSB | 107.7 | | | Fri. | 6 p.m. |
| Ardmore, TN | WSLV | 1110 | | | Fri. | 6:15 p.m. |
| Chattanooga, TN | WPLZ | 92.7 | | | | |
| Milan, TN | WTKB | 93.7 | | | Fri. | 5:30 p.m. |
| Nashville/Franklin, TN | WAKM | 950 | | | Fri. | 5:30 p.m. |
| Paris/Camden, TN | WRJB | 95.9 | | | Thurs. | 6 p.m. |
| Athens, TX | KLVQ | 1410 | | | Sat | 8 a.m. |
| Graham, TX | KWKQ | 94.7 | | | Sat. | 8 a.m. |
| Houston, TX | KBME | 790 | | | Wed. | 8 p.m. |
| Malakoff, TX | KCKL | 95.9 | | | Sat. | 10 a.m. |