Tailgating & Homegating
for Your College Gameday
"In the parking lot, on the road, on the patio, and in the living room!"
Gameday Food & Beverage
Sponsored By The Award Winning Hot Sauce


Visit

 

All Spice Café

on Twitter

@AllSpiceCafe
WEEK FOUR – Sept. 22
Gridiron Chef's Spicy Honey Lime Marinated Shrimp
INGREDIENTS
12 large shrimp (21/25 count), peeled and deveined

1 medium green onion, finely diced (reserve 1/2 to finish dish)

Juice of 2 limes

2 Tbsp fresh cilantro, chopped

1 Tbsp All Spice Cafe Cayenne Habanero Sauce

2 Tbsp Honey 

2 tsp Thai chili flakes

Salt and pepper to taste

2 Tbsp peanut oil (15ml)

2 Tbsp vegetable/canola oil (15ml) 

1 FRENCH STICK or Crusty Loaf of Bread
DIRECTIONS:
Clean the shrimp (shell and spine removed if bought shell-on)

Place the cleaned shrimp in a large bowl. 

In a separate bowl mix shallots, lime juice, cilantro, honey, All Spice Cafe hotsauce

and peanut oil, mix well

Combine both the shrimp and the marinade in a ZIPLOC bag.

Marinate for 45 min to 1 hour

Remove from fridge, pour the mixture into a bowl.

Remove shrimp to a plate.

Boil the marinade in small saucepan. Once to a boil, reduce to low for 10 min. Then remove.

Let cool 10 minutes.

Season the shrimp with a small amount of salt and pepper.

In a cast iron pan, heat the oil on medium heat.

Add the shrimp, cook 45 sec per side.

The add the boiled marinade to the pan and cook 2 minutes.

Best served for tailgating in a small tinfoil panGarnish with reaining green onions

Garnish with remaining green onions

Serve with crusty bread for dipping
Gridiron Chef's Coca-Cola Brined
Sweet'n'Spicy Whole Chicken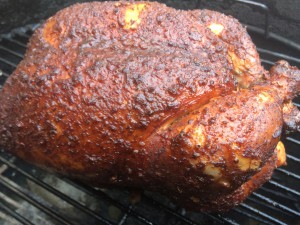 Ingredients
2 cups Coke

3/4 cup dark brown. sugar

2/3 cup tomato paste

5 garlic cloves, crushed

1/2 Cup Chipotle Garlic All Spice Cafe Hot Sauce

1 tablespoon paprika

1 teaspoon salt and pepper
Instructions:
Combine Coke, brown sugar, tomato paste, garlic, hot sauce, paprika, and salt in a medium pot over medium heat.

Bring to a boil, then reduce to low.

Let simmer 15 minutes, stirring continually
COKE MARINADE 
Ingredients:
2 cups (16-oz) Coke

1/3 cup soy sauce

2 Tbsp finely chopped garlic

1/2 cup brown sugar

1 Tbsp balsamic vinegar

1 Tbsp lime juice

1 Lg. Roaster Chicken
Instructions:
Mix all ingredients in large bowl.

Place chicken in a large gallon sized Ziploc bag.

Pour marinade over the chicken. Burp the bag of excess air. Put bag into a large bowl or container (safe from spills)

Marinate in fridge overnight. Next morning, shake up and turn the bag for another 4-6 hours.

Remove chicken from marinade, pat down the chicken. Discard the marinade.

Grill – off heat (use hardwood charcoal), or roast – either at 350 degrees.

When the bird reaches 150 degree internal temperature, baste it with the sauce.

Remove the bird at 165 degree internal temperature, and wrap in tinfoil.

Let rest for 20 minutes.

Disassemble the bird to your liking, and use remaining sauce to your liking.
WEEK THREE – Sept. 15

Gridiron Chef's  Blacktop Marinated Flank
Gridiron Chef Note: This marinated steak has won me numerous awards, and was the featured recipe at the College Football Hall of Fame Induction Dinner. Simply….winner, winner, marinated steak dinner!
Per Piece of Flank – approx. 1.5 to 2 Lbs. – serves 4-5
Preparation Day Before: 
With a sharp knife, score each side of flank 1cm deep
In a Ziploc freezer bag, add:      ​
6 oz. of Soy Sauce     ​
6 oz. of Canadian/California Sherry (not Cooking Sherry) ​      ​
6 chopped cloves of garlic ​      ​
Roll meat and add to bag of marinade; Burp air out, then seal bag tight      ​
Refrigerate overnight; Flip bag in the morning
Bring to room temp 1/2 hour before cooking
Serving Day:
Heat your Grill to 400 degrees
Remove and completely drain meat from bag, to a clean cutting board
Pour marinade into a small pot and bring to a boil, then reduce to medium for 5 minutes
Grill flank to medium rare (135-140 F degrees maximum, flipping once only)
While grilling, brush flank with small portions of boiled marinade
When cooked to temperature, take meat from grill to a cutting board, cover with tin foil and let rest for 5 minutes
Cut into thin slices against the grain as shown above, then drizzle marinade overtop
*Spice the marinade up by cutting up some chopped portobello mushrooms and throwing them in when boiling.
All Spice Cafe Chipotle Cheddar Twice Baked Potatoes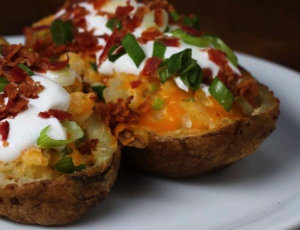 Gridiron Chef Note: This is a great right of center baked potato recipe. The Chipotle Garlic Sauce combined with some old cheddar is the star of the show. Hint: Bake, cut and gut potatoes in advance, refill potatoes and reheat on site at the stadium.
These potatoes are the new favorite, and most requested item at All Spice Cafe events.
Ingredients:
● 4 large russet potatoes
● 2 tbsp diced chives
● 2 tbsp diced green onions
● 1/2 stick butter
● 1/4 – 1/2 cup of milk
● 1 – 8 oz package of shredded cheddar cheese
● 2 tbsp All Spice Cafe Chipotle Garlic Hot Sauce
● salt and pepper to taste (Idea: add chopped bacon as an additional topping)
Instructions:
● Bake potatoes, cut in half lengthwise.
● Scoop potatoes into a mixing bowl.
● Add milk, butter, Chipotle Garlic Sauce, salt and pepper.
● Mash potatoes.
● Add green onions, chives and cheddar cheese.
● Mix well and stiff back into the potato skin halves.
● Finish cooking on a couple of shelves below the broiler, or on a closed high heat grill (off heat), until the tops are golden brown.
WEEK TWO – Sept. 8
"Bourbonized" 3 Meat Baked Beans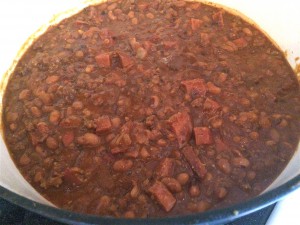 Gridiron Chef Note: Bourbon combined with bacon and brown sugar can be added to shoe leather and it'd taste brilliant. With these beans, a little bit of  heaven. This is an easy but hearty gameday staple
Ingredients:
*½  pound Ground Beef, cooked (do not drain)
*½  pound Bacon, cooked (cut to small chunks)
*½  pound Kielbasa (cut into small chunks)
*½  Cup  Chopped Finely Spanish Onion
*1/2 Cup Bourbon (Jim, Jack, Wild Turkey…)
*40 oz.  Beans (I like mix of traditional Pork'n'Beans, and Black-Eyed Peas)
*3  Tbsp Molasses
*1/3 Cup Ketchup (If you can find a chipotle ketchup, do so)
*½  Cup Dk. Brown Sugar
*2  Tbsp  Worcestershire Sauce
*2  Tbsp Whole Grain Mustard
*1/2 Cup Bourbon (Jim, Wild Turkey…) (adjust condiments and sugar to taste)
Instructions: 
On Medium Heat, in a pan…
​Cook Ground Beef…remove to a bowl
​Pan Fry Bacon…remove to a paper towel (reserve fat)
On Medium Heat, in a Dutch Oven…
​Add bacon fat
​Add onion, and fry in bacon fat until translucent and light brown
Add bourbon, and reduce by half    ​
Add Kielbasa, reserved bacon, reserved ground beef and stir rigorously ·​
​Add remaining ingredients (Molasses, Ketchup, Worcestershire, Grain Mustard, Brown Sugar     ​
Mix well     ​
Remain cooking on a stovetop, or grill for 30 minutes, stirring every 5 minutes
WEEK TWO 
Gridiron Chef's Chilli, Cheese and Salsa 
– ​"World's Easiest Game day Appetizer"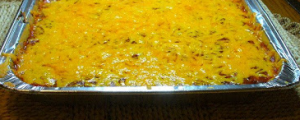 Gridiron Chef Note: This world's easiest gameday app is dedicated to all football programs who commence their season with one of two cakewalk beat downs. Easy games deserve easy apps.
Ingredients:
Chili – 4 cans of meat/beans (prefer 2 cans of meat chili and 2 of beans chili)
Cream cheese – 500 Grams (2 bricks/2 tubs)
Salsa – 1 small jar (medium heat)
Chili powder – 1 TBSP
2 Tbsp – All Spice Cafe Cayenne Habanero Sauce
Salt and pepper
Cheese – 1 medium bag of Tex Mex / Monterey jack
Soft / crispy tortillas – serve in warm tortillas or use tortilla scoops to dip
1 medium tinfoil pan, aluminum foil
Instructions:
Cut Cream Cheese into small cubes, & microwave in a bowl to soften ( 45 sec.)
In a large bowl, mix chilli, cream cheese, salsa and spices and All Spice Sauce together until consistent throughout
Sprinkle Tex-Mex on top of mixture
Lightly cover with tin foil
@ 350 degrees, heat on a grill – off-heat, or oven approx. 20 minutes
Remove foil
Serve hot with soft and or crispy tortillas
Hint: Cut some pita bread pieces into medium size wedges, crisp up in tin foil on the grill