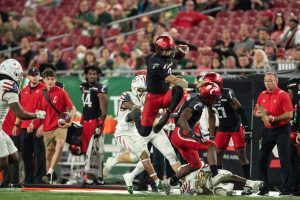 TAMPA, Fla. – As has been a reoccurring theme with No. 2 Cincinnati, the Bearcats have had a hard time getting started against some of the lesser competition on the schedule. That happened again and we saw this again in their 45-28 win over South Florida in Raymond James Stadium.
This was a 7-7 game after the first quarter after USF's Christian Williams returned a Desmond Ridder interception 61 yards to set up a one-yard TD run by Colorado transfer Jaren Mangum.
The Bearcats did score on four straight possessions as Ridder scored a run from 13 yards out, then threw a TD pass to Tre Tucker after Ryan Montgomery had scored on a 12-yard run.
The start was slow, but Cincinnati's offense harvested points in the second quarter.
However, it has not only been the slow starts, but the Bearcats holding leads and putting teams away.
They scored on their first drive of the second half when Ridder hit tight end Josh Whyle with a 21-yard touchdown pass with 11:48 remaining in the third quarter to go up, 31-7.
At that point, it looked like Cincinnati might roll up a big win, quiet the naysayers and get the attention of the CFP committee, which seems once again bent on making sure some combination of "TV teams" make it to college football's mythical national championship field to cash in on the deep TV coffers.
Check the fact that Cincinnati started out ranked sixth in the CFP poll, which should elicit questions about the credibility of the committee and this entire archaic playoff system, as Alabama and Ohio State, each already with once loss, eclipsed the Bearcats.
Don't give me the garbage about scheduling. Cincinnati plays who is in front of it and they win, but that's apparently not enough when you are a Group of Five challenger, as we have seen in the past.
A 13-0 record, if you're are not from one of the chosen Power 5 conferences, has proven to mean nothing. This has been shown over and over as UCF in 2017 and 2018 had a team that could have battled toe-to-toe with the TV Six (Alabama, Clemson, Ohio State, Oklahoma, Georgia and Notre Dame) and was never given an opportunity because of strength of schedule as the suits and CFP committee members espoused.
This is where we get to Cincinnati and Desmond Ridder, who is one of the most consistent and efficient quarterbacks in college football. And, and the Bearcats have something most of those other Group of Five members have not had – an effective, sometimes dominant defense.
With that in mind, coach Luke Fickell and his staff have to be held accountable to the point where they get the lead on Navy, Tulsa, Tulane and USF and start dropping in coverage on defense rather than keeping the gas turned up so they can do what is needed and expected.
Fickell says that the Bearcats are chasing wins and not points, but he had better collect those points like they were baseballs cards of the Big Red Machine in the 1970s. That's because the Group of Five has to somehow leave an extra impression on the committee, which has never been impressed since the system is once again all about money and TV ratings.
The Bulls were the latest proof of this after Cincinnati grabbed that 31-7 lead. Bulls running back Jaren Magnum capped a 12-play, 75-yard drive with a one-yard touchdown run as Cincinnati allowed a Bulls team that had been allowed only 64 yards on 28 plays going into that drive to revive itself.
Then after Cincinnati went three-and out, USF quarterback Timmy McClain hit Jimmy Horn, Jr. on a crossing pattern in the middle of the field after a Bearcats defensive drop. Horn turned it into a foot race for an 80-yard scoring play as the Bulls had new life at 31-21 with 3:48 left in the third quarter.
Fortunate for the Bearcats was a 55-yard touchdown run by Ryan Montgomery with 1:22 remaining that gave them the 45-28 win.
Again, the CFP committee needs resounding wins by Group of Five teams against inferior competition. It's not ideal when you're trying to teach sportsmanship, but all of that is pretty much gone out the door when the suits arrange a four-team playoff that is inherently not inclusive of every FBS conference to begin with.
Fickell and his staff should have given the Bearcats a continuous stream of knockout punches over these last four games. But, that hasn't happened until way later in these games, which has aroused questions about the viability of the Bearcats.
So Cincinnati residents, don't get comfortable in the Skyline Chili restaurants, in those bars where Hudepohl flows, or in the Cincinnati Zoo where Lucille the baby bearcat lives to get out and come to the Stadium on game day.
This is all about impressions and the Bearcats and their wishes to play conservative with leads have given this phony college football system and its gatekeepers reason not to look fondly toward southwest Ohio.
This is one of the many problems with the sport and it will not be fixed until there is an expanded playoff which encompasses diversity and inclusion of its teams.