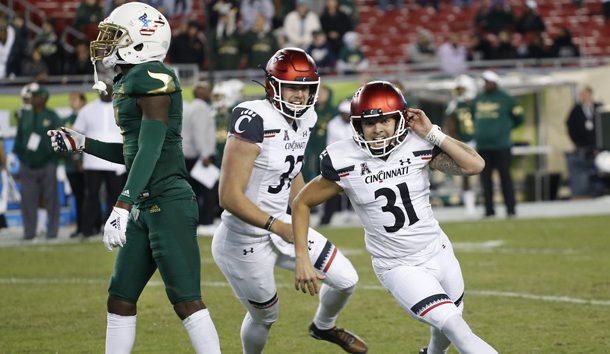 TAMPA — It was the toughest of ways to lose for the South Florida Bulls on Saturday night when they dropped a 20-17 decision to No. 17 Cincinnati. They left many opportunities on their field and with consistency in execution in any phase of the game, USF might have pulled an upset and been just one win away from bowl eligibility, an idea which seems fleeting after the loss.
The Bearcats were outplayed most of the game, but walked away a winner when Sam Crosa made a walk-off 37-yard field goal that allowed Cincinnati to move to 9-1 and keep alive their hopes for a New Year's Day Bowl bid as the Group of Five representative.
For the Bulls to only have a 10-0 lead at halftime after piling up 214 total yards to only 49 for the Bearcats was a foreshadowing of what would happen later in the game.
That idea was even more prevalent when Cincinnati took its first possession and marched 56 yards on 10 plays as Gerrid Doaks scored from one yard out to cut the Bulls' lead to 10-7.
"You go out there and play and had opportunities and didn't take advantage of them," said Bulls coach Charlie Strong afterward. "Look at the first drive – we are driving the ball there and failed to score and defensively we played well up there until before half and gave up the drive where they score."
That scoring drive signaled to Cincinnati that if it stayed the course, the Bearcats could sneak out of town with a win.
From there, Cincinnati just put the ball on the ground and used a rushing attack that churned out 200 yards on 48 carries.
Crosa made a 44-yard field goal and then Michael Warren, Cincinnati's leading rusher and biggest offensive threat, scored from two yards out to cap a 65-yard, 5-play drive which saw the Bearcats tie the game at 17-17 with 14:26 to play.
Despite all of the missed offensive opportunities, the lack of a kicking game became the most obvious issue on Saturday night.
Spencer Shrader missed four field goals as any one of those could have changed the complexion of the game. He missed from 50 and 54 yards in the first half, then from 43 and 33 in the second half.
The 33-yard miss was extremely disturbing as it would have broken the 17-17 tie, but it bounced off the right goal post. The kicking game has been a major problem all season as the Bulls' longest field goal is from only 34 yards away and USF has connected on only 6-of-12 field goal opportunities.
It is very frustrating when you are at home and have a chance to go out and beat a very good opponent," said Strong. "You have to execute and we didn't take advantage of it."
McCloud finished the night throwing for a career high 267 yards, while being under duress most of the evening.
"We knew when we got in third down we would have to stop their outside rushers," said Strong. "We knew those guys were going to come and they beat us outside and up and under. We tried to chip them some and they still got back there."
The Bulls host Memphis on Saturday at 4 p.m. with a trip to UCF on the following week. At 4-6, the Bulls will be a decisive underdog in each as Strong says the motivation is to pull wins and get back into a bowl game.