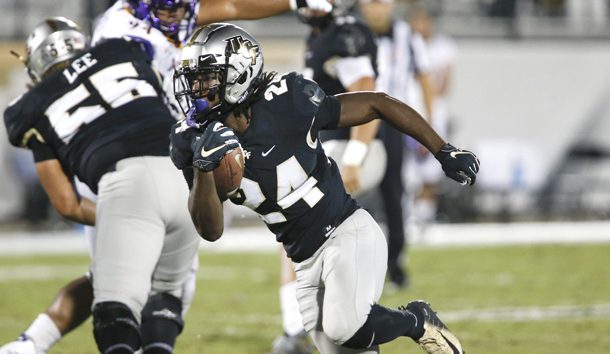 ORLANDO — Writing this from the press box, looking down from the press box of the UCF-East Carolina game in Orlando. By the time the Knights had dashed to a 35-3 lead over the Pirates midway through the second quarter, the idea of being uninspired showed up in so many ways.
Here is a Knights team with a deep fleet of receivers and a trendy freshman quarterback in Dillon Gabriel who had predictably torched ECU as they metaphorically pulled the victory cigar out of the humidor.
The Knights had blown clouds into the air so thick that the only thing they couldn't mask was the inequity involved in the Bowl Championship Series and the hidden agendas of the NCAA which forever clouds college athletics and leaves legitimacy as triple question marks at the end of the inquiry.
UCF is four points away from being perfect once again with a 35-34 loss to Pitt, a team that is nowhere near their level, and a loss at Cincinnati to the Bearcats who may not lose again this season. Disgustingly, the AAC champion has no shot to win anything except a consolation prize to go to a meaningless New Year's Six bowl and finish maybe as high as No. 5 in the nation.
So, what is the difference in the Knights going undefeated and beating Auburn in a New Year's Six bowl or losing to LSU by eight in the same and then finishing 10-2 and not in the AAC Championship Game?
Literally nothing except the appearance in the Cure Bowl, the Gasparilla Bowl or something in which they are totally uninterested … and rightfully so.
It has been too long now that the old grey-haired men in an equally smoke-filled room have been allowed to dictate how a national champion is determined. They throw all the smoke and mirrors at us through numbers and analytics and then pick from the same five teams – Alabama, Clemson, Ohio State, Oklahoma and … Georgia – every season.
That collection of people still living in the 1950s has tied down the greatness of the AAC or even the Pac-12 and they refuse to look at the big picture and the periphery.
Note to those in that smoky room (it's so thick, it's making me cough) – Kirby Smart is still the coach at Georgia. The same guy who blew two potential championship victories over Alabama with his stodgy, stubborn defensive min set which Jalen Hurts and Tua Tagovialoa put on ice in the fourth quarter of an SEC Championship Game and BCS National Championship Game.
Smart put the narrow mindset of those smoky-minded characters in a scramble last week as the Bulldogs lost to South Carolina at home.
Hey Kirby, how good does Justin Fields look now? Open your mind, change up your offense to fit Fields, jettison Jake Fromm instead. That's called giving yourself the best chance to win.
Enough on Kirby, although that mode of thinking equates to those cartoonish football dictators inundated with smoke. He's a defensive coordinator masquerading as a head coach and has done nothing to justify the disgusting way Mark Richt was treated at the end of his Georgia tenure.
Sorry for the digression, but Smart's lack of imagination and the cigar smoke infested room is synonymous.
How can there be a true national champion when you have 10 BCS conferences and only four slots? There can't.
What needs to happen is to erase about half of these meaningless bowl matchups and use the bowl system for a 16-team national championship playoff where you have the winner of each conference title game plus six wild card teams. This would create tons of attention, not to mention billions more dollars that the BCS and NCAA can earn from for the unpaid labor known as college athletes. It would also get rid of some of these Marshall vs. Louisiana matchups where generally nobody attends, nobody watches and nobody cares.
For a sport as proud of its history as college football to have the stodginess of Kirby Smart, the electors in the aforementioned smoke-filled room, and the unscrupulousness of the NCAA is totally unnecessary.
Right now there are only three postseason games that really matter after the conference championship games.
You don't believe me? Check the attendance, TV ratings and the number of NFL-bound players who sit out because an injury in a meaningless scrimmage could cost them potentially millions of dollars.
At that point, college basketball is also in full swing and is a sport that, if you are honest, dwarfs college football because of the number of key quality matchups in pre-conference and conference play. Almost every night there are Sweet 16-esque games which lend themselves to good television and the use of your remote … and yes, there is equal representation for even the SWAC as 68 of 353 teams get to play for a national championship.
Finally, back to UCF and East Carolina.
It's late in the fourth quarter of this game now (UCF leads 41-28) with equally uninspired UCF fan base that never really showed for their Homecoming win with many others leaving to party at halftime. The game has been going on for four hours and I have an over two-hour drive from the eastern suburbs of Orlando back to Tampa.
So, good night.  And by the way … college basketball starts for real two weeks from Tuesday.