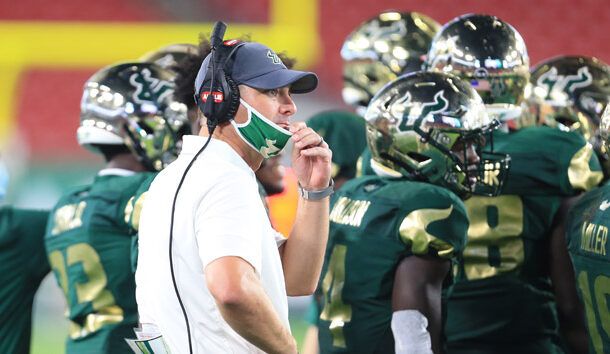 Omarion Dollison may have accomplished a first in college football history on Saturday night for the USF Bulls in its 27-6 win over The Citadel at Raymond James Stadium in Tampa, Fla.
Dollison, a 5-9 freshman wide receiver from Columbia, S.C., scored the first touchdown of his Bulls career on literally a ZERO-yard punt return.
Bulldogs punter Matt Campbell mishandled a snap in his own end zone midway through the second quarter and he booted the ball off of his right heel as he was on the run.  It landed in the waiting hands of Dollison who caught it just inside the goal line.
It gave USF a 13-6 lead with seven minutes remaining and the helped the Bulls give Jeff Scott his first win in his initial game as the Bulls head coach.
The first Bulls' touchdown came on a 10-yard scoring pass from quarterback Jordan McCloud to graduate student Devontre Odoms-Dukes on a corner route on the right side of the end zone with 3:18 remaining in the first quarter.
Odoms-Dukes stretched upward using his size advantage over Citadel corner Destin Mack. The score capped an 8-play, 62-yard drive on USF's second possession of the game.
Scott used Tampa native Noah Johnson at quarterback midway through the second quarter and he immediately contributed.
The graduate transfer from Alcorn State faked a dive into the middle of the field and ran nine yards off of the left end for the Bulls' third touchdown of the night and a 20-6 lead with 2:41 left in the first half.
Johnson, who carried the ball seven times for 49 yards in Saturday night's win, led the SWAC in 2018 by completing 63.4 percent of his passes and throwing for 1,944 yard and 15 touchdowns. He also had a 137.7 quarterback rating a year ago.
He drew the start at the beginning of the second half as he and incumbent Jordan McCloud shared the quarterbacking duties for the evening. McCloud completed 11-of-16 passes for 68 yards.
The Citadel's triple-option is a mystifying offense in today's era of passing when teams pass 50 times in one game and put up pinball type numbers on the scoreboard which equate to a high number from quarterbacks and wide receivers.
The Bulldogs are known for these types of numbers in the running game after rushing for 268 yards per game a year ago, which was sixth in FCS competition.
However, on Saturday night it was the Bulls' ground attack that amassed the huge yardage as they put up 302 yards with Kelly Johnson rushing for 87 yards on eight carries, while adding a fourth quarter touchdown.
The game was played without fans due to the continuing adaptations due to the Covid-19 pandemic.