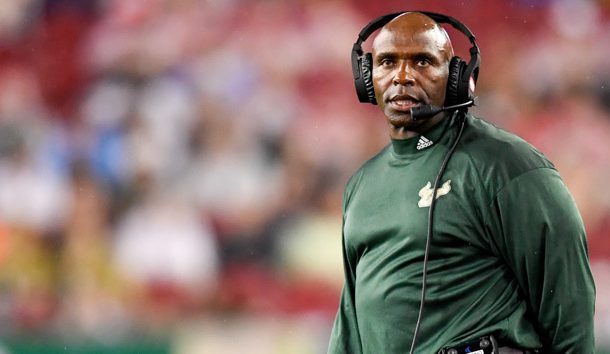 TAMPA — Somewhere between the South Florida Bulls' 7-0 start of a year ago and their 57-36 loss at Houston on Oct. 27, 2018, the program left the universe of college football and has never been heard from since.
Never mind the throwaway win over FCS member South Carolina State two weeks ago where at least for one night, it was smoke and mirrors and fooling those who would be fooled with a 55-16 win.
Saturday was a harsh reminder of reality once again as undefeated and bourgeoning SMU took a 34-0 lead at halftime en route to a resounding 48-21 win over the Bulls. It was the Mustangs' fifth win in as many games as SMU is starting to attract deserved attention in the AAC championship chase.
The Mustangs cranked out a 41-0 lead on a 10-yard touchdown run by quarterback Shane Buechele with 2:30 remaining in the third quarter. By then, coach Sonny Dykes had relieved his starters of their Saturday afternoon duties, allowing USF to finish with a 21-point fourth quarter. Dykes saw his Ponies speed to touchdowns on five drives in a row as they left the Bulls in the dust.
There is not any one area where you can pinpoint the main impetus of the Bulls' problems. However, offense is a good place to start. Journeyman quarterback Blake Barnett is finishing his career after earlier stops at Arizona State and Alabama. That has left him at 22 years old and finally finishing a less than scintillating trek through that college football universe.
Coach Charlie Strong made a wise move in replacing him with redshirt freshman Jordan McCloud, who predictably had a big day against South Carolina State. However, it is a process for a young player to get his feet under him as he starts his career. Saturday showed that process as McCloud was only 8 of 19 for 66 yards with two interceptions while suffering six of the Bulls' 10 quarterback sacks.
"I think Jordan McCloud has a wrist issue and Blake Barnett came down with an ankle during this game, so I don't really know how they are right now," Strong said after the game.
McCloud nor Barnett can be blamed for the lack of cohesion and production of the USF offensive line which is last in the NCAA among FBS teams, allowed the quarterbacks to be tossed 20 times in the first four games.
New offensive coordinator Kerwin Bell has struggled in putting an offense of the field that can sustain drives and build confidence in the athletes on that side of the football.
Randall St. Felix, who is generally considered to be the team's top receiver, had nary a catch on Saturday, while Terrence Horne had only one for three yards. It was also a situation where another speedster in Johnny Ford had five catches for 26 yards. While the Mustangs have upgraded the talent on the defensive side of the football in a huge way, Bell has to find new and creative ways to get the football in his playmakers' hands.
Of course the output of the passing game has been inevitably affected by a rushing attack that has averaged just 97.5 yards per game over its first four games, which is 123rd in the FBS. Jordan Cronkrite is not a breakaway threat and that hampers the USF offensive attack immeasurably.
Defensively, USF has been hurt with the ease in which opponents emancipate their running games. Albeit, Wisconsin's Jonathan Taylor is a Heisman candidate and was pulled midway through the third quarter of the 49-0 Badgers win in week one, SMU's Xavier Jones had a field day with 155 yards on 15 carries and a pair of touchdowns. The lack of run-stop has allowed quarterbacks to get into a groove as Buechele did on Saturday when he completed 21 of 25 passes for 226 yards and three touchdowns.
In the end, hopefully Strong will be able to be able to right the ship and dig the Bulls out of their quagmire. He is a stand-up person who had some tough luck in not being allowed to see through his rebuilding process at Texas. With whatever happens, beleaguered UConn is on the docket for Saturday and that is potentially a panacea to remedy the long lost swag of the Bulls football program.