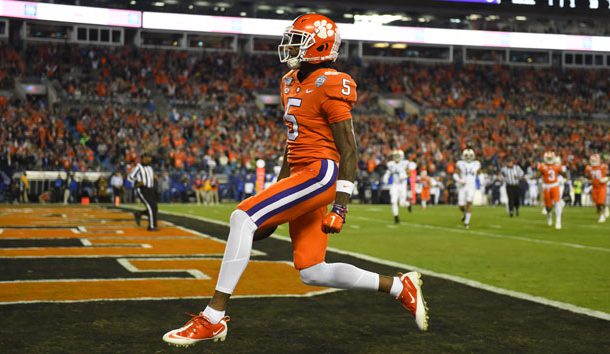 The Clemson Tigers defeated the Virginia Cavaliers 62-17 to capture their fifth consecutive ACC championship and will play Ohio State in the Fiesta Bowl in the College Football Playoff Semifinals. The victory was the Tigers 28th win in a row as they built a 31-7 lead at the half and never looked back.
Clemson quarterback Trevor Lawrence threw four touchdown passes, three to Tee Higgins to lead the Tigers offense. Lawrence set an ACC title-game record with his four touchdown throws and had 302 yards passing, his second best total this season, and completed 16 of 22 passes before coming out in the third quarter.
Higgins, the game's MVP, finished with 182 receiving yards and scored three TDs, both bests in ACC Championship Game play. Clemson running back Travis Etienne had 114 yards rushing, his eighth game over 100 yards this season.
"We just want to have an opportunity to compete for the whole thing," Clemson coach Dabo Swinney said. "I think we've done enough to get somewhere in that top four, wherever they put us."
"We didn't make enough plays; we couldn't make enough plays," Virginia coach Bronco Mendenhall said.
Virginia quarterback Bryce Perkins, the ACC's leader in total offense, had 324 of the Cavaliers' 387 yards, which was a season high allowed by Clemson's defense this season.
The Tigers showed once more they had no equals this season in the ACC.
Swinney has been whining to the media that his team has been disrespected, but facts show that Clemson played the easiest schedule of the final four teams. Clemson is the only team from the Atlantic Coast Conference ranked in the latest Top 25 poll.
The Tigers closest game was a 31-30 win over a 6-6 North Carolina team that became bowl eligible on the final day of the regular season.