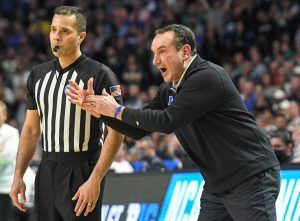 With this being Duke Coach Mike Krzyzewski's final NCAA Basketball Tournament, it was only fitting that we had one more classic Duke against Michigan State game. It matched two legendary coaches, Coach Krzyzewski and Spartans' Coach Tom Izzo.
Duke fell behind, 70-65, with 5:10 remaining, but the second-seeded Blue Devils finished the game on a 20-6 run to wrestle out an 85-76 win over in the NCAA Tournament Second Roun in Greenville, SC.
With 2:17 remaining in the game and Duke leading by one point, Blue Devils' point guard Jeremy Roach drained a 3-point shot to give his team a two possession lead.
"I was thinking to myself, if I get an open three, I'm knocking it down" said Roach. "The shot clock was winding down and I knew I had to make a play."
Duke then was able to make its free throws to expand their lead at the end. The Blue Devils advanced to the Sweet 16 for the 28th time in program history. The win was the 1,200th in Coach K's historic career and put him one shy of 100 in the NCAA Tournament.
Duke players said that when they were down by five points late in the game, they never thought about, or talked about the possibility of it being Coach K's final game if they lost.
Paolo Banchero led five Blue Devils players scoring in double figures with 19 points, followed by Wendell Moore Jr, Mark Williams and Roach with 15 points each. Trevor Keels chipped in 12 points.
After the game, an emotional Coach K said, "That was a great game and they knocked us back. So proud of my guys, and for a young group, they showed incredible guts." He also said that he had not been able to relax since June, but he was excited about being in this year's tournament.
No. 2-seeded Duke had five players score in double figures as the Blue Devils opened the NCAA Tournament with a 78-61 win over No. 15-seed Cal State Fullerton.
In that game, the Devils jumped out to a double-digit lead in the first five minutes and remained in control throughout. Duke led by 10 at halftime and pushed the margin to 20 midway through the second half thanks to strong shooting and an aggressive defense.
The Blue Devils will face the West Region's No. 3-seed, Texas Tech, in the Sweet 16 at the Chase Center in San Francisco.
Watch the Postgame Recap Video Here!