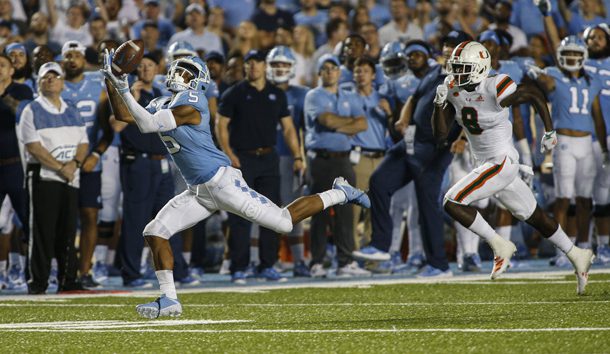 Head coach Mack Brown's return to Chapel Hill is turning out just fine two games into the season.
For the second consecutive week, the Tar Heels came from behind to win in dramatic fashion. The first opponent to go down was the South Carolina Gamecocks.
This week the victim was the Miami Hurricanes in the first Atlantic Coast Conference game of the season.
With just under five minutes remaining in the fourth quarter, North Carolina trailed, 25-20, and had the ball 75-yards from the end zone.
That's when true freshman quarterback Sam Howell, the hero of last week's win, took charge. Four completions and two sacks later, just over a minute remained and the Tar Heels had the ball at the Hurricane 10-yard line.
Howell found junior wideout Dazz Newsome just inside the end zone for the go-ahead touchdown with just 1:01 remaining, providing the final score, 28-25.
The game-changing reception is this week's U.S. Farm Raised Catfish "Catch of the Week."
Remember … for the tailgate tent or the pre-game party, U. S. Farm-Raised Catfish is always "the winning catch."
To find out more, visit www.uscatfish.com.