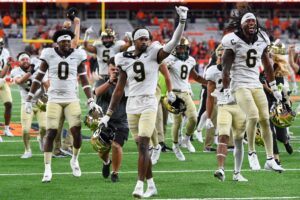 The weight was on Wake Forest's shoulders.
As the last undefeated Atlantic Coast Conference team, it was important for the Demon Deacons to keep winning. But, five plays into the first overtime period, Syracuse – already with two losses – had the lead, 37-34.
Wake Forest needed a big play – and got it – from wide receiver A.T. Perry and quarterback Sam Hartman.
Perry, a sophomore from Lake Worth, Fla., made an acrobatic 22-yard grab in the back left corner of the end zone to give the Demon Deacons a 40-37 overtime victory. His game-winning reception has been chosen as the U.S. Farm Raised Catfish "Catch of the Week."
For the game, Perry also scored on pass plays of 46 and 69 yards. So, all three of his receptions in the game were for touchdowns, totaling 137 yards. Hartman completed 19 of 32 passes for 330 yards and the three scores, and ran for another touchdown.
Wake Forest is now 6-0 for the first time since the 1944 season
Remember … for the tailgate tent or the pre-game party, U. S. Farm-Raised Catfish is always "the winning catch."
 The Catfish Institute, or TCI, was formed in 1986 by catfish farmers and feed manufacturers to raise consumer awareness of the positive qualities of U.S. Farm-Raised Catfish. Since its formation, U.S. per capita consumption has more than doubled.
U.S. Farm-Raised Catfish is a sustainable and environmentally friendly seafood product. The National Audubon Society, Monterey Bay Aquarium, and Environmental Defense all recommend U.S. Farm-Raised Catfish as a safe environmental choice. To find out more, visit www.uscatfish.com.