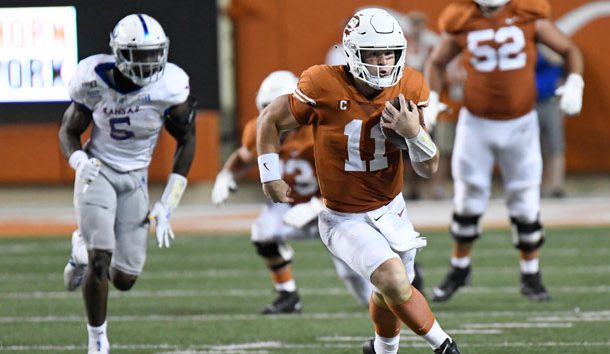 Big 12 teams will play nine conference games and one nonconference game this season under a schedule approved Monday by the league's university presidents and chancellors.
Action will start in mid-September or late September, giving the Big 12 the option to push its championship game back from Dec. 5 to either Dec. 12 or Dec. 19, depending on the status of the coronavirus pandemic. Game matchups and dates weren't announced.
"I would like to salute the work of our university presidents and chancellors, athletics directors, coaches, medical advisors and administrators who have worked tirelessly and collaboratively during these extraordinary times," Big 12 commissioner Bob Bowlsby said in a statement. "We believe this change provides the best opportunity going forward. However, we will undoubtedly need to be flexible as we progress through the season in order to combat the challenges that lie ahead."
The slate is somewhat akin to the one implemented by the Atlantic Coast Conference, which will have its teams play 10 conference games and one nonconference game.
The Southeastern Conference will have a 10-game, conference-only schedule starting Sept. 26.
The Big Ten and Pac-12 will both play conference-only slates, with the Pac-12 also starting on Sept. 26.
Arguably the biggest annual Big 12 rivalry game, Oklahoma against Texas, is still expected to be played at Dallas' Cotton Bowl stadium.
"We expect to play that game in the month of October," Oklahoma athletic director Joe Castiglione told ESPN. "The only reason we'd have to look at another venue is if something developed that the Cotton Bowl was unavailable for whatever reason."
The Sooners were scheduled to open Aug. 29 against Missouri State, but it is "highly doubtful" that game will be held, CBS Sports' Dennis Dodd reported. Dodd added that at least one Big 12 school plans to have its lone nonconference game be against a team not on its original schedule.