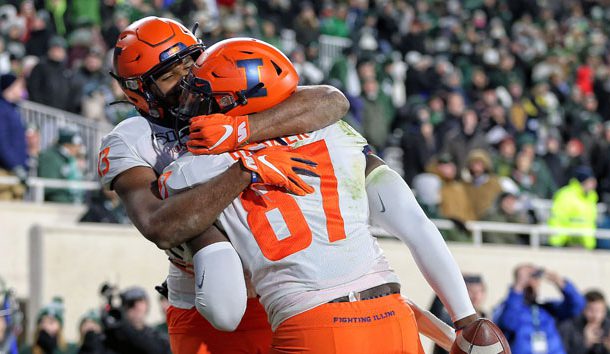 Playing in East Lansing against Michigan State, Illinois was behind, 31-10, at the start of the fourth quarter. In its 120-season history, the Illini had never come from behind to win when trailing in final quarter by 20 points or more.
That changed on Saturday.
Led by senior quarterback Brandon Peters, a Michigan Wolverine transfer, Illinois mounted a desperate comeback, but with just five seconds remaining in the game, they still trailed, 34-30, and had the ball on the Spartans' five-yard line.
That's when Illinois history changed.
Barker rolled right and found sophomore tight end Daniel Barker in the back of the end zone for the catch, giving the Illini a 37-34 win.
Barker's game-winning 5-yard scoring reception is this week's U.S. Farm Raised Catfish "Catch of the Week."
For the game, Peters completed 22 passes for 369 yards and three touchdowns. Barker had just two catches, but the last one caused a celebration.
The win, which is their fourth consecutive victory, improved the Illini's overall record to 6-4, making them bowl eligible for the first time since 2014.
Remember … for the tailgate tent or the pre-game party, U. S. Farm-Raised Catfish is always "the winning catch."
To find out more, visit www.uscatfish.com.