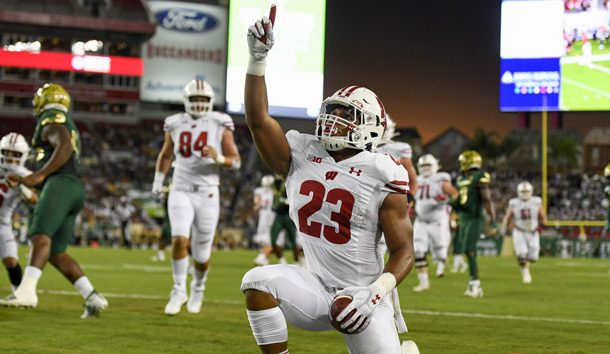 At about halftime of Wisconsin's 49-0 romp over the South Florida Bulls on Friday evening, I began to wonder how the pundits could actually omit the Badgers as a favorite in the Big Ten West.
Running back Jonathan Taylor and the mammoth Badgers offensive line served notice that not only was the Big Ten West prediction probably wrong, but the Big Ten title and a potential berth in the BCS playoffs might be in the offing.
Taylor used the behemoths up front to perfection as he rushed for 135 yards and two touchdowns while catching two touchdown passes for 48 yards as Wisconsin rolled up a 28-0 halftime lead. The Badgers were never as much as threatened in the second half.
Taylor, who is a Heisman favorite again this year after winning the Doak Walker Award as college football's top running back last season, had never caught a touchdown pass. Friday night he caught a 36-yard offering from junior quarterback Jack Coan to give the Badgers a 21-0 lead with 10:37 left in the first half. Then, his 7-yard touchdown catch and subsequent stretch into the end zone at the end of the first half capped an 11-play, 80-yard drive that left the Bulls reeling.
"You're able to use him and he was good in a number of different ways, but he was awfully patient on that one run and that little screen he took in," said Badgers coach Paul Chryst, "He's good in space; he's pretty good."
Versatility is something that Taylor welcomes into his game as he should be a first round pick in next April's NFL Draft. Throwing to him was a new wrinkle in a Badgers philosophy that embraces every ounce of talent that Taylor has to offer. Chryst was happy that the pass plays worked so that confidence will build in Taylor's ability to impact the passing game.
"You want to play clean football," said Taylor, "The team that steps on the field and makes the least mistakes has the best chance of winning. Clean football works into your advantage always."
The Badgers were clean as they had one turnover, but took three from South Florida. The first was a 16-yard fumble return by Matt Henningson which gave Wisconsin a 14-0 advantage with 12:58 left in the first half.
Taylor gave way to redshirt freshman running back Nakia Watson in the third quarter. The newcomer scored on a 27-yard touchdown run late in the period. Watson noted how Taylor took over before the game to pump up Wisconsin for its season opening desecration of a fleet Bulls team, which lost its seventh in a row dating back to last season.
"He will talk to us every day like, 'C'mon we have got to lock in. Dogs eat, so the running backs – we call ourselves the dog pound. We always say, 'dogs eat' and that's what we do."
The Badgers running game ate up the turf to the tune of 234 yards on 43 carries. Watson followed Taylor with 80 yards on 14 carries in his debut. He noted that playing behind Taylor was a huge motivator for him.
"His energy helps me, just seeing him do well and I don't expect anything less from him. Seeing him do what he does makes me right," said Watson.
The Badgers have a tremendous opportunity to affect the college football landscape with Taylor as the focal point of the team. Coan will be a major player in this as well as he was efficient in running the offense, completing 19 of 26 passes for 199 yards, while finding nine different Badgers for catches.