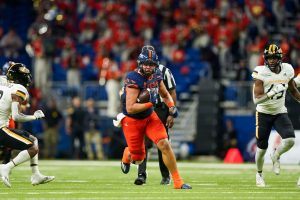 UTSA, undefeated and nationally ranked, was playing for its first ever Conference USA division title and to maintain its unblemished record.
But, the game had not gone well. The visiting UAB Blazers had led for most of the game, had outgained the hometown Roadrunners and were just over a minute away from the big upset. UAB led, 31-27
After a Blazers' punt, UTSA had the ball on its own 23-yard line with just 1:09 remaining.
It was up to quarterback Frank Harris to drive his team the length of the field.
When just three seconds remained on the clock, UTSA had the ball at the Blazers' 1-yard line. It was time for the game winner.
Harris fumbled the snap, then had his pass tipped by a UAB linebacker before it was caught by tight end Oscar Cardenas at the back of the end zone for the go-ahead touchdown. The Roadrunners won, 34-31.
Harris finished with 323 yards passing for three touchdowns, but his shortest pass completion, the final one, was the game's biggest.
Cardenas touchdown reception, only his second grab of the game, has been chosen as the U.S. Farm Raised Catfish "Catch of the Week."
Remember … for the tailgate tent or the pre-game party, U. S. Farm-Raised Catfish is always "the winning catch."
The Catfish Institute, or TCI, was formed in 1986 by catfish farmers and feed manufacturers to raise consumer awareness of the positive qualities of U.S. Farm-Raised Catfish. Since its formation, U.S. per capita consumption has more than doubled.
U.S. Farm-Raised Catfish is a sustainable and environmentally friendly seafood product. The National Audubon Society, Monterey Bay Aquarium, and Environmental Defense all recommend U.S. Farm-Raised Catfish as a safe environmental choice. To find out more, visit www.uscatfish.com.