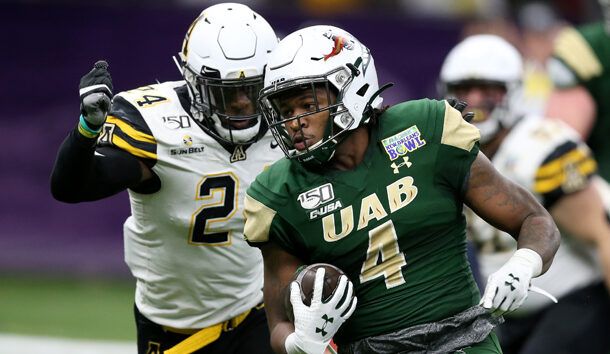 Central Arkansas at UAB
Location: Legion Field, Birmingham, Ala.
Time: 7:00 p.m. CT
TV: ESPN 3
Central Arkansas players to watch: QB Breylin Smith, WR Lujuan Winningham, WR Tyler Hudson, NB Kordell Jackson CB Robert Rochell
UAB players to watch: QB Tyler Johnston III, RB Spencer Brown, Austin Watkins Jr., LB Jordan Smith, LB Kristopher Moll, CB Brontae Harris
Key Notes:
*UAB looks to extend its home winning streak to 19 games. The Blazers are 18-0 at Legion Field since they resumed play in 2017.
*The Blazers have racked up 92 sacks and 217 tackles for loss over the past two seasons.
*Central Arkansas had 490 yards of total offense, 298 in the second half, in the team's 24-17 win over Austin Peay. Breylin Smith completed 26 of 49 passes for 283 yards in the victory. Tailback Kierre Crossley had 12 carries for 110 yards and a score on the ground for the Bears.
 Blazers host FCS foes Central Arkansas in FBS opener
UAB enters its season opener with FCS foe Central Arkansas with high expectations.
The Blazers return 18 starters (nine offense, nine defense) from last year's 9-5 team and are gunning for their third consecutive Conference USA West division crown — and second league title in three years.
Head coach Bill Clark's UAB team is led offensively by veteran quarterback Tyler Johnston III, bruising tailback Spencer Brown — the school's all-time leading rusher — and talented wideouts Myron Mitchell and Austin Watkins Jr., a cousin of current Kansas City Chiefs receiver Sammy Watkins.
Johnston, a redshirt junior, needs to avoid throwing to the wrong team (15 interceptions last season) after a mistake-prone 2019 campaign. But he's 10-4 as a starter and passed for 2,250 yards and 17 touchdowns a year ago before suffering a sprained knee in a 30-7 loss to Tennessee in Game 8.
Mitchell and Watkins give Johnston two big-play threats in the passing game. Watkins, arguably the top deep threat in the conference, became just the third player in UAB history to have a 1,000-yard receiving campaign a year ago. He finished with 57 catches for 1,092 yards and six touchdowns.
The Blazers skill guys should also benefit from operating behind one of C-USA's best offensive lines, which is led by talented starting tackles Colby Ragland and Sidney Wells.
Under the direction of Clark, strong defense has been the team's calling card.
The Blazers, who deploy a base 3-3-5 defense, have finished in the Top 10 nationally in total defense in back-to-back seasons — and have a good chance to do so once again in 2020.
The strength of the unit is the linebacking corps, led by conference defensive player of the year candidate Kristopher Moll (team-high 104 tackles, nine sacks, 16 tackles for loss and four forced fumbles in 2019) and Noah Wilder.
But the defensive line and secondary, which returns five starters, are also team strengths.
Edge rusher Jordan Smith, a rangy athlete (6-foot-7, 255 pounds) who had 17.5 tackles for loss and 10 sacks a year ago, and massive nose tackle Tony Fair (6-3, 335) are matchup nightmares for opponents up front.
On the back end, cornerback Brontae Harris, who missed last season with a foot injury, joins TD Marshall and safeties Will Boler and Dy'jonn Turner to form arguably the league's top secondary. Boler and Turner are sure tacklers who are also active in the passing game.
The kicking game must replace three-year starter Nick Vogel. But the team is high on redshirt freshman Matthew Quinn, who hit 55 field goals in high school.
Central Arkansas is fresh off a dramatic 24-17 comeback win over Austin Peay. But the Bears face a tough challenge on the road at UAB.
If Smith and the UCA offense can get going against a stingy Blazers D, they could potentially keep the game close. But it won't be easy moving the ball on probably the best defensive team Clark has had since arriving in Birmingham.
The Lowe Down: UAB 33, Central Arkansas 10
In other Thursday night games:
South Alabama 24 at Southern Miss 34