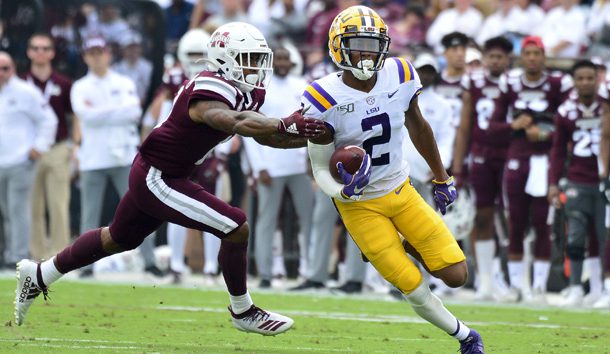 A couple of quotes came to mind this week while looking back on college football games from the last two Saturdays …
"Always avoid prophesying beforehand, because it is a much better policy to prophesy   after the event has already taken place." – Winston Churchill, former British prime minister and one of my all-time heroes.
"Don't count your chickens before they're hatched." – Ma Waldrop, my great-grandmother who did raise chickens.
Winston Churchill led England through its darkest hours, showing wisdom and courage, bravery and foresight.
Ma Waldrop had a small wood house with a dog trot in Rock Creek that she shared with her daughter, Aunt Robbie, sweeping her dirt yard with a broom and sharing memorable words of wisdom.
A lot of football teams and coaches, fans and forecasters should have been listening to Ma and Winston. A lot of assumptions were made about what teams would win, which ones would be leaders in the clubhouse for College Football Bowl invitations, and what future match-ups would determine the legit contenders.
Count me among the guilty. You know what they say happens when you assume anything, especially the outcome of ball games. After this many years, I should know better.
In this column last week, I explained how Ohio State, Wisconsin and Penn State would face each other as undefeated contenders for the Big Ten championship, one of them certainly in the CFP Final Four.
Missouri, after disposing of Vanderbilt and Kentucky, could represent the SEC Eastern Division in the conference championship game by beating either Florida or Georgia. And, Boise State, as the best Group of 5 team, almost certainly would represent those leagues in the CFP bowl mix.
So much for that.
Ma Waldrop, I should have paid attention.
Anybody reading this knows what happened.
Illinois, loser of four consecutive games including to Eastern Michigan, won against Wisconsin on a late field goal. The Badgers, the nation's leading defensive team, gave up more yards and points to the Illini than to any opponent this season.
Vanderbilt, which lost the previous week to four-loss UNLV by 24-points on its home field, shut down Missouri's high-flying offense and beat the Tigers by a touchdown.
And, Brigham Young, already losers to Toledo (lost at Ball State on Saturday, 52-14) and South Florida (massacred by Navy on Saturday, 35-3), led much of the game in defeating the Broncos, 28-25.
It was almost worse. Kansas, the Jayhawk team that lost earlier at home to Coastal Carolina, scored 48 points and put up over 550 total yards in Austin before Texas won the game on a last-play field goal.
Wisconsin will likely have to win out to make its conference title game. Florida or Georgia will likely again represent the SEC Eastern Division in Atlanta. And, Boise State is now a longshot to have the Group of 5 position. Sincere apologies to SMU and Appalachian State.
A week earlier, there was another gigantic upset in a game that most everybody, including me, confidently forecast the wrong way. Three-loss South Carolina, coming off a 20-point thumping by Missouri and forced by injury to play back-up quarterbacks, defeated No. 3 Georgia in Athens. Just two weeks ago, the Bulldogs were near-consensus favorites for the CFP Final Four. In this week's Associated Press poll, they've dropped to No. 10, the fifth highest ranked SEC team.
What does all this say? It's much too early to make assumptions about which teams will be the last four standing. And, it's dangerous to give gigantic underdogs no chance to win over the bluebloods atop the rankings. Keep in mind, Illinois was a 30-point underdog to the Badgers. South Carolina was a 24-point underdog to Georgia. And, Vandy was supposed to beat UNLV by 16.
Don't be surprised if this weekend's match-ups provide more of the same.
No. 16 SMU (7-0) travels to Houston (3-4), having lost six straight in the series to the Cougars.
No. 2 LSU (7-0) entertains No. 9 Auburn in Baton Rouge, where the visiting Tigers haven't won in 20 years.
No. 3 Ohio State (7-0) hosts No. 13 Wisconsin, which needs a win to stay relevant in the Big Ten title discussion.
No. 6 Penn State (7-0) goes to East Lansing to face Michigan State; No. 8 Notre Dame (5-1) visits No. 19 Michigan; No. 11 Oregon (6-1) is at home against unpredictable and dangerous Washington State; and, No. 14 Baylor (7-0) plays West Virginia in Waco.
It's likely that some of those higher ranked teams, including some of the undefeated, lose on Saturday, throwing more doubt and confusion into the postseason picture. And, it's certain that more fans, along with folks in sports media, will again assume that the winners will keep on winning.
So, here's a word of advice to those teams, especially the ones still hoping for a CFP final quartet invitation.
Stop reading the press clippings, looking at the adoring social media posts, and listening to the callers on sports-talk radio.
And for sure, don't start counting chickens.
Instead, heed Ma Waldrop's wisdom. I should have done that … and you should, too.