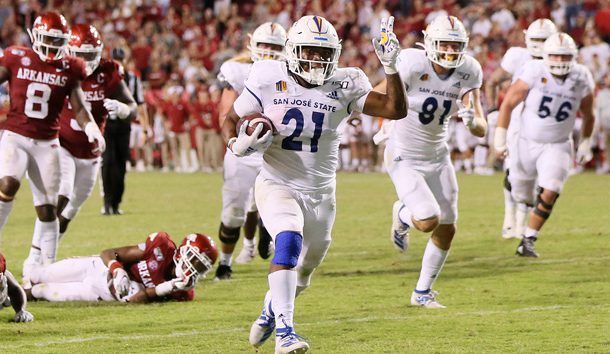 PLAYERS OF THE WEEK
OFFENSIVE:
Offensive Player of the Week is usually from a winning team, but not this time. Washington State quarterback Anthony Gordon was special in Pullman against UCLA. He completed 41 of 61 passes for 570 yards and a program record nine touchdowns, accounting for all of his team's points in a 67-63 loss. The Cougars led 49-17 in the third quarter.
DEFENSIVE:
Undefeated Appalachian State upset in-state Power 5 rival North Carolina, 34-31. Nobody did more than Demetrius Taylor. The junior defensive end sacked the Tar Heel quarterback and returned the fumble for a 20-yard score. He returned an interception 19 yards and forced another fumble. He finished with four tackles, 2.5 sacks, three caused turnovers and one pass broken up.
QUOTE OF THE WEEK
"When his number was called, he made the most of it tonight." — USC head coach Clay Helton after Trojans' third-team quarterback Matt Fink engineered a 30-23 upset of No. 10 Utah. Fink entered the game after quarterback Kedon Slovis suffered a possible concussion on the game's second play. Slovis was only playing because of a season ending injury to starter J.T. Daniels in the opening game. Fink threw for 351 yards and three touchdowns.
UPSET OF THE WEEK
Before Saturday night's game in Fayetteville, San Jose State had not defeated a Power 5 team in 13 years. The Spartans' combined record for the past two seasons was 3-22. They entered their game against Arkansas as a 22-point underdog. But, the visitors jumped to a 7-0 lead, built it to 24-7 and scored the winning touchdown with just over a minute remaining and won, 31-24. Razorback quarterback Nick Starkel threw five interceptions, the most for Arkansas in 28 years.
INSIDE SCOOP
Iowa State had an all-time program record 714 yards total offense in defeating Louisiana-Monroe, 72-20. It was the most points scored by the Cyclones since beating Cornell, 81-0 in 1906. … Since losing to Auburn, Oregon has not given up a touchdown, winning by a combined 133-15. … In Toledo's 41-35 win over Colorado State, the teams combined for 1,241 yards total offense. … Kennesaw State rushed for 479 yards in a 35-24 win over Missouri State. … SMU claimed the "Iron Skillet" defeating TCU, 41-38, running its record to 4-0 for the first time since 1984. … Florida beat Tennessee, 34-3, its 14th win in the last 15 series games. … There are 23 undefeated teams among Power 5 and Group of 5 conferences. The SEC and Big Ten each have five. … Houston lost to Tulane, but its game was still significant. The Cougars recovered a fumble, extending the nation's longest streak for causing turnovers to 21 games. Quarterback D'Eriq King threw two touchdown passes and ran for one, the 15th consecutive game to run and pass for a score, surpassing former Florida quarterback Tim Tebow for a new FBS record.