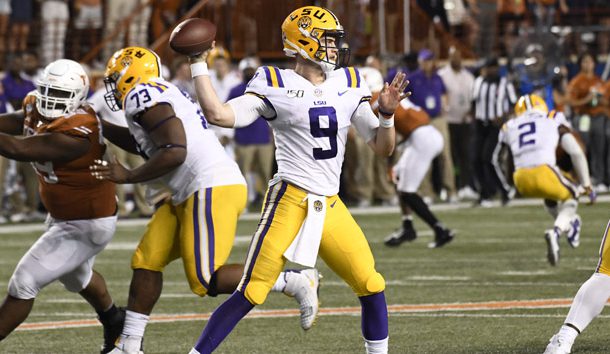 PLAYERS OF THE WEEK
OFFENSIVE:
If there were still any questions about Joe Burrow as the leader of the LSU offense, those were answered emphatically on Saturday night. Playing Texas in Austin, the senior transfer from Ohio State completed 31 of 39 passes for 471 yards and four touchdowns as the Tigers defeated the Longhorns, 45-38.
DEFENSIVE:
There were a lot of superlatives for California in their 20-19 victory over Washington in Seattle. But, few had the kind of game they got from senior linebacker Evan Weaver from Spokane. In the early season Pac-12 win over the Huskies, Weaver had 18 tackles, two tackles for loss and a forced fumble.
INSIDE SCOOP
The Southeastern Conference dominates this week's Associated Press poll. Five league teams (Alabama, Georgia, LSU, Auburn, Florida) are ranked among the top nine. Clemson, after defeating Texas A&M, is far ahead in first place. … LSU's Joe Burrow wasn't the only graduate transfer to play well for his new team. Justin Fields, who transferred from Georgia to Ohio State, completed 20 of 25 passes for 224 yards and two touchdowns in the win over Cincinnati. He also ran for 42 yards and two more scores. … Jalen Hurts from Oklahoma after transferring from Alabama, hit on 14 of 18 passes for three touchdowns and ran for 47 yards and three more scores in the 70-14 win over South Dakota. … Auburn placekickers have connected on 280 consecutive extra point attempts. It's the longest streak in SEC history, just 22 short of the all-time record held by Florida State. … Purdue's Rondale Moore led college receivers last weekend with 13 catches for 220 yards in the win over Vanderbilt … Illinois defensive end Oluwole Betiku had 3.5 sacks in the win over UConn, giving him five already in just two games, both wins.
QUOTE OF THE WEEK
"I've been through worse here. We've all been through worse here. We've seen worse, so it's just look at the positive." … Tennessee junior offensive tackle Marcus Tatum after the Volunteers lost to Brigham Young in overtime, 29-26. It may be difficult for the junior from Daytona Beach, Fla. to find much positive. After the crushing loss last week to Georgia State, the Vols are 0-2 for the first time in 31 years and have lost 16 of their last 22 games.
UPSET OF THE WEEK
California was a double-digit underdog when it traveled to Seattle to play Washington on Saturday night. But, after a weather delay of more than two hours, the Golden Bears stunned the nationally ranked Huskies, 20-19. The winning points came on a 17-yard field goal by Greg Thomas with just eight seconds remaining. Two minutes earlier, Washington had retaken the lead, 19-17 when Peyton Henry hit his fourth field goal of the game, a career best 49-yarder.