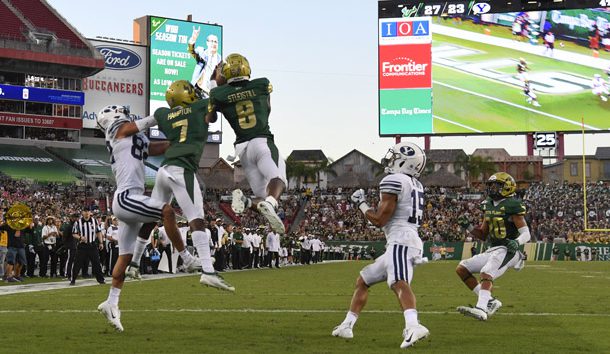 TAMPA — If the South Florida Bulls were to salvage their season, something had to give … soon.
It happened in Saturday's 27-23 come-from-behind victory over BYU. It was the defense which stood tall over the Cougars in the clutch and preserved the third Bulls win of the season.
After Jordan Cronkrite scored on a 7-yard touchdown run midway through the fourth quarter to give the Bulls their first lead at 27-23, the defense had to come up strong against the Cougars offensive attack that was as balanced as possible, totaling 439 yards – 221 through the air and 218 on the ground.
BYU quarterback Jaren Hall went out early in the fourth quarter into concussion protocol, so the Cougars had to go to freshman Baylor Romney, who is more of a drop-back passer rather than having both run and pass in his arsenal.
Romney marched BYU 65 yards on 13 plays before the Cougars faced 4th and 7 at the USF 10. They were allowed only five yards as defensive back Bentlee Sanders stopped wide receiver Gunner Romney on the 5-yard-line to turn the ball over on downs with 1:36 to play.
Seemingly, the Bulls had notched that third win right then. But, to borrow the catch phrase of ESPN's Lee Corso, "not so fast my friend."
The Bulls couldn't get a first down and BYU used all three timeouts which gave them once last shot.
Once again, Romney marched the Cougars. He had pass plays of 22 and 17 yards to Gunner and then Talon Shuman which set up BYU on the Bulls 27. After a pass interference penalty on USF's K.J. Sails, South Florida's defense provided itself in holding the Cougars out of the end zone for its most credible win of the season.
Devin Studstill batted away a pass in the end zone on a 4th-and-18 and USF seemingly found new life in what was a teetering 2019 season.
"Being in a game like that, to have the ball that long and then to have the yardage they had, it's amazing we came out (and won)," said USF head coach Charlie Strong, "Our guys just kept battling. We scored what we needed to and held them to field goals."
Bull Run: Cronkrite continues to be the most stable piece in a struggling South Florida offensive scheme. He rushed for 158 yards on 26 carries on Saturday with two scores which included the game-winning touchdown.
He set the pace for the Bulls who rushed for 243 yards on 44 carries as a unit. They gave BYU heavy doses of the run game as USF tried to wear down the Cougars in the heat of an 85-degree late afternoon in Tampa.
Cronkrite now has seven 100-plus yard rushing games in his career and Saturday's output was the second best effort of his career.
"I think the first three games he had like 25 total yards," said Strong. "The last two, he's really had breakout games. He said tonight, 'Just give me the ball, coach.' I was just so happy for Jordan because he was able to put together two games back-to-back now."
Historical prodigy: Amazingly, BYU quarterback Jaren Hall became the first African-American quarterback to start a game in the history of the program and he didn't disappoint with his output on Saturday.
Hall ran the BYU offense with precision as he paced the Cougars to a 16-7 halftime lead before the Bulls rallied in the second half. He finished with 110 yards rushing on 16 carries and a touchdown, as well as completing 15-of-28 passes for 148 yards including a 35-yard touchdown toss to Dax Milne which gave the Cougars a 10-0 lead with 14:29 remaining in the second quarter.
Hall was deceptive in how he ran the misdirection in the BYU offense and he read his blocks well in pacing the running game.
His 29-yard touchdown run midway through the third quarter gave BYU a 23-14 lead which followed a 32-yard gallop two plays before.
Hall was sent to the sidelines early in the fourth quarter when he was hit by USF's Nick Roberts upon completing a 25-yard pass play to Talon Shumway. He was put in concussion protocol and never returned.