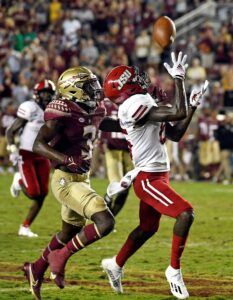 A year ago, Jacksonville State led Florida State in Tallahassee, 14-0, before the Seminoles came from behind to win.
On Saturday, the Gamecocks turned the tables against the four-touchdown favorites.
With only time for one more play, Jacksonville State was at its own 41-yard line.
That's when senior quarterback Zerrick Cooper connected with junior wide receiver Damond Philyaw-Johnson on a 59-yard run-and-catch to earn the win, 20-17. For the game, Cooper passed for 242 yards and two scores.
It was the only reception for Philyaw-Johnson, but it was a big one, being named as the U.S. Farm Raised Catfish "Catch of the Week."
Remember … for the tailgate tent or the pre-game party, U. S. Farm-Raised Catfish is always "the winning catch."
The Catfish Institute, or TCI, was formed in 1986 by catfish farmers and feed manufacturers to raise consumer awareness of the positive qualities of U.S. Farm-Raised Catfish. Since its formation, U.S. per capita consumption has more than doubled.
U.S. Farm-Raised Catfish is a sustainable and environmentally friendly seafood product. The National Audubon Society, Monterey Bay Aquarium, and Environmental Defense all recommend U.S. Farm-Raised Catfish as a safe environmental choice. To find out more, visit www.uscatfish.com.