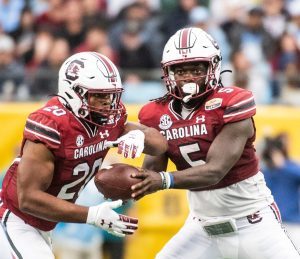 South Carolina went into the Duke Mayo Bowl 9-point underdogs to North Carolina but got off to a fast start scoring 18 points on their first three possessions on their way to a 38-21 dominating win in the battle of the Carolinas. The victory also gave the SEC its first win in the bowl season after a 0-4 start.
The big story of the game was the South Carolina quarterbacks. Starting quarterback Jason Brown went into the transfer portal just before the Gamecocks started bowl practice, and Carolina once again had to find a new starting quarterback.
South Carolina offensive coordinator Marcus Satterfield made the decision to move a former quarterback turned receiver back to quarterback for the bowl game. Carolina wanted to add the element of a running quarterback since North Carolina had not faced a running quarterback all season. The Gamecocks knew that they had a month to prepare Dakereon Joyner the former "Mr. Football" in South Carolina and a highly touted duel threat quarterback coming out of high school in Charleston, SC.
The move turned out to be a brilliant move as Joyner started and alternated with Zeb Noland, the graduate assistant coach turned quarterback, to run the offense to perfection and keep the Tar Heel defense off-balance all day.
The Gamecocks totally dominated the game with a school bowl record 543 yards of total offense on 66 plays. South Carolina's defense limited the high-powered Tar Heel's offense to 333 total yards and only 128 yards rushing.
On the third play of the game for South Carolina Joyner connected with Jaheim Bell for a 69-yard touchdown pass to give the Gamecocks a 7-0 lead, On the next offensive series Noland found Bell open again on a 66-yard touchdown pass and the route was on.
Gamecock running back Keven Harris, the SEC leading rusher from last season, returned to his old form with 31 carries for 182 yards and one touchdown. After the game Harris announced on Twitter that he would be entering the NFL draft.
Based on his outstanding performance, Joyner was selected the Duke Mayo Bowl Most Valuable player. He finished the game 9-9-0 160 yards and one touchdown. And he rushed for 64 yards on 10 carries.
After losing the starting quarterback three years ago Joyner has struggled to learn and play the wide receiver position that he was moved to play. After the game he shared that he almost gave up playing football earlier this year because felt like he did not fit in or have a roll but Gamecock receiver coach Justin Stepp encouraged him to stick with it."I have been through so much adversity and I come from a family that prays. Coach Stepp has been a life saver for me" said Joyner.
Joyner also said that sticking it out this season has meant everything to him. "It has been like a dream. I am so thankful. I thank God for everything. Him preparing me the last four years for this moment. You never question God. Never give up on your dreams. Adversity is going to come but it is how you overcome it."
South Carolina placekicker Parker White became the school's all-time leading scorer when he connected on a 30-yard field goal with 0:27 seconds remaining in the first quarter giving the Gamecocks a 18-0 lead.
With the win South Carolina finished the season with a 7-6 record and gave head coach Shane Beamer a winning record in his first season with the Gamecocks.
Beamer said that he was proud of his team being the first SEC team to get a win this bowl season. "We're proud, I'm so proud to be a part of this conference. There is nothing like it," said Beamer.
After the game Beamer received the Duke Mayo ceremonial mayonnaise bath that goes to the winning coach along with a $10,000 check that goes to the coach's favorite charity
The Gamecocks had four different players start games at quarterback this season and all four won at least one game during their start.
North Carolina finished the season with a disappointing 6-7 record. Many people thought the Tar Heels would win the ACC this year and could have possibly been a College Football Playoff team.
Tar Heel quarterback Sam Howell finished the game 12-of-20 for 206 yards and one touchdown in what will likely be his last game at UNC.