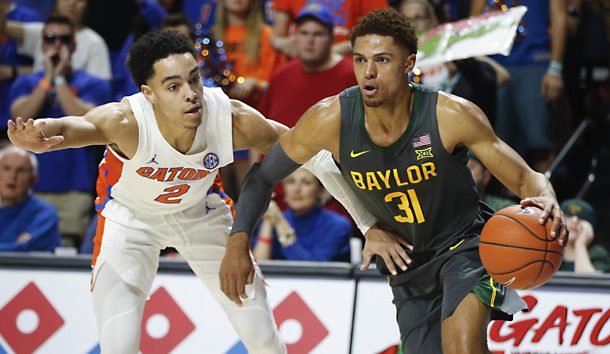 GAINESVILLE — Anyone doubting whether No. 1 Baylor is the top team in the nation, a potential No. 1 seed in the NCAA tournament, and potentially this season's national champion should have watched Saturday night's 72-61 win against the Florida Gators in Gainesville.
It was the perfect storm for the nation's top team. They were on the road against an improving Florida team, who continues to find its way. The Bears also were playing the late game as part of the Big 12-SEC Challenge as non-conference teams generally have trouble on the road in later games against formidable competition.
But, the Bears didn't blink. Once they got the feel of the game, they were good to go. They took the lead at 30-27 on a triple by MaCio Teague with 4:42 remaining in the first half. Teague led them to a 13-2 run to finish the first half with a 40-29 lead.
Baylor's lead topped at 53-34 on a 3-point field goal by Devonte Bandoo with 13:56 to play as the Bears totally controlled the second half.
"I think Fran Fraschilla was doing one of our games and he is 100 percent right – we have six starters and Devonte is a starter and when you have got four guards and one is struggling or not playing well," said Baylor head coach Scott Drew. "You have to have depth and Devonte the last three games has really given us a big lift."
Their physicality and quickness locked down the Gators on the perimeter as Florida made only 4-of-17 triples. Noah Locke, who is generally the most consistent 3-ball maker for the Gators, only hit one of five and was in foul trouble most of the evening.
"I am not sure that we will face a better group of defenders all season," said Florida head coach Mike White. "(Davion) Mitchell on the ball creates havoc. Gillespie's ability to move his feet, ball screen defense, alter shots at the rim. Collectively, they are just really impressive defensively."
Bandoo and Teague led the Bears with 16 each, while Mitchell went 7-of-8 at the line to finish with 12.
Here are five reasons that the Baylor Bears have risen to No. 1 in the nation and are national title contenders:
Defensive efficiency – The Bears have so much speed and quickness on the perimeter that they get up into the passing lanes and are disruptive on teams trying to execute their offenses. You may pull them out high and try to exploit their speed and quickness, but you won't find a matchup that generally puts them at a disadvantage. They are also longer and get deflections. Coach Drew has been known for his 2-3 matchup zone, but this team is probably his best man-to-man defensive unit in his 16 years at the helm. The Bears hold opponents to 38.3 percent from the field on the season and they are fourth in defensive efficiency, according to kenpom.com
Size and physicality inside – This starts with the 6-9, 245-pound Freddie Gillespie in the middle where he averages 9.9 points, 9.2 rebounds, and has a team high 39 blocks. He's very nimble afoot and can cover space. Mark Vital joins Gillespie in the paint with the same ability to rebound and defend the paint. Tristan Clark is a big piece to the puzzle as well, but he continues to battle injuries.
Offensive contributions – Gillespie is a tough force to stop inside as he scores at a 58.2 percent clip. He has great toughness in the lane and around the rim and can win matchups on the boxes as he knows how to use his physicality to post up without committing offensive fouls. Vital and Clark offer the same luxury with polished skills on the post ups or faces ups in and around the lane. Four Bears can surround the 3-point line and make the triple as Butler has 45 and Teague has netted 36.
Age and Experience – This factor was evident on Saturday night in Gainesville as Baylor is a team with a junior-senior dominated rotation. Butler and Mitchell are sophomores who make major contributions as two starters for Drew. Gillespie and Bandoo are the seniors and they are solid leaders. Watching these guys in warmups and after the game, this is as tight knit of a basketball team as you will see.
Bench factor – Bandoo comes off the bench and had his sixth double-figure scoring game of the season with his career high of 16 points. He averages nearly 25 minutes per night as he is a stalwart defensively. Vital has started 11 games and Clark has started six, so Drew has plenty of versatility in who can start based on matchups once Clark becomes healthier. Matthew Mayer is a big man who is capable of hitting the three and Flo Thamba has only played in 14 games, but has a 7-foot-6 wing span which alters shots.