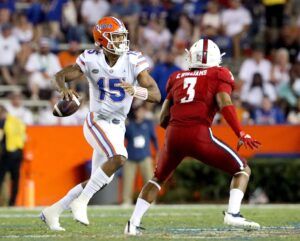 GAINESVILLE, Fla. – There were a lot of upsets around college gridirons on Saturday, but the Florida Gators told viewers to go some other place to look for one, as they plucked and basted the Florida Atlantic Owls, 35-14 on Saturday evening.
The Gators rushed for an impressive 400 yards behind 160 from freshman quarterback Anthony Richardson, along with 104 on 14 carries from senior running back Malik Davis.
Junior quarterback Emory Jones completed 17 of 27 passes for only 113 yards and ran 10 times for 74 yards.
Richardson's performance on the ground and his pure athletic ability may have stoked the fires of a brewing quarterback controversy. His 73-yard touchdown run with 3:43 left stoked the flames even more about the thought of who the Florida quarterback should be.
"The plan was for us to play both of them," said Florida coach Dan Mullen. "We put Anthony in that series in the first half and had two in the second half. Both of them have the potential to make explosive plays out there."
Mullen downplayed the idea of a quarterback controversy, but he did laud Richardson's playmaking ability.
"He's exciting with the ball in his hand isn't he – running around with the ball in his hand," said Mullen. "I think he's going to be a great player for us with his athleticism. He's a special guy with the ball in his hand."
Jones is the incumbent and his experience is something Mullen needs with so many new and young players on offense. Also, Jones knows the entire offense, but Richardson is learning quickly.
Mullen wasn't adverse to the 400 yards rushing, obviously, as he noted the explosiveness of the running game with two Gators rushing for 100 yards each.
"I have done it before," said Mullen. "We are going to do what our guys do well. Our explosive plays came on the ground tonight. Are we taking the shots we need to down the field to be explosive in the passing game as well? That's something we will have to look at."
Jones found a wrong signal from the sideline which caused the Gators to give up the ball on downs inside the Florida Athletic 5-yard line in the second quarter. Mullen said it was a miscommunication where Jones should have taken a time out.
"There are some things he did well tonight and then some things he missed," said Mullen. "The good thing is coming off the field, it's 'hey what did you see?' and he knows what the issue is. It's 'hey, I missed this' and 'hey, I missed that' and that is what you want from a quarterback."
The Gators used a two-yard touchdown run from Dameon Pierce and a nine-yard scoring toss from Emory Jones to Rick Wells on their first two drives and led 14-0 at the end of the first period.
Davis picked up his touchdown in the fourth quarter as well on a one-yard run that capped a seven-play, 73-yard drive and have Florida a 28-0 lead with 7:42 to play.
"He really ran the ball hard – yards after contact," said Mullen of Davis. "He was causing missed tackles. He had really good vision. I thought our backs as a whole all played well."