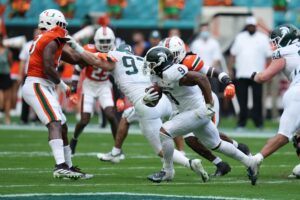 MIAMI GARDENS, Fla. – The growth of the Miami football program back into a national power took a step backward on Saturday.
The Hurricanes' 38-17 loss to Michigan State saw a litany of errors and mischances to take a win over what has been a middling Big Ten opponent in Michigan State, but in the end, the Hurricanes were too much of an opponent for themselves.
Miami had four turnovers which gave the Spartans 14 points as well as nine penalties and multiple missed tackles. Spartans running back Kenneth Walker, III, had his way all afternoon as he finished with 27 carries for 172 yards while hauling in a touchdown catch.
"They were creating a lot of one-on-one tackling opportunities with their screen game and they were winning," explained Hurricanes head coach Manny Diaz. "They were running harder through our tackles and we were running harder through contact."
Missed tackles are becoming a recurring theme for the Hurricanes and that showed up again against a physical Michigan State offense.
"We have a system of tackling that we have done for a long time and have done it with good results," Diaz noted. "Obviously, we are limited in how you can take a guy to a ground in practice."
Miami had a chance in the first half to possibly break the game open.
On the drive after quarterback D'Eriq King found Charleston Rambo on an 11-yard TD pass for a 7-3 Miami lead, King drove Miami to the Spartans 10-yard line.
On second down, Will Mallory dropped a touchdown pass that was thrown on the numbers by King. Subsequently, Andy Borregales missed a 27-yard field goal.
From there, Spartans quarterback Payton Thorne led Michigan State on a 9-play, 80-yard drive that ended in a 7-yard touchdown pass to Walker and Miami never saw the lead again.
"Turnovers and red zone told the story of today," said Diaz. "Missing opportunities and not creating any turnovers. They basically won all of the critical moments of the game."
King For A While
D'Eriq King's day was an oxymoron.
He completed 38 of 59 passes for 388 yards and two touchdowns, but it was the two interceptions and fumble that put things in perspective.
On the first drive, Miami had gained an advantage on the outside in using its speed. King was getting all of his receivers involved in the offense as Christian Rombo, Mike Harley and Will Mallory were all accounted for early.
King lost a fumble on a 10-yard gain off a 1st-and-10 at the Spartans' 39. As early as this was in the game, it would have given Miami a big psychological advantage to get into the end zone first.
Instead, it foreshadowed the uphill battle and the lack of discipline on both sides of the ball that would plague Miami all afternoon.
"He's hurt emotionally because he wants so badly for us to be great and great on offense," Diaz noted. "He's a competitor and he won't be happy until this happens."
Of course, King was injured last season in the Cheez-It Bowl with a torn meniscus and ACL. He has come back and tried to work Miami into a position to where it can compete in the ACC Coastal this season.
"D'Eriq has been courageous as they come," said Diaz. "In the locker room the team is together, he goes out there he lays it on the line. I think that's where the team is – together. How can you put it on a guy that gives all he has to give?"
Ground to a Halt
Miami's running game is in a tough place as there has been so much shifting on the offensive line and that has caused an issue with chemistry and continuity in not only the running game, but also the offense in general.
The Hurricanes had to use seven offensive linemen in Saturday's game and they were only able to post 52 yards rushing with starting running back Cam'Ron Harris carrying 11 times for 44 yards.
Running back Don Chaney was lost for the season in last week's win over Appalachian State.
Sparty Party
Once the Spartans were able to flip the momentum and get their footing in the fourth quarter, they rolled as they scored a touchdown every time they had the ball in the fourth quarter and on four of their last five drives.
Michigan State outscored Miami, 21-3, in the fourth quarter as Thorne hit Jayden Reed on a 10-yard touchdown pass and also found Jalen Nailor on a 39-yard TD to push the lead to 31-17.
Reed also scored with 2:32 to play on an eight-yard run on a reverse to the left side of the field.
Nailor had four catches for 82 yards, while Thorne finished at 18-for-31 passing for 261 yards and four touchdowns.
The Spartans cemented their first 3-0 start since 2015 for coach Mel Tucker.