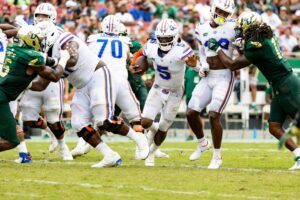 TAMPA, Fla. – Florida Gators head coach Dan Mullen picked up his 100th win as a college football head coach on Saturday in the Gators' 42-20 win over USF at Raymond James Stadium in Tampa. But, through all those victories, he may have never not had a choice between two athletic quarterbacks as solid and resourceful as redshirt junior Emory Jones and redshirt freshman Anthony Richardson.
Both played and had a major hand in the Gators rolling up 666 yards of total offense. Mullen was once again besieged with questions about who will be starting at quarterback.
He once again gave Emory Jones the nod to start against No. 1 Alabama next Saturday on CBS at 3:30 EST.
The Gators' two pre-SEC outings against Florida Atlantic and South Florida have been a measuring stick with a young football team. Mullen and his staff have been able to see players in live game situations and see who may have separated at any position going into next week's assignment against the Crimson Tide.
It seems that fans and media will not take Mullen at his word and allow for a fluid quarterback situation after record-setting Kyle Task took his talents to the NFL and now calls Raymond James Stadium home as he backs up Tom Brady with the world champion Buccaneers.
Jones completed 14 of 22 passes for 151 yards and a touchdown. Richardson was 3-for-3 passing for 153 yards and two touchdowns. Both led the ground game as well as Richardson had four rushes for 115 yards, including an 80-yard touchdown and Jones rushed 13 times for 81 yards, including a 33-yard touchdown run.
Jones' two interceptions set Twitter on fire, woke up the fans, and then … all alligators in the waters of Florida raised their heads up out of their homes and turned their eyes toward Tampa Bay.
Seriously, though, the glass is way over half-full here with both of these quarterbacks as Mullen noted.
"We are fortunate," Mullen explained. "We have two quarterbacks who can make great plays out there on the field. Both of them I thought were pretty efficient in the first half and both of them were so-so at times with different situations in the second half with things that go on."
Fans shouldn't burn Emory Jones and lock him away on the sidelines with a headphone and a bottle of Gatorade and thank him for being a Gator.
As a redshirt junior, he knows things that Richardson may still be learning. Mullen strives for efficiency in all three phases of the game and while the Gators haven't had that, they are a work in progress.
"He came back in and continued to manage the game," said Mullen of Jones. "Those are growing mistakes (meaning mistakes where Jones learns). The first one was a bad one and the second one, we have to speed up his read. He was late on the throw on the second one."
Richardson is a freakish athlete, who is a threat with the run or the pass from anywhere on the field.
He scored Florida's only points of the second half when he executed his RPO to perfection. He broke off the line of scrimmage and scored on an 80-yard run to give the Gators a 42-13 lead with 10:29 to go in the game.
Richardson pulled up and grabbed his right hamstring on the run and Mullen said he thought his hamstring tightened up on him, but there was no immediate word on what the injury definitely was.
The redshirt freshman found Jacob Copeland on a 75-yard touchdown pass that gave the Gators a 14-3 lead with 4:34 remaining in the first quarter. He also found Copeland on a 41-yard pass play that gave Florida a 28-3 lead midway through the second period.
"There's a lot that the quarterback has to do that has to do with making reads out there on the field," explained Mullen. "A lot of things and you're like, 'Oh what a spectacular run.' The touchdown run was a great read and he made the right read, broke a tackle and scored a touchdown."
Predictably, the Gators weren't going to show a lot on either side of the ball to keep Alabama guessing as they make games plans for the Tide this week.
"It's a long season and we have young quarterbacks that have two continue to grow and develop into being really good football players," Mullen said.
Say What?
Mullen noted the visibility of the quarterback decision and then talked about using five running backs on Saturday. He pointed out that no one seemed to be paying attention to the competition at that position.
When the questions wouldn't go away about the quarterback position, the coach had a question for a reporter.
Reporter: Last week, you said Emory is the starter. Is he sill the starter?
Mullen: (laughing): "As I said, we have two pretty good quarterbacks. You see them both play in every single game."
"Why don't I ask you, who started at running back?"
Reporter asks another question.
Mullen: "Who started at running back today? Do you know?
Reporter: "Malik (Davis)"
Mullen: "Okay, I didn't know that. Cool … Because we have five pretty good running backs. We roll those guys through and we have two pretty good quarterbacks."
Gator Standard:
Mullen discussed how the execution wasn't where it needed to be, especially in the second half. He talked about playing a myriad of people to give them opportunities to earn spots.
"If you get it though, you better live up and play to the Gator Standard and there are lots of guys that are going to turn on the film and realize that they didn't play up to the Gator Standard today," said Mullen.
The coach said the three ingredients of attitude, effort and energy are there with this team, but he looks for execution.
Mullen: "I think with the execution of every single play and the detail that goes into every single play and how exact you have to be on every single play – we gave a lot of guys opportunity and they missed it from those things. They will say, 'Hey coach, I did it right four out of five plays.' Well, that's not the Gator Standard. The Gators Standard is doing it right, five out of five plays — with relentless effort."