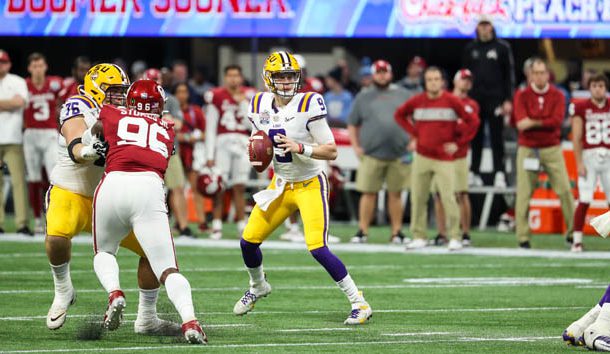 ATLANTA — The No. 1 LSU Tigers proved to a record Chick-Fil-A Peach Bowl crowd of 78,347 fans why they are the best college football team in America by rolling up 692 yards of total offense on 74 plays to go along with 63 points scored against No. 4 Oklahoma.
LSU quarterback Joe Burrow, playing in his first game since winning the Heisman Trophy, showed no signs of the Heisman bowl curse as he had a record-breaking game, passing for seven touchdowns and rushing for another.
Burrow was 29-of-39 passing for 493 yards passing and had five carries for 27 yards and another score in being named the game's Offensive Most Valuable Player. After the game he felt like he could have played better.
"To be honest, it wasn't my sharpest game," he said. "Guys like Terrace (Marshall) and Ja'Marr (Chase) were bailing me out on misreads and being late with the football. I'm excited to get back to practice and tune those things up. That's the kind of team we have." said Burrow.
Tigers' wide receiver Justin Jefferson also had a record breaking night with four touchdown receptions. He caught 14 passes for 227 yards.
"When someone's hot, why not keep going to him.," Jefferson said. "So Joe just kept finding me on the field, just making those big plays. Just like Coach said, on the big plays, feel the emotion. So just going out there, doing what I got to do."
When Burrow and Jefferson were asked about their record breaking performance they both said that the only record that mattered was January 13th , the day of the National Championship Game.
"Proud of these two young men on the side of me," LSU Coach Ed Orgeron said in the postgame interview. "They're great players, great teammates. What a tremendous job. I thought we played – for about three quarters, we played a complete game. Give Oklahoma credit. They have great athletes. Coach Riley is great coach, and they have had a lot of success."
LSU offensive coordinator Steve Ensminger learned shortly before kickoff that his daughter-in-law, broadcaster Carley McCord, was among five people killed in a plane crash in Louisiana. The small plane went down shortly after takeoff for what was supposed to be a flight to Atlanta for the game.
Head coach Ed Orgeron delivered the news to Ensminger, who was seen with tears running down his cheeks, but stuck to the task at hand.
"Coach, we're going to get through this," Ensminger told his boss. Then the coordinator headed to his usual spot in the box upstairs, calling plays alongside passing game coordinator Joe Brady. It was a brilliant, poignant performance in the face of such grief. The players didn't learn until afterward what Ensminger was going through.
"I can't think of what he was able to do today with the circumstances," Brady said. "It speaks to the type of man he is."
Oklahoma quarterback and Heisman Trophy runner up Jalen Hurts closed out a nomadic college career that began with him leading Alabama to a pair of national championship games before losing his starting job to Tua Tagovailoa. After graduating, Hurts transferred to Oklahoma for a one-and-done season that produced some dazzling numbers, but ended short of the ultimate goal.
Oklahoma Coach Lincoln Riley shared his feeling about the game.
"It's a disappointing locker room right now," he said. "What can you say? I thought the game, we traded blows early. They went on the run there at the end of the first half. We got a little frantic and just didn't play our best."
The LSU Tigers (14-0) are headed to the title game against No. 3 Clemson, a 29-23 winner over No. 2 Ohio State in the second semifinal in Arizona.