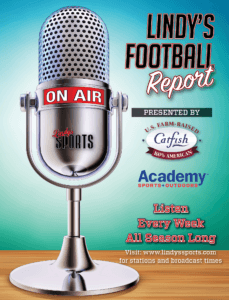 Lindy's Football Report is back for its 10th season.
Our 30-minute weekly radio show will continue through mid-December. Sponsored by U.S. Farm-Raised Catfish, the show discusses games and topics impacting college football nationally with emphasis on the SEC. Co-hosts for the show are long-time sports journalists Graham Dunn and Michael Butler, joined each week by Lindy's writer/editor and columnist, Lyn Scarbrough.
Lindy's Football Report is heard on 99 stations in 13 states. See below for days and times when the show can be heard in each market.
The

Lindy's Football Report for Week Nine of the 2021 season can by heard by clicking: HERE
2021 Affiliates
| | | | | | | | | |
| --- | --- | --- | --- | --- | --- | --- | --- | --- |
| Confirmed Markets | Station | Frequency | Contact | Telephone | E-Mail | Air Day | Air Time | |
| Alabaster/Shelby County, AL | WAPH | 99.9 | Dale Jones           Gene Rowley | 205-317-5228 | | Fri. | 6 p.m. | |
| Alexander City, AL | WKGA | 97.5 | Jeremy Jeffcoat | 256-234-6464 | | Sat. | 10 a.m. | |
| Auburn, AL | WQSI | 95.9 | Evan DeLoach | 334-887-9999 | | Fri. | 6 p.m. | |
| Cullman, AL | WKUL | 92.1 | Ron Mosley, Jr. | 256-734-0183      (cell) 256-735-8431 | | Fri.          Sat. | 10 p.m.        9:30 a.m. | |
| Demopolis/Linden, AL | WINL | 98.5 | Mike Reynolds | 334-875-3350 | | Fri. | 10 p.m. | |
| Dothan, AL | WOOF | 560     100.1 | Jessica Holderfield           Leigh Simpson | 334-792-1149 | | Fri. | 6 a.m. | |
| Enterprise, AL | WOOF | 107.1 | Jessica Holderfield           Leigh Simpson | 334-792-1149 | | Fri. | 6 a.m. | |
| Florence, AL | WYTK | 93.9 | James Moody | 256-764-9390 | | Thurs. | 6 p.m. | |
| Foley, AL | WHEP | 1310 | Clark Stewart | 251-978-9579 | | Fri. | 8:05 a.m. | |
| Foley, AL | WHEP | 92.5 | Clark Stewart | 251-978-9579 | | Fri. | 6 p.m. | |
| Grove Hill, AL | WBMH | 106.1 | Bubba Butts | 251-978-8848 | | Fri. | 6:30 p.m. | |
| Heflin, AL | WPIL | 91.7 | Roger Harris | 256-463-4226 | | Fri. | 6 p.m. | |
| Huntsville, AL | WZZN | 97.7 | Steve Moulton | 256-382-0724 | | Thurs.        Sat. | 8 p.m.        6:30 a.m. | |
| Jackson, AL | WHOD | 94.5 | Bubba Butts | 251-978-8848 | | Fri. | 6:30 p.m. | |
| Mobile, AL | WNSP | 105.5 | Clint Crouch | 251-438-5460 | | Sat. | 8:15 a.m. | |
| Monroeville, AL | WMFC | 99.3     1360 | David Stewart         Allen Coker | 251-575-3281 | | Thurs. | 6 p.m. | |
| Montgomery/Selma, AL | WDXX | 100.1 | Mike Reynolds              George Henry | 334-875-3350          334-412-2196 | | Fri. | 9:30 p.m. | |
| Ozark/Troy/Enterprise, AL | WOAB | 104.9 | Les Perault | 334-432-3083 (cell) | | Sat. | 8 a.m. | |
| Red Bay, AL/Corinth, MS | WRMG | 1430          97.9 | Jack Ivy | 256-356-4458      (cell) 662-423-7602 | | Thurs.  Thurs.   Fri.       Fri.   Sat. | 4:30 p.m.    10 p.m.        6 a.m.     5:30 p.m.     9 a.m. | |
| Scottsboro, AL | WWIC | 1050 | Greg Bell | 256-599-2433 | | Sat. | 7:30 a.m. | |
| Sylacauga, AL | WFEB | 1340    100.9 | Bruce Carr | 256-872-8060 | | Thurs. | 6 p.m. | |
| Tallassee/Montgomery, AL | WTLS | 1300    106.5 | Michael Butler | 334-221-8126 | | Thurs. | 6 p.m. | |
| Tuscaloosa/Marion, AL | WTID | 100.9 | Joe Gaither           David Dubose | 423-802-5203         205-345-7200 | | Thurs. | 8 p.m. | |
| Arkadelphia, AR | KDEL | 100.9 | Jay Brentlinger | 480-747-5330 | | Sat. | 9 a.m. | |
| Arkadelphia, AR | KVRC | 1240 | Jay Brentlinger | 480-747-5330 | | Sat. | 9 a.m. | |
| Conway, AR | KASR | 92.7 |  Josh Harrison | 501-327-6611 | | Fri. | 5 p.m. | |
| Gurden/Hot Springs, AR | KYXK | 106.9 | Jay Brentlinger | 480-747-5330 | | Sat. | 9 a.m. | |
| Fayetteville/Mountain Home/Harrison, AR | KBCN | 104.3 | Tye Richardson        Andy Hodges | 479-236-9527        870-743-1157 | | Sat. | 5 1/2 hours before Razorback football | |
| Ft. Smith, AR | KERX | 95.3 | Tye Richarson | 479-236-9527 | | Sat. | 5 1/2 hours before Razorback football | |
| Goshen/Fayetteville, AR | KAKS | 99.5 | Zach Arns             Andy Hodges | 479-236-9527 | | | 5 1/2 hours before Razorback football | |
| Gurden/Hot Springs, AR | KYXK | 106.9 | Jay Brentlinger | 480-747-5330 | | Sat. | 9 a.m. | |
| Helena, AR | KFFA | 1360        103.1 | Johnny Ross     Monte Spearman | 662-334-4550 (o) 662-822-0327 (cell) 806-777-8542 | | Sat. | 11 a.m. | |
| Johnson/Fayetteville, AR | KUOA | 95.3 | Zach Arns             Andy Hodges | 479-236-9527 | | | 5 1/2 hours before Razorback football | |
| | | | | | | | | |
| Malvern, AR | KZYP | 1310       104.1 | Jay Brentlinger | 480-747-5330 | | Sat. | 9 a.m. | |
| Mena/Hot Springs, AR | KTTG | 96.3 | Tye Richardson | 479-236-9527 | | Sat. | 5 1/2 hours before Razorback football | |
| Siloam Springs/Fayetteville, AR | KUOA | 1290 | Zach Arns              Andy Hodges | 479-236-9527 | | Sat. | 5 1/2 hours before Razorback football | |
| DeFuniak Springs/Panhandle, FL | WZEP | 1460 | Tom Fleetwood | 850-892-3158 | | Fri. | 6:00 p.m. | |
| Jacksonville, FL | WFXJ | 930 | Chumley           Scott Harris            Rick Everett | 904-636-0507 | | Fri. | 6:30 p.m. | |
| Orlando, FL | WYGM | 740          104.1 | Rick Everett                Brandon Kravitz | 407-916-7800 | | Fri. | 6 p.m. | |
| Tampa, FL | WDAE | 620 | John Mamola | 813-832-1007      (cell) 813-357-9396 | | Sat. | 7 a.m. | |
| Athens/Bostwick, GA | WMOQ | 92.3 | David Malcomb        Meredith Collins     Joel Hair | 770-267-0923       (ext. 203) | | Sat. | 8 a.m. | |
| Bainbridge, GA | WMGR | 930 | Dustin Dowdy | 229-416-6259 | | Sat. | 7:30 a.m. | |
| Brunswick, GA | WSEG / ESPN Coastal | 790 | Kevin Thomas | 912-342-7184 | | | | |
| Cairo/Bainbridge, GA | WBGE | 101.9 | Dustin Dowdy | 229-416-6259 | | Sat. | 7:30 a.m. | |
| Camilla/Pelham, GA | WQLI | 92.3 | Dustin Dowdy | 229-416-6259 | | Sat. | 7:30 a.m. | |
| Cornelia, GA | WCON | 99.3 | David Foster | 706-778-2241 | | Sat. | 12:15 a.m. | |
| Donalsonville, GA | WGMK | 106.3 | Dustin Dowdy | 229-416-6259 | | Sat. | 7:30 a.m. | |
| Donalsonville, GA | WSEM | 1500 | Dustin Dowdy | 229-416-6259 | | Sat. | 7:30 a.m. | |
| Jesup, GA | WLOP | 1370 | Jonathan Swift        Butch Hubbard | 912-402-3882                  912-427-3711 (cell) | | Sat. | 10 a.m. | |
| Ringgold, GA | WAAK | 94.7 | Richard Ball          Ethan Jennings | 706-935-2890           (RB cell) 423-313-5440  423-803-7326 | | Fri. | 7 p.m. | |
| Savannah, GA/Hilton Head, SC | WSEG / ESPN Coastal | 1400    104.3 | Kevin Thomas | 912-342-7184 | | | | |
| Pittsburg, KS | KSEK | 1340                 107.9 | Kevin Welch           Bobby Landis | 417-629-4144 | | Sat. | 10 a.m. or just before Mizzou broadcast | |
| Benton, KY | WCBL | 1290 | Jeff Waters | 270-527-3102 | | Fri. | 10 p.m. | |
| Lexington, KY | WVLK | 590 | Dave Krusenklaus | 859-253-5900 (direct) 859-253-5985 | | Sat. | 7:30 a.m. | |
| Lexington, KY | WVLK | 97.3 | Dave Krusenklaus | 859-253-5900 (direct) 859-253-5985 | | Sat. | 7:30 a.m. | |
| Baton Rouge, LA | WNXX | 104.5 | Cade Voisin             (vo wa zen) | 225-499-1045          225-388-9898 | | Sat. | 8:30 a.m. | |
| Lafayette, LA | KLWB | 103.7 | Raymond Partsch | 337-896-1600 (office)   318-664-4246 (cell) | | Sat. | 6:30 a.m. | |
| Ruston/Monroe, LA | KNBB | 97.7 | Production                 Nick Brown                  Gary McKenney      Kendrick Carter | 318-255-5000 | | Fri. | 6 p.m. | |
| New Orleans, LA | | | | | | | | |
| Farmington/Festus, MO | KREI | 800 | Chad Speakar | 573-756-6476 | | Fri. | 5:30 p.m. | |
| Joplin, MO | WMBH | 1560       101.5 | Kevin Welch           Bobby Landis | 417-629-4144 | | Sat. | 10 a.m. or just before Mizzou broadcast | |
| Moberly/Columbia, MO | KWIX | 1230 | Austin Ward           Brad Boyer | 660-263-1500 | | Fri. | 6:06 p.m. | |
| St. Louis, MO | KTRS | 550 | Brendan Wiese | (cell) 314-602-7305 | | Fri. | 8:30 p.m. | |
| Booneville, MS | WBIP | 1400 | Cindy Hicks Chapman | 662-728-0200 | | Fri.      Sat. | 9:15 p.m.        7:05 a.m. | |
| Booneville, MS | WBIP | 99.7 | Cindy Hicks Chapman | 662-728-0200 | | Fri.      Sat. | 9:15 p.m.        7:05 a.m. | |
| Centreville, MS | WKJN | 104.9 | Benji Embry | 601-684-4116 | | Sat. | 8 a.m. | |
| McComb, MS | WAZA | 107.1 | Benji Embry | 601-684-4116 | | Fri. | 6 p.m. | |
| Greenville, MS | WDMS | 100.7 | Johnny Ross        Monte Spearman | 662-334-4550 (o) 662-822-0327 (cell) 806-777-8542 | | Sat. | 11 a.m. | |
| Greenville, MS | WGVM | 1260 | Johnny Ross        Monte Spearman      Mike Wiseman | 662-334-4550 (o) 662-822-0327 (cell) 806-777-8542       501-804-3485 | | Fri. | 7 a.m. | |
| Natchez, MS/Ferriday, LA | KFNV | 107.1 | Jim Allgood                 Mike Thomas | 318-757-4200       cell 601-597-6658           cell 601-569-5464 | | Sat. | 7 a.m. | |
| Natchez, MS/Ferriday, LA | KWTG | 104.7 | Jim Allgood                 Mike Thomas | 318-757-4200       cell 601-597-6658           cell 601-569-5464 | | Sat. | 7 a.m. | |
| Picayune, MS | WRJW | 1320 | Carey Meitzler            Denise (Wilson) Wood | 601-798-4835 | | Fri. | 5:45 p.m. | |
| Starkville/Louisville, MS | WLSM | 107.7 | Will Hill | 662-803-1849 | | Fri.    Fri.      Sat. | 5/5:30 p.m.                      10:30/11 p.m.        9 a.m. | |
| Tupelo/Saltillo, MS                          (Starkville, West Point, Columbus) | WWMR | 102.9 | Cindy Hicks Chapman | 662-728-0200 | | Fri.      Sat. | 9:15 p.m.        7:05 a.m. | |
| Tylertown, MS | WFCG | 107.3 | Benji Embry | 601-684-4116 | | Fri. | 6 p.m. | |
| Vicksburg, MS | WVBG | 105.5 | Emily Tillman         Mark Jones | 601-883-0848 | | Fri. | 6:09 p.m. | |
| Yazoo City, MS | WBYP | 107.1 | Brenda Johnston | 662-746-7676 | | Sat. | 8 a.m. | |
| Baker City, OR | KBKR | 107.3 | Cliff Turner | 541-963-4121 | | Thurs.      Fri. | 5:30 p.m.           4:30 p.m. | |
| La Grande, OR | KLBM | 1450 | Cliff Turner | 541-963-4121 | | Thurs.      Fri. | 5:30 p.m.           4:30 p.m. | |
| Columbia, SC | WNKT | 107.5 | Tim Hill | 803-992-4236 | | Sat. | 7 a.m. or 5 hours before Gamecock football | |
| Greenwood, SC | WZSN | 103.5 | Tom Karel                  Dave Fezler | 864-223-4300 (off)  864-357-8795 (cell) | | Fri. | 6:30 p.m. | |
| Greenwood, SC | WCSB | 1090   102.7 | Tom Karel                   Dave Fezler | 864-223-4300 (off)  864-357-8795 (cell) | | Fri. | 6:30 p.m. | |
| Greenville/Spartanburg, SC | WCSB | 107.7 | Dick Cox | 864-316-3861 | | Fri. | 6 p.m. | |
| Milan, TN | WTKB | 93.7 | Stevey Ray Hemann | 731-562-9852 | | Fri. | 5:30 p.m. | |
| Nashville/Franklin, TN | WAKM | 950 | Linda Carden            Darrell Williams | (cell) 615-290-0202  (off) 615-794-1594 | | Thurs. | 6 p.m. | |
| Paris/Camden, TN | WRJB | 95.9 | Jim Steele | 731-535-0214 | | Thurs. | 6 p.m. | |
| Athens, TX | KLVQ | 1410 | Johnny Ross | 662-334-4550 (o)    662-822-0327 (cell) | | | | |
| Houston, TX | KBME | 790 | Chris Gordy | (cell) 504-669-4780  713-212-8133 | |  Thurs. | 9 p.m. | |
| Malakoff, TX | KCKL | 95.9 | Johnny Ross | 662-334-4550 (o)    662-822-0327 (cell) | | | | |
| Malakoff, TX | KCKL | 95.9 | Johnny Ross | 662-334-4550 (o)    662-822-0327 (cell) | | | | |
| | | | | | | | | |
| | | | | | | | | |
| | | | | | | | | |