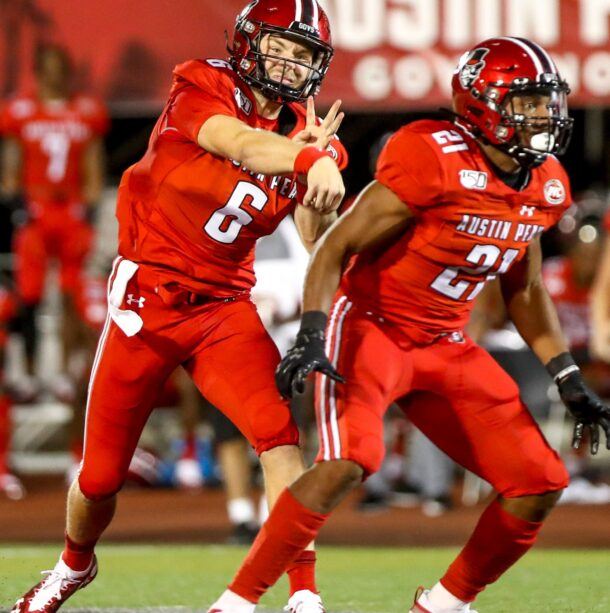 Central Arkansas vs. Austin Peay
League: Football Championship Subdivision
Location: Montgomery, Ala.
Weather: Partly cloudy, temps in 80s around kickoff
Time: 8:00 p.m. ET
Channel: ESPN
Last year's game: Central Arkansas won 24-16
Central Arkansas Bears players to watch: QB Breylin Smith, WR Lujuan Winningham, WR Tyler Hudson, CB Robert Rochell
Austin Peay Governors players to watch: QB Jeremiah Oatsvall, WR DeAngelo Wilson, WR Baniko Harley, NB Kordell Jackson, FS Juantarius Bryant
Notes:
 *Central Arkansas returns 22 starters from last year's 9-4 team, which was eliminated by Illinois State, 24-14, in the FCS playoffs.
*UCA leads the series 2-0.
*Austin Peay returns 14 starters (7 offense, 7 defense) from last year's 11-4 team.
*Austin Peay closed the regular season with five consecutive wins before it lost to No. 5 Montana State in the FCS quarterfinals
Get you some Football Championship Subdivision 
It's not a clash between Power 5 titans like we are used to seeing in the opening weekend of the college football season.
But it's football.
And I salute the school administrators and the players from Central Arkansas and Austin Peay, who are ranked 13 and 14th in Lindy's preseason FCS poll, respectively, for sticking it out and pushing through —  and deciding to play ball despite all the naysayers who continue to say college football won't be played.
Last year when these two hooked up in Week Two of the FCS season, Austin Peay quarterback Jeremiah Oatsvall was lost for the year on a designed QB draw eight plays into the game. Not only did the loss of Oatsvall, a dual-threat, cripple the team's offensive game plan, but it put the Governors behind the eight-ball in a tough matchup, which resulted in a loss.
"I think it being such a quick, sudden change, it had an effect," Austin Peay head coach Mark Hudspeth said. "We had to get a feel for what we thought he could do. After we were able to make some adjustments at halftime, with some protections and things we wanted to do offensively, we were able to open it up and were able to get 16 points."
Oatsvall, last year's Ohio Valley Conference preseason player of the year, will be the starter for this year's college football opener against the Bears — and he's poised for redemption.
"It's exciting," said Oatsvall. "Just ready to play again."
Nickel back Kordell Jackson — the 2019 Defensive Player of the Year in the league — and wideout DeAngelo Wilson, who recorded a school-record 1,564 receiving yards a year ago, are other standouts to watch for the Governors.
Central Arkansas (9-4, 7-2, Southland Conference in 2019), is led offensively by rangy quarterback Breylin Smith, dynamic wideouts Lujuan Winningham and Tyler Hudson, who was the Southland Conference Freshman of the Year after he led the Bears with 55 catches for 975 yards and 12 touchdowns.
Defensively, senior standouts Robert Rochell and nickel (hybrid safety/linebacker) back Kordell Jackson, arguably the best two DBs on the FCS level, anchor a Bears secondary that should be tough to make big plays on.
Like last year, this game should be a dandy. And the television revenue should be off the charts for both schools — because they chose to play. With that said, look for the Governors to get their first win in the series behind a game-winning drive by the crafty veteran Oatsvall.
The Lowe Down: Austin Peay 26, Central Arkansas 23