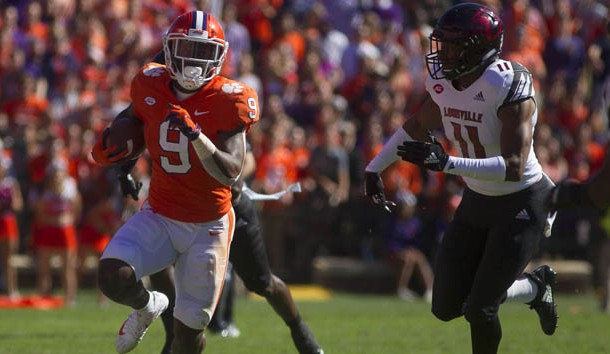 Welcome to Week Two of The Lowe Down.
The phrase "It will be interesting to see" has been floating around the sports world like a champion.
Whether you are listening to a radio show or a T.V. broadcast, rest assured you'll get a "it will be interesting to see" phrase at any moment.
With that said, it will be interesting to see what happens in Week Two of the college football season
Sure, Clemson/Texas A&M and LSU/Texas are the filet mignon of this weekend's games, but don't be surprised if there's a potential upset in one of the matchups between Army/Michigan, Cincinnati/Ohio State and Nebraska/Colorado.
With that said, it will be interesting to see which team can emerge in the Pac-12.
Despite its last-second loss to Auburn, Oregon looks like a strong contender to win the league. But this week's winner between Cal and Washington could also be a factor, as will Utah, who hosts Northern Illinois.
Hey! You smell that? It smells like victory!
Last week's record was 23-2. To the games we go…
Saturday, September 7, 2019
Cincinnati (1-0) at No. 5 Ohio State Saturday, September State (1-0) 11:00 a.m. CT
New quarterback Justin Fields threw for 234 yards and four touchdowns and ran for a score in Ohio State's 45-21victory over Florida Atlantic last weekend. But Cincinnati went 11-2 a season ago and could give the Buckeyes a game early Saturday. Sophomore signal-caller Desmond Ridder is a baller and the Bearcats' D, especially its secondary, might be a tough riddle to solve for Fields. Regardless, this should be a hard-fought contest between two inner-state schools.
The Lowe Down: Ohio State 27, Cincinnati 20
Army (1-0) at No. 7 Michigan (1-0) 11:00 a.m. CT
Although Michigan has more talent and is playing at home, the Wolverines better not sleep on a salty Army team that invades Ann Arbor with a triple-option offense that dates back to your grandparents' childhood. Led by Kelvin Hopkins Jr., speedy tailback Kell Walker and a veteran offensive line, the Black Knights should be able to move the ball on a rebuilt Wolverines front seven. But the key to this matchup will be how well the Michigan offense controls a Black Knight D that's in rebuilding mode but remains scrappy.
The Lowe Down: Michigan 27, Army 17
No. 12 Texas A&M (1-0) at No. 1 Clemson (1-0) 2:30 p.m. CT
The game between the Aggies and Tigers is a headliner, but Clemson's skill position players (QB Trevor Lawrence, RB Travis Etienne, star WRs Justyn Ross and Tee Higgins) will be the difference against a rebuilt Texas A&M D. Look for Lawrence to have a monster outing in an impressive Tigers victory.
The Lowe Down: Clemson 45. Texas A&M 20
******The LSU (1-0) at Texas (1-0) pick will be posted on my Twitter ( @Lindyssportsmag or @MattLowe777 )  feed today.
In other Saturday games:
No. 21 Syracuse 30 at Maryland 26 **** Upset Special
Northern Illinois 14 at No. 12 Utah 38
Central Michigan 10 at No. 17 Wisconsin 45
No. 25 Nebraska 27 at Colorado 22
New Mexico State 7 at No. 2 Alabama 58
No. 18 UCF 34 at Florida Atlantic 22
Tulane 10 at No. 10 Auburn 48
Nevada 17 at No. 16 Oregon 42
Cal 17 at No. 14 Washington 24
No. 23 Stanford 20 at USC 23