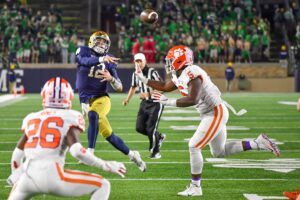 It's been a while since The Lowe Down has made an appearance.
With so much unpredictability this season, especially with player information, it was just way too tough to make predictions on a weekly basis as to what in the world was going to happen.
With that said, I just wanted to take the time to thank all the players, coaches and medical personnel that sacrificed so much to bring us a college football season. I also want to thank the leadership in the ACC, SEC and Big 12 for taking the lead in wanting to push through and play this season when others wanted to cancel everything.
It's been a rough year for everyone, but hopefully things will get better. And always remember, GOOD will always WIN!
Merry Christmas to all. To the games we go…
My current Heisman rankings:
DeVonta Smith, WR, Alabama
Mac Jones, QB, Alabama
Kyle Trask, QB, Florida
Ian Book, QB, Notre Dame
Breece Hall, RB, Iowa State
Friday, December 18
UAB (5-3) at Marshall (7-1) Conference USA Championship Game 6:00 p.m. CT
UAB has a chance to win its second conference tittle in three seasons, which is a remarkable feat considering the Blazers didn't have a program in 2015 or '16. Expect this to be a hard-fought defensive struggle, but don't be surprised if Bill Clark's team pulls the upset in Huntington.
The Lowe Down: UAB 17, Marshall 13
Ball State (5-1) vs. Buffalo (5-0) MAC Championship Game 6:30 p.m. CT
Want to take a guess who leads the nation in scoring? Here's a hint: they are playing in this game. That's right, Buffalo is scoring an FBS-leading 51.8 points per game behind the right arm of quarterback Kyle Vantrease, dynamic tailback Jaret Patterson, one of the college football's hidden jewels, and a veteran offensive line. Look for the Bulls to roll.
The Lowe Down: Buffalo 43, Ball State 20
Oregon (3-2) vs. No. 13 USC (5-0) Pac-12 Championship Game 7:00 p.m. CT  
Oregon is playing for a conference title due to Washington opting not to play. But the biggest news for the Ducks is that it appears head coach Mario Cristobal will remain in Eugene after reportedly agreeing to a contract extension. With Cristobal locked down, UO will look to snap a two-game losing streak. USC is led on offense by sophomore gunslinger Kedon Slovis, tailback Vavae Maiepeai and rangy wideout Drake London. But Maiepeai probably won't suit up due to a sprained knee he suffered in the win over UCLA. Look for bruising tailback Markese Stepp to step into the lead role with Maiepeai out. The Trojans have three comeback victories so far this season so don't rule out another one in what should be a competitive game against a capable Oregon team.
The Lowe Down: USC 38, Oregon 31
Saturday, December 19
No. 14 Northwestern (6-1) vs. No. 4 Ohio State (5-0) Big Ten Championship Game 11:00 a.m. CT
Northwestern is a gritty team that likes to pound the rock and is sound defensively (allowing 14.6 points per game) but beating Ohio State seems like a tall task, especially with a trip to the College Football Playoff on the line for the Buckeyes. We all know how good Justin Fields is and the running duo of Master Teague and Trey Sermon is top notch, but keep an eye on star corner Shaun Wade. If you recall, he was the player who got kicked out of Ohio State's semifinal game against Clemson a year ago for a questionable targeting call. The kid could've turned pro — and would've been a high pick — but he returned for his junior year because he wanted to avenge that call and help his team win a title.
The Lowe Down: Ohio State 38, Northwestern 16
No. 5 Texas A&M (7-1) at Tennessee (3-6) 11:00 a.m. CT
The Aggies are a team that's displayed enough to make the College Football Playoff and with a little help (uh, hum, Notre Dame), they could be invited to college football's version of the final four. Senior quarterback Kellen Mond has turned in his best season in College Station and tailback Isaiah Spiller (897 yards rushing and six scores) spearheads a powerful ground attack that averages a shade over 200 yards per game. Texas A&M isn't too shabby on D either, especially up front.
The Lowe Down: Texas A&M 38, Tennessee 13
No. 10 Oklahoma (7-2) vs. No. 6 Iowa State (8-2) Big 12 Championship Game 11:00 a.m. CT
If Iowa State can beat Oklahoma for a second time this season, it will claim its first conference title in school history. For that to happen, steady quarterback Brock Purdy and explosive tailback Breece Hall, the nation's leading rusher, will need to bring their A games. So will a Cyclones defense that's led by defensive end JaQuan Bailey (13 tackles for loss, seven sacks) and stud linebacker Mike Rose, who leads the team with 81 tackles. After a slow start, Oklahoma's offense has taken flight due to the play of dual-threat quarterback Spencer Rattler and one of the nation's best offensive lines. The defense, which has been a bugaboo for the last few years, has been solid all season behind the play of defensive tackle Isaiah Thomas (8 sacks) and hard-hitting linebacker Brian Asamoah, who leads the Sooners in tackles. Expect a competitive game here, but look for OU to get revenge for its early season loss.
The Lowe Down: Oklahoma 31, Iowa State 28
No. 3 Clemson (9-1) vs. No. 2 Notre Dame (10-0) ACC Championship Game 3:00 p.m. CT
It could be argued that an asterisk could be placed beside Notre Dame's 47-40 double-overtime win over Clemson a few weeks back because Trevor Lawrence was out due to coronavirus. But Lawrence's backup, true freshman D.J. Uiagalelei, passed for 439 yards and two touchdowns and ran for a score, so it can be argued that Lawrence probably couldn't have played much better. With that said, Brian Kelly's team is almost a two-touchdown underdog entering this game, which should be a slap in the face to the Irish players. In the previous meeting, Notre Dame quarterback Ian Book (310 yards passing, 67 yards rushing, one TD), tailback Kyren Williams (140 yards rushing and three scores) and wideout Javon McKinely (five receptions for 102 yards) were the standouts. The Fighting Irish defense also limited Travis Etienne, the ACC's all-time leading rusher, to just 28 yards and a score on the ground. If those storylines play out again in the rematch, don't be surprised to see Notre Dame emerge victorious. Regardless, it should be a heck of a game … again.
The Lowe Down: Notre Dame 38, Clemson 36
No. 1 Alabama (10-0) vs. No. 7 Florida (8-2) SEC Championship Game 7:00 p.m. CT
Florida's eye-popping loss to LSU last week has taken some luster out of this high-profile matchup, but there's still a lot — the Heisman Trophy, an SEC title and a berth in the College Football Playoff — on the line for both teams. Alabama and Florida have been offensive juggernauts all year long, but Florida has struggled in the red zone the last couple of weeks. That could partially be due to a banged up Kyle Pitts, the nation's best tight end and a matchup nightmare. But for whatever reason the Gators haven't been as effective on O as they were earlier in the year. Conversely, Alabama is firing on all cylinders offensively behind the three-headed monster of quarterback Mac Jones, tailback Najee Harris and wideout DeVonta and the nation's best offensive line. But the defense, which is allowing a shade over 16 points per game, has gotten better each week. Look for the Bama defense to make its share of plays, and Jones, Harris and Smith to spearhead the offense to another impressive victory.
The Lowe Down: Alabama 52, Florida 27
No. 23 Tulsa (6-1) at No. 9 Cincinnati (8-0) AAC Championship Game 7:00 p.m. CT
Cincinnati quarterback Desmond Ritter is one of college football's best kept secrets and he'll look to help the Bearcats cap off an undefeated season with a win over a scrappy Tulsa team. Zach Smith paces a Golden Hurricane offense that averages 27.7 points per game and he'll need to play lights out if the visitors expect to pull the upset. Smith has been interception prone this season and if he does that against a salty Bearcats defense Tulsa will have a hard time winning. Also keep an eye on Cincinnati tailback Gerrid Doaks, who's a load at 6-feet, 230 pounds. When he gets going in the ground attack, he's tough to stop.
The Lowe Down: Cincinnati 34, Tulsa 17
In other games:
Mountain West Championship Game 
Boise State 27, San Jose State 30