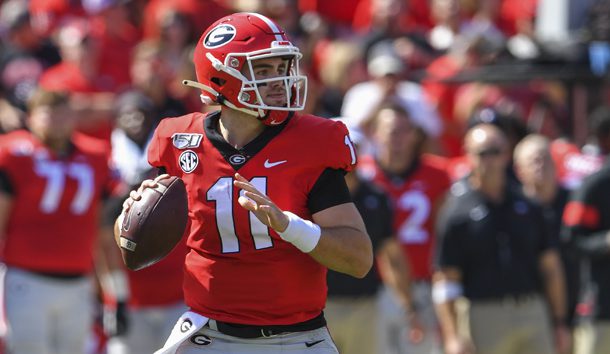 Welcome to Week 12 of The Lowe Down.
The College Football Playoff rankings always seem to dominate the headlines this time of year.
But despite all the obsessive talk, scenarios and arguments about who's going to make college football's version of the final four, there's one word that many pundits fail to mention as we enter the final weeks of the regular season: pressure.
I have a good friend of mine that always mentions to me that sweat is "pain exiting the body."
Well, when I think of pressure, I refer to it as pain infiltrating the mind. And pain within the mind can be hard to deal with when a championship season is hanging in the balance.
As we inch forward to the final 2019 playoff tree, I often think about which teams can operate under highly stressful situations and which teams can't. Experience is always huge with players and teams when it comes to winning championships. But it's always tough to predict which teams will perform when it matters most — and which teams won't.
Over the next three to four weeks, we will find out. But just remember, nothing is set in stone as of yet as far as postseason play is concerned. And that may be a result of the pressure building with each passing week if a single-digit ranking is stamped right next to a team's name.
The yearly record is 72-16. To the games we go…
Saturday, November 15
Indiana (7-2 overall, 4-2 Big Ten) at No. 9 Penn State (8-1 overall, 5-1 Big Ten) 11:00 a.m. CT
Indiana enters its matchup with Penn State fresh off a bye and riding a four-game winning streak. But the Hoosiers are down to their second-string quarterback after redshirt freshman Michael Penix Jr. was lost for the year in a win over Northwestern. Junior Peyton Ramsey takes over for Penix, and he's a capable player (1,302 passing yards, nine touchdowns, three interceptions), so this has the potential to be a sneaky good game. But look for a ticked off Pen State team to pull out a victory on a late Sean Clifford touchdown pass or two.
The Lowe Down: Penn State 34, Indiana 23
Wake Forest (7-2, 3-2 ACC) at No. 3 Clemson (10-0, 7-0 ACC) 2:30 p.m. CT
Before last week, it looked like Wake Forest had the potential to be Clemson's toughest opponent. But that all changed when the Demon Deacons got smoked 36-17 by Virginia Tech in Blacksburg. Now Dave Clawson's squad has the glorious task of going back on the road and playing the defending national champs. In its last three games, Clemson has scored 59, 59 and 55 points primarily due to the play of quarterback Trevor Lawrence and a resurgent Travis Etienne. Etienne, who had one 100-yard game in the team's first five games, has rushed for at least 100 or more in five consecutive outings. Look for that trend to continue as Dabo Swinney's team remains on a beeline for the CFP.
The Lowe Down: Clemson 58, Wake Forest 10
No. 4 Georgia (8-1, 5-1 SEC) at No. 12 Auburn (7-2, 4-2 SEC) 2:30 p.m. CT
Defense is the main theme prior to this SEC clash but the key to victory for both teams could revolve around big plays in the passing game, red zone offense, pass protection, turnovers and the kicking game. Everyone knows Auburn's defensive line, led by Derrick Brown and Marlon Davidson, is terrific. And Georgia's offense line, led by All-American left tackle Andrew Thomas, is terrific as well. But the Bulldogs maybe without starting center Trey Hill, and his backup, Cade Mays, rolled his ankle in the win over Missouri. Look for each unit to win their share of battles, but Auburn may have a slight edge there due to the afore mentioned nagging injuries. The wildcard in this matchup could come down to experience at quarterback. And considering three-year starter Jake Fromm is more seasoned than his true freshman counterpart, Bo Nix, I have to lean towards the Dawgs winning a low-scoring nail-biter.
The Lowe Down: Georgia 20, Auburn 18
No. 8 Minnesota (9-0, 6-0 Big Ten) at No. 20 Iowa (6-3, 3-3 Big Ten) 3:00 p.m. CT
Quarterback Tanner Morgan, tailback Rodney Smith and a fantastic receiving corps, led by Rashod Bateman, headline the Minnesota offense. But the Gophers offensive line, which is a large, powerful bunch, was a big reason why and it controlled a solid Penn State defensive line for basically four quarters. The Gophers defense, led by ball-hawking safety Antoine Winfield, who ranks second in the country with seven interceptions, also made its share of game-changing plays by recording three interceptions against the Nittany Lions. Moving forward, it will be interesting to see how P.J. Fleck's team performs in the CFP spotlight. And that starts this weekend at Iowa, where a lot of good teams over the years have fallen. Iowa quarterback Nate Stanely has NFL potential, but the Hawkeyes have been up and down on offense all season long. Expect a low scoring game, but I want to see this Minnesota team win a tough one on the road before I completely buy in.
The Lowe Down: Iowa 23, Minnesota 20
No. 1 LSU (9-0, 5-0 SEC) at Ole Miss (4-6, 2-4 SEC) 6:00 p.m. CT
LSU is coming off one of the biggest wins in program history, but it can ill-afford to take Ole Miss lightly when the two SEC West foes collide in Oxford. The Rebels have two veteran coordinators (OC Rich Rodriguez and DC Mike MacIntyre) who do a great job of game-planning, and true freshman quarterback John Rhys Plumlee has proven in his limited playing time in the SEC that he can wreak havoc on opposing defenses with his legs. That could add up to a headache for the Tigers if they enter this matchup still celebrating last week's victory. I think LSU is the best squad in the country, but pats on the back can lead to a letdown in college football on any given Saturday.
The Lowe Down: LSU 34, Ole Miss 17
No. 10 Oklahoma (8-1, 5-1 Big 12) at No. 13 Baylor (9-0, 6-0 Big 12) 6:30 p.m. CT
Baylor has escaped the jaws of defeat in narrow wins over West Virginia and TCU in recent weeks, but a major test awaits when perennial conference power Oklahoma visits Waco. All the talk in the Big 12 this season has been focused on Jalen Hurts and the high-powered Sooners offense, but the Bears aren't too shabby on that side of the ball either (35.3 ppg), and they possess the top defense (19.9) in the conference. If you aren't familiar with Baylor, keep an eye on quarterback Charlie Brewer and wideout Denzel Mims. Brewer is a mobile, tough, accurate passer and he's a big reason why the Bears are still unbeaten due to his uncanny ability to make plays when it counts. Mims is a physical wideout (6-3, 210) and Brewer's go-to guy in the clutch — see his two TD receptions in the three-overtime win over TCU last week — and he has a knack for making the circus catch. All signs point to a lot of points being scored in this pivotal league matchup, but Baylor's D is reliable and Oklahoma's has more holes than a swell cut of Swiss cheese — once again. One more nugget to ponder: Baylor leads the country in blocked field goals (five), which could be a factor in this crucial matchup.
The Lowe Down: Baylor 38, Oklahoma 36
UCLA (4-5, 4-2 Pac-12) at No. 7 Utah (8-1, 5-1 Pac-12) 7:00 p.m. CT
Don't look now, but Chip Kelly looks like he might have UCLA heading in the right direction in his second season in Los Angeles. The Bruins have won four straight games by double-digits thanks to the play of dynamic sophomore quarterback Dorian Thompson-Robinson (1,837 yards and 17 TDs through the air; 194 yards and three scores rushing) and senior tailback Joshua Kelley — 100-yards or more on the ground in five straight games — spearheading the offense, but coordinator Jerry Azzinaro has made a big impact calling the team's defense. If Kelly's squad is to pull the upset, it will have to find success on the ground squaring off against the top run defense in America (56 ypg). It will also need to hit some big plays in the passing game. In its only loss of the season, Utah was burned through the air by USC. Plays can be made there. But Thompson-Robinson will need to be on the mark. The Bruins will also have to contain the Utes dynamic duo of quarterback Tyler Huntley (2.062 yards passing, 11 TDs, one interception) and Zack Moss (828 yards rushing and 11 scores), which is a difficult thing to do.
The Lowe Down: Utah 33, UCLA 23
In other Saturday games:
No. 5 Alabama 48 at Mississippi State 21
No. 14 Wisconsin 33 at Nebraska 17
No. 11 Florida 27 at Missouri 13
Kansas 23 at No. 22 Oklahoma State 45
Michigan State 10 at No. 15 Michigan 38
No. 19 Texas 33 at Iowa State 30 ****Upset Special
West Virginia 23 at No. 24 Kansas State 30
No. 18 Memphis 32 at Houston 26
No. 17 Cincinnati 37 at South Florida 20
Arizona 17 at No. 6 Oregon 37