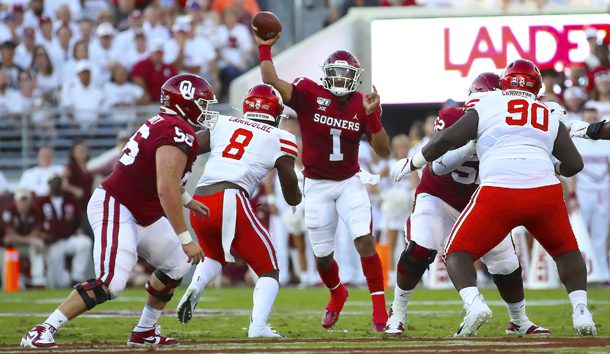 Welcome to Week Five of The Lowe Down.
If last week was any indication of what to expect moving forward, the SEC West race is going to be a thriller.
But unlike in recent memory, scoring power could be the ingredient that fuels a division title.
As it stands right now, LSU — yes, LSU — currently leads the country in scoring at 57.8 points per game. The Tigers added former New Orleans Saints assistant Joe Brady to spruce up a passing attack led by gunslinger Joe Burrow in the offseason and it appears he's done just that.
Alabama, which typically puts opponents away in three quarters, checks in at No. 6 nationally in scoring offense at 50 an outing. Sure, the Crimson Tide's offensive line has been a little shaky, and the defense isn't what it's been in the past, but Tua Tagovailoa is armed with the best receiving corps in college football. And that's a nasty combination.
Lastly, there's Auburn. The Tigers aren't averaging 40 or 50 a game — in fact, they are averaging just 33 an outing — but if freshman Bo Nix continues to make strides, Gus Malzahn's bunch could get on a roll. And as it stands right now, Auburn has the best defense of the three, which could be a difference-maker when the Tigers play LSU and Alabama down the road.
Regardless, all three teams will need to put points on the board to win college football's toughest division.
Last week's record was 13-5, brining the yearly record to 47-10. To the games we go…
Friday, Sept. 27
Arizona State (3-1) at No. 15 California (4-0) 9:30 p.m. CT
Football, now more than ever, is geared towards high-powered offense and scoring points. But Cal, under head coach Justin Wilcox, one of the bright young coaches in college football in my opinion, is built iaround running the ball and playing sound defense. And those two traits a big reason why the Bears are undefeated and a major threat to win the Pac-12. Quarterback Chase Garbers is off to a great start this season (835 passing yards and seven TDs) despite Cal struggling at times to score points. But the team is winning due to its defense, which is led by inside linebacker Evan Weaver. Weaver made a game-saving tackle at the goal line in the team's upset of Washington and is fresh off a school record-tying 22 stops in the upset of Ole Miss. This should be a defensive struggle, but keep an eye on the matchup between Arizona State's offensive line and running game, led by talented tailback Eno Benjamin, and Cal's front seven. If the Sun Devils can run it, they'll have a shot.
The Lowe Down: Cal 23, Arizona State 16
In other Friday games:
Duke 26 at Virginia Tech 20 ****Upset Special
No. 12 Penn State 23 at Maryland 20
Saturday, Sept. 28
Texas Tech (2-1) at No. 6 Oklahoma (3-0) 11:00 a.m. CT
It's pretty safe to say Jalen Hurts has fit in well with his new team. The former Alabama star leads Oklahoma in passing (880 yards and nine TDs) and rushing (373 yards and three scores) yards and is a big reason why the Sooners are off to a 3-0 start. Dynamic wideouts CeeDee Lamb and Charleston Rambo are Hurts' top targets in the passing game, but tight end Grant Calcaterra is matchup nightmare for opposing defenses due to his size (6-4, 221) and athleticism. Look for all three to have solid outings squaring off against a Texas Tech squad that finally looks like it's taking defense seriously under new head coach Matt Wells.
The Lowe Down: Oklahoma 45, Texas Tech 16
No. 18 Virginia (4-0) at No. 10 Notre Dame (2-1) 2:30 p.m. CT
The Irish put up a valiant fight in Athens last week, but they can't let their guard down against a tough Virginia team that's led by dual-threat QB Byrce Perkins and a playmaking defense (tied with Florida for the nation's lead in sacks) paced by pass-rushing force Charles Snowden. Notre Dame can ill-afford another setback if it expects to get back to the College Football Playoff, so look for the Irish to play well. Ian Book has two nice weapons in the passing game in tight end Cole Kmet and big-play wideout Chase Claypool, but I was really impressed with the toughness the Notre Dame defense played with last game. The Cavaliers have given up points all year long so if the Irish O can score close to 30, Brian Kelly's team will likely come out with the W.
The Lowe Down: Notre Dame 31, Virginia 16
Mississippi State (3-1) at No. 7 Auburn (4-0) 6:00 p.m. CT
Last year Mississippi State won the trench battle against Auburn and it led to a convincing 23-9 victory. In his weekly press conference following the Tigers impressive win over Texas A&M, head coach Gus Malzahn told reporters that the Bulldogs have his squad's "full attention" with a showdown with Florida looming next week. It remains to be seen if Tommy Stevens (shoulder) will return to the starting lineup at quarterback for Mississippi State after he was injured against Southern Miss in Week Two. If Stevens can't go, the Bulldogs will turn to dual-threat Garrett Shrader, who was named the SEC Freshman of the Week after passing for 180 yards and running for 125 in his first start in a 28-13 win over Kentucky. If it's Shrader, Auburn's front seven will need to keep him bottled up and force him to beat the Tigers through the air. Auburn will be able to put up points on offense, but limiting State's offense, which includes dynamic tailback Kylin Hill, will be a major key to victory.
The Lowe Down: Auburn 31, Mississippi State 17
No. 5 Ohio State (4-0) at Nebraska (3-1) 6:30 p.m. CT
Ohio State has looked like one of the nation's best teams out of the gate, but a road trip to Lincoln should give us a little better idea on just how good the Buckeyes really are. Like Jalen Hurts, Justin Fields has fit in like a glove with his new squad. Fields has accounted for 19 touchdowns (13 passing, six rushing) and has completed nearly 70 percent of his passes through his first four games with the Buckeyes. Nebraska's defense has been up and down this season, but it will be interesting to see how Fields performs in his first big-time road start. If he can handle it and continue to perform at a high level, Ohio State could very well be on a B-line to the College Football Playoff. Regardless, this should be a highly entertaining game. Nebraska quarterback Adrian Martinez is a scoring machine in his own right, and the Huskers have the playmakers on offense (tailback Maurice Washington (7.7 yards per carry) versatile wideout JD Spielman and dynamic all-purpose back Wan'Del Robinson) to hang in there against a fast and athletic Ohio State team.
The Lowe Down: Ohio State 42, Nebraska 30
In other Saturday games:
Northwestern 16 at No. 8 Wisconsin 35
Middle Tennessee 10 at No. 14 Iowa 28
Rutgers 13 at No. 20 Michigan 30
No. 23 Texas A&M 36 at Arkansas 17
No. 1 Clemson 38 at North Carolina 14
No. 21 USC 27 at No. 17 Washington 30
Ole Miss 19 at No. 2 Alabama 55
Indiana 7 at No. 25 Michigan State 30
Iowa State 20 at Baylor 26 ****Upset Special
UConn 14 at No. 22 UCF 58
UAB 31 at Western Kentucky 17
Kentucky 27 at South Carolina 31
Washington State 26 at No. 19 Utah 34