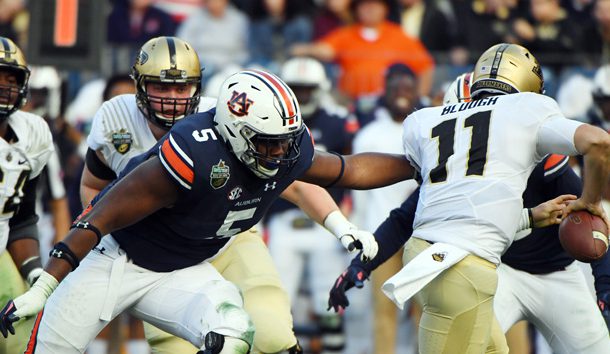 Welcome to Week One of The Lowe Down.
Before any competitive season begins, there are always aspirations of being a champion.
Whether it's a team or a fanbase, the goal is to be the top dog — or "epic" in today's lingo — and that it should be.
But for a lot of teams in college football, there never will be a national title. There never will be a College Football Playoff appearance, or postseason party in the streets of a school in dire need of one.
For some programs, one conference title every 20 years may be a possibility— and that one will be as smooth as Tennessee whiskey for sure. For a few, one in three decades may prove timely.
But you know what? That's the reality of present-day college football — and maybe someday that could change (a potential Power 5 title and possible "The Best of the Rest" title?) in the future. But as it stands right now, there are only a handful of teams that can win it all.
Sure, every school wants to win. And every fanbase wants to win. But there's a common reality in all sports: It's HARD to win a championship.
Shake the dust off the shakers, the flask, the pop-up tents and the stadium seats. It's time to play some football.
With that said, to the games we go…
Lindy's Top 25 Week One Picks Against the Spread
Thursday, August 29
Georgia Tech (0-0) at No. 1 Clemson (0-0) 7:00 p.m. CT
Quarterback Trevor Lawrence, tailback Travis Etienne and wideouts Tee Higgins, Cornell Powell and Justyn Ross — along with dynamite newcomer Joseph Ngata — form arguably the top set of skill players (QB, RB and WRs combined) in America. Throw in the fact that Clemson returns four starters along the offensive line and it's reasonable to believe that this could potentially be the best offense the Tigers have ever fielded. A lot of talk around Clemson in the offseason has been about who will replace the three first-round draft picks on a legendary defensive line that dominated opponents for four years. But you'd be foolish to underestimate a new-look D that features rugged tackle Jordan Williams and speedy edge rusher Xavier Thomas, rangy linebacker Isaiah Simmons (6-4, 225) and safety Tanner Muse. Simmons is arguably the nation's best linebacker and Muse should be an impact player on the next level due to his size (6-1, 230) and ability to play the run and pass equally well.
The Lowe Down: Clemson 48, Georgia Tech 10
No. 14 Utah (0-0) at BYU (0-0) 9:15 CT
Utah enters the season with high expectations after earning a berth in the Pac-12 title game a year ago. But Tyler Huntley, Zack Moss and the rest of the Utes will need to bring their A-games when they invade Provo to take on BYU. The Cougars have a solid ground attack, led by bruiser Lopini Katoa, and dual-threat quarterback Zach Wilson could be a handful for an always-stout Utes defense.
The Lowe Down: Utah 19, BYU 16
In other Thursday games:
UCLA 20 at Cincinnati 37
Alabama State 10 at UAB 38
Texas State 10 at No. 12 Texas A&M 45
Friday, August 30
No. 19 Wisconsin (0-0) at South Florida (0-0) 6:00 p.m. CT
Jack Coan takes over at quarterback for a Wisconsin team that should, per usual, be able to move the rock on the ground efficiently against any team it plays with outstanding tailback Jonathan Taylor. But new faces abound in the Badgers' front seven on defense and that could play right into South Florida's hands. Former Florida quarterback Kerwin Bell has taken over as the team's play-caller and he's a good one. In fact, he helped Valdosta State win a national title last season after it averaged 52 points per game. USF quarterback Blake Barnett and tailback Jordan Cronkite are veterans Bell can rely on to make plays. But keep an eye on speedy slot receiver Johnny Ford. He could be a problem for the Badgers.
The Lowe Down: Wisconsin 38, South Florida 31
 In other Friday games:
Tulsa 13 at No. 21 Michigan State 38
Purdue 38 at Nevada 30
Colorado State 13 vs. Colorado 30
Oklahoma State 48 at Oregon State 28
Saturday, August 31
Florida Atlantic at No. 5 Ohio State 11:00 a.m.
All eyes will be on quarterback Justin Fields and a new-look offensive line when Ohio State hosts Lane Kiffin's Florida Atlantic squad. Fields, who transferred from Georgia in the offseason, holds the keys to the Buckeyes title hopes considering the team's backup situation. If Fields is everything the recruiting experts thought he could be after being anointed as the nation's top prep quarterback two years ago, then Ohio State, with its talent and speed on both sides of the ball, should be a legit national title contender. If he's not, well, the Buckeyes could be a major disappointment.
The Lowe Down: Ohio State 45, Florida Atlantic 10
Ole Miss (0-0) at Memphis (0-0) 11:00 a.m.
Yeah, I know. This isn't exactly a marquee matchup. But this could be one of the more entertaining games of the day. Under the direction of head coach Mike Norvell, Memphis has been a scoring machine. And this season should be no different. Brady White, who passed for 3,296 yards and 26 TDs last season, is back to direct an offense that features a number of weapons, in particular wideout Damonte Coxie and all-name team candidate Joey Magnifico at tight end. Like Ole Miss, the Tigers have a hard time stopping people. Which should make the debut of Rebels quarterback Matt Corral, a dynamite dual-threat, a good one. Not many people know about Corral right now. But they will. He can play.
The Lowe Down: Memphis 48, Ole Miss 45
Duke (0-0) vs. No. 2 Alabama (0-0) 2:30 CT (Atlanta)
Healthwise, Alabama isn't off to a great start after it became known that starting inside linebackers Dylan Moses and Josh McMillon would be unavailable to play this season due to injuries. The result of that bad news has vaulted true freshmen Christian Harris and Shane Lee into the starting lineup — and the spotlight. Sure, this is a cause for concern, but at the linebacker position, which is an instinctive position, you either have it or you don't. And from what I've heard, Harris and Lee have it. And with Alabama's ability to score, they should have enough time to develop before the Crimson Tide plays its toughest opponents. After ending the season with a loss in the College Football Playoff title game, look for Alabama to come out guns blazing against the Blue Devils.
The Lowe Down: Alabama 52, Duke 7
No. 3 Georgia (0-0) at Vanderbilt (0-0) 6:30 p.m. CT
Georgia enters this season with national title aspirations but the Bulldogs will need some new faces to emerge at receiver and along the defensive line to fulfill those lofty expectations. Tyler Simmons, Demetrius Robertson and true freshman George Pickens are a few names that will likely be given a shot early on for starring roles as pass catchers. Pickens is a game-changer due to his size and ability to go up and get it. Defensively, keep an eye on linemen Malik Herring, David Marshall and veterans Tyler Clark and Jordan Davis, a monster presence. If those guys struggle against a Vanderbilt team that features a suspect offense line but an All-American candidate at running back in Ke'Shawn Vaughn, the Bulldogs could hit a couple of landmines over the course of the season.
The Lowe Down: Georgia 38, Vanderbilt 17
No. 16 Auburn (0-0) vs. No. 11 Oregon (0-0) 6:30 p.m. (Arlington)
If you enjoy trench warfare, then this is the weekend game for you. Oregon, led by guard Shane Lemieux and tackle Calvin Throckmorton, features one of the nation's best offensive lines, while Auburn, paced by tackle Derrick Brown, Marlon Davidson and Nick Coe, enters the season with country's top defensive line. From that perspective, it will be a matchup of strength versus strength, but the big key in this meeting will be how well Oregon's D-line can matchup with Auburn's O-line. Ducks' defensive tackle Jordan Scott (6-1, 329) could give Tigers center Kaleb Kim problems due his size, but Auburn has a size advantage all across the board everywhere else. Early down success will be critical for both teams in this matchup, but Oregon must establish a ground game— and it has two good backs in CJ Verdell and Travis Dye to do so — in order to win this game. Star quarterback Justin Herbert is one of the nation's top QBs entering the season. But he'll have a tough go of it if Oregon is faced with a number of third-and-longs due to key injuries in the receiving corps, most notably to all-purpose star Brenden Schooler and true freshman Mycah Pittman, and the number of talented pass rusher that Auburn can deploy. The same could be said for highly-touted Auburn true freshman signal-caller Bo Nix. But Nix, who will be making his first career start, has a lot of veteran talent around him and the Tigers should have success in the run game, which could open up opportunities to hit emerging star Seth Williams downfield in the passing attack. Oregon's starting corners are each 5-11. Williams is 6-3, 224 pounds and is a matchup nightmare due to his size and unique ability to make plays in traffic. Look for he and Nix to hook up a few times and Auburn to be chanting "SEC! SEC! SEC!" after an important win.
The Lowe Down: Auburn 30, Oregon 13
In other Saturday games:
South Alabama 17 at No. 24 Nebraska 55
Toledo 20 at Kentucky 33
Boise State 27 at Florida State 23
South Carolina 33 at North Carolina 28
Northwestern 23 at No. 25 Stanford 20 ******Upset Alert*****
No. 22 Syracuse 38 at Liberty 27
Georgia Southern 17 at No. 6 LSU 32
Middle Tennessee 10 at No. 7 Michigan 48
Virginia 30 at Pitt No 17
Fresno State 23 at USC 33
Twitter @MattLowe777