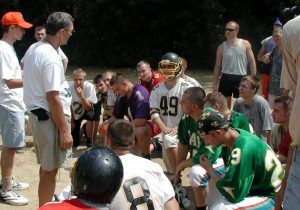 by Lyn Scarbrough
(Even if you usually can't take the time to read my columns, I hope that you will read this one, then consider sharing it on Facebook and sending it via e-mail to friends and family. A sincere thank you in advance.)
In 2002, a message came from a longtime close friend, a missionary in Ukraine who had been a U.S. college football player.
He had received a request from a bi-vocational pastor who had also been a coach in Lugansk, an eastern Ukrainian city known for its mining industry.
"We want to start an American football team here in Lugansk," the message read. "Our only equipment is two footballs, and one of them is broke. Can you help?"
We found out later that one of the footballs had an irreparable hole in the leather, so it was "broke." Not much with which to start a football team.
But with equipment provided by Samford University, UAB, Riddell Sports and the New York/New Jersey Hitmen of the recently defunct XFL professional football league, we shipped 10 crates of equipment to Lviv in western Ukraine, drove it across the country to Lugansk and in a community center auditorium there started the Panthers as the newest team in the Ukrainian League of American Football (ULAF).
As expected, it was a long season for the Panthers in the won-loss column and in the injury tent, but a few months later, we conducted a football camp in Donetsk, the largest city in far eastern Ukraine, headquarters for the ULAF.
Our coaches included a U.S. college head coach, two high school coaches from Alabama and Mississippi, two missionaries who had been college athletes, and a former Air Force Academy defensive back. Teams from all over Ukraine traveled by train and car to Donetsk for the camp, which included on-field training, in-class learning, Bible lessons and emphasis on character and citizenship.
Fifteen years later, we were introduced to another ULAF team, the Kharkov Atlantes, the league's team located in Ukraine's second largest city, less than 50 miles from the Russian border. The head coach, is a U.S. citizen, former college athlete and a retired physician. The team won the championship of the ULAF just four seasons ago. We've provided equipment, uniforms and support for the Atlantes.
Now, come forward almost 20 years from the creation of that first team in Lugansk, the Panthers.
Unless you haven't turned on television news in the past few weeks, you've already heard about Lugansk and Donetsk before reading this column. You've heard about Kharkov and Lviv. But, you haven't heard about them because of their ULAF teams or winning championships.
Lugansk and Donetsk, the two largest cities in Ukraine's Donbass region in the southeastern part of the country near the Sea of Azov, have been occupied by separatist insurgents backed by the Russian government and military since 2014. Over 14,000 soliders and civilians have been killed there in sporadic fighting since the illegal occupation started. An all-out invasion of Ukraine was commenced from those occupied areas not many days ago.
Kharkov and Lviv, the largest cities in eastern and western Ukraine, have been under assault by Russian military forces during these same few days. Kiev, the nation's capital, its largest city with over 3 million people, has been attacked by missiles, assault aircraft and ground forces.
Ukraine, a sovereign country with a democratically elected president and parliament (the Rada), and a member of the United Nations, has been powerfully invaded without provocation from four directions by another sovereign country, another United Nations member which is much larger, much better armed and much more powerful.
In football terms, not exactly an even playing field.
Again, in football terms, not a fight started because those on defense are committing any egregious penalty, while those offensively are breaking every rule of international law and common decency.
Times have changed in Ukraine.
My first opportunity to work there was in 1996 just five years after Ukraine became an independent state after the USSR dissolved. Ukraine had been an original member of the United Nations when it was founded in 1945.
There were few air-conditioned buildings then, no free-flowing supermarkets, not many recently-made vehicles … and almost no McDonalds. There was no individual cell phone service, limited internet access, and Pepsi and Coke products were not easy to find, hot or cold.
Ukraine still has internal issues, and rural areas are still less developed. But, today, after more than two decades as an independent nation, there are air-conditioned malls, an abundance of modern supermarkets in urban areas, reliable private and public transportation … and seems like a McDonald's on every city corner. Cell service is dependable; internet service is steady, and cold soft drinks are available at every convenience store. And, common Ukrainian citizens, living day-to-day lives, have enjoyed freedom.
I've had the privilege to travel to Ukraine 26 times, organizing and taking teams, working with partners there. We've helped with building and expanding churches, installed playgrounds, conducted children's programs and worked with the staffs at orphanages and orphan camps.
Our team renovated and modernized a basketball gymnasium at an eastern Ukraine orphanage, then conducted basketball clinics for orphan boys and girls during four summers. U.S. basketball coaches and former high school and college players worked with the camps.
Civic clubs, churches, organizations and individuals have supported and helped fund these programs over two decades, working with missionaries, churches, orphan organizations, hospitals and individuals.
The overwhelming majority of Ukrainians are wonderful people. They didn't want this conflict and didn't start it or do anything to provoke it.
A friend there, an interpreter who has worked with our teams, probably expressed the Ukrainian position best in her Facebook message within the past week:
"Ukraine is under attack now. … We just want to send our kids to school and know they will be safe there during the day. We simply want to be able to make plans without thinking of alternative solutions in case we are under a massive attack. We want to peacefully plant a garden and harvest it in due time. We want to make doctor's appointments without wondering if we'll live to make it. We want our children to have an ordinary childhood, and we want to protect their mental health. Is it too much to ask?"
 Is that too much to ask?
I've also had the opportunity to spend time in Russia. In my experiences, the overwhelming majority of Russians are also wonderful people … friendly, helpful, inquisitive about the U.S. and appreciative that we were visiting their country. I have a hard time believing that most Russian citizens would approve of attacks on their Ukrainian "brothers and sisters" if they were being given accurate, objective, truthful information from which to form opinions.
We have already been making plans for another team to travel to Ukraine and work there in summer, 2022, five months away. That is very much in doubt now.
ULAF teams have already started preseason practices. The season was supposed to kick off within a couple of months. That is very much in doubt now, too.
And, we have talked with current and former U.S. college staff members and other football related people about the possibility of conducting another clinic similar to the one back in 2002. Of course, that will almost certainly not be the case any time soon, if ever.
Even the continued existence of Ukraine as a free and independent country is in doubt, so can anything be considered a certainty on the playing field there?
Sadness, concern, frustration, anger. All of these are applicable regardless of how this conflict turns out. And, whatever the outcome, relief efforts will be needed for Ukraine and its people. If anyone wants to participate in that effort, hope that you'll make contact.
We were already looking forward to another experience working in Ukraine, looking forward to the 2022 ULAF football season, hoping for the opportunity to conduct another football clinic or basketball camp there.
We can only wish now that these things will be possible again.
Please pray for Ukraine and its people.
God bless Ukraine.