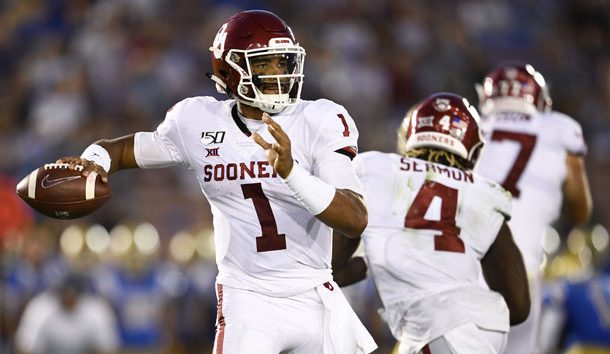 College football needs an eight-team playoff.
A growing number of coaches, media outlets and analysts are coming around to that obvious conclusion. That idea has been supported in this column more than once in recent seasons and probably will be again.
The football musical chairs game … five Power 5 conferences with only four available playoff slots … is inherently flawed, has never been fair and never will be. It should be ended. Changing it next season would be doing it too late.
But for now, the four-team College Football Playoff is how it will be. As they say … It is what it is.
That being the case, let's have some fun with it.
How would an eight-team playoff look today, if the field was determined by how college football has developed four weeks into the 2019 season?
There are still 23 undefeated teams in the Power 5 and Group of 5 conferences.
Among Power 5 conferences are five teams each from the SEC (Alabama, Auburn, Florida, Georgia, LSU) and Big Ten (Iowa, Minnesota, Ohio State, Penn State, Wisconsin). The ACC (Clemson, Virginia, Wake Forest) and Big 12 (Baylor, Kansas State, Oklahoma) each have three. And California is the only undefeated team in the Pac-12.
Among Group of 5 conference teams three are from the American Athletic Conference (Memphis, Navy, SMU)), joined by Boise State (Mountain West), Appalachian State (Sun Belt) and UAB (Conference USA).
This could develop several ways, according to how the eight-team format would be set up.
** It could be the eight highest ranked teams in the final poll. Five SEC teams are among the current Top 8 teams. Using the latest Coaches Poll released on Sunday, this would be the pairings:
No. 1 Clemson vs. No. 8 Florida – ACC vs. SEC, Dabo vs. Dan.
No. 2 Alabama vs. No. 7 Auburn – Could it get better than an Iron Bowl replay?
No. 3 Georgia vs. No. Ohio State – That's current Bulldog Jake Fromm against former Bulldog Justin Fields.
No. 4 Oklahoma vs. No. 5 LSU – That's former Buckeye Joe Burrow against former Crimson Tider Jalen Hurts.
This would be the all-time greatest weekend in college football history with a heavy dose of the Southeastern Conference. That's what happens when a month into the season there are still five SEC teams among the Top 8 in the country.
Of course, this scenario could never happen, primarily because of SEC cannibalism.
Alabama still has to play LSU and Auburn.
Georgia still has to play Florida and Auburn.
LSU still has to play Auburn, Florida and Alabama.
Florida still has to play LSU, Auburn and Georgia.
Auburn has it worst of all, having to face all four of the other ranked teams, after already having to win games away from home over nationally ranked Oregon and Texas A&M.
** It could be each of the Power 5 conference champions, plus the highest ranked Group of 5 team, plus the highest ranked Independent, plus one at-large team.
Can't be sure on the league champions, but for this little game, go with the current highest ranked team in each conference winning their championship game.
That would give Clemson (ACC), Alabama (SEC), Ohio State (Big Ten), Oklahoma (Big 12) and California (Pac-12). Notre Dame, currently ranked No. 10, would be highly ranked enough to represent the Independents. Boise State, currently ranked No. 15, would represent the Group of 5 leagues. And, Georgia would be the highest ranked team left out, so the Bulldogs would be the at-large team.
That would be another power-packed field, another home run for college fans.
Either of these formats would leave out Wisconsin (No. 9), Penn State (No. 11), Iowa (No. 14) and many teams currently with one loss (Texas, Oregon, Washington, Utah and Southern Cal to name a few.
Again, this scenario wouldn't play out because in-conference match-ups will eliminate the losers from the CFP picture. But, it has happened most years that some teams with one loss end up in the Final Four.
Alabama for example, claimed the National Championship in 2017, when it didn't win the SEC championship, the SEC West Division title, or even its own state championship. That's just the way the current messed-up system can work.
So, come on NCAA decision makers. Give the fans and the teams what they deserve. Make it a fair playing field. Set up an eight-team College Football Playoff.
But for now, the possibilities are fun to play with.