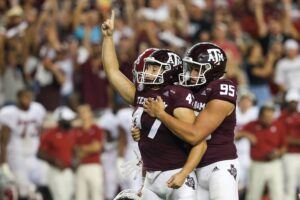 Some of life's most simple observations, often coming from unexpected sources, can be among the most difficult to accept.
Give credit to the late French movie director and New Wave filmmaker Claude Henri Jean Chabrol for this one: "Sometimes you'll be the pigeon, other times you'll be the statue."
After nearly two decades of being college football's pigeon almost every season, the Southeastern Conference, including multi-time champion Alabama, is looking more likely to be a statue for 2021.
The roles aren't etched in stone yet, but at this point, Big Ten teams are looking like the pigeons while the SEC overall, along with other conferences, is looking more like its perch.
This week's Associated Press poll has five Big Ten teams in the Top 10 … Iowa (No. 2), Ohio State (No. 6), Penn State (No. 7), Michigan (No. 8) and Michigan State (No. 10), the first time this has happened since 1936. By comparison, over the years, the SEC has had five teams in a Top 10 poll in 23 different weeks.
Just three weeks ago, there were eight SEC teams in the Top 25, four in the Top 10. This week there is only Georgia (No. 1 ranking, and my pick to win its first national title in 42 years) and Alabama at No. 5, and that ranking is being widely, and understandably, criticized.
Alabama lost to Texas A&M, being outscored 10-0 down the stretch to surrender the lead. The Aggies had already lost to Mississippi State and Arkansas back-to-back, and the week before those defeats only beat Colorado 10-7 with a late touchdown. The next week playing in Boulder, Minnesota massacred those same Buffaloes, 30-0. (Yes, that's the same Gopher team that lost at home to Bowling Green, which lost at home to Akron by 15 points!)
And, what might the outcome have been in Gainesville if Florida hadn't missed its first extra point kick?
For the College Station performance, Alabama dropped just four spots. Undefeated Michigan and undefeated Michigan State are behind Bama. Ohio State (only a narrow loss to No. 9 Oregon) and Penn State (only a narrow loss to No. 2 Iowa) are behind Bama.
So, that ranking criticism is easy to understand.
How about the other SEC teams?
Kentucky is undefeated, the surprise team in the conference so far, but look a little deeper. The Wildcats beat Florida, but had only 224 total yards and won by a touchdown (a blocked field goal runback). Two weeks earlier, Kentucky defeated Chattanooga by just five points after trailing 16-14 in the fourth quarter. The Moccasins other losses are to Austin Peay and VMI. We'll see if Kentucky is real on Saturday in Athens.
The only other SEC team with just one loss is Ole Miss. The Rebels were soundly defeated by Alabama and only defeated Arkansas by one point when the Razorbacks two-point conversion try was unsuccessful. That score was 52-51 … confirming that neither of those teams play defense.
Auburn did lose at the Penn State "White Out" game by just one score and beat mediocre LSU in Baton Rouge. But, it almost lost to Georgia State, and isn't up to Georgia's standard.
Florida is a talented team, but already has two SEC losses. Tennessee has shown more life with wins the last two weeks against Missouri and South Carolina, which have a combined 0-5 SEC record. (A sidebar statistic … Missouri ranks No. 130 – dead last – in rushing defense nationally, allowing 287.2 yards per game.)
As for the other teams on the back end of the SEC standings, South Carolina which earlier had to play a coaching staff assistant at quarterback, and Vanderbilt, which could only beat UConn at home, 30-28, are not a factor. (One of them has to win a conference game this coming weekend because they play each other.)
In the meantime, fans of other conferences around the country are giddy. It's been a long time since any conference other than the SEC has been in the current Big Ten position.
So, what will likely happen nationally?
Undefeated Cincinnati, already with wins at Indiana and Notre Dame, won over Temple on Friday, 52-3. The Bearcats will be heavy favorites in all remaining games. Their best chance to lose might be this weekend against Gus Malzahn's UCF Knights, which are a 20-point underdog. Cincinnati has no wiggle room and it needs to win big every week. It realizes that.
In the Pac-12, the last two undefeated teams in conference play, Arizona State and Utah, play each other in Salt Lake City on Saturday. The Sun Devils and Oregon are the only two league teams with just on loss overall, so the path to the CFP for a Pac-12 team is narrow.
Similar for the Big 12 which has two undefeated teams, Oklahoma and Oklahoma State. Baylor, which has already lost to the Cowboys, is the only one-loss team in the conference. The winner of the Oklahoma in-state game on Nov. 27 has a CFP shot, if it is still undefeated.
Wake Forest is the only undefeated Atlantic Coast Conference team and only Pittsburgh and North Carolina State have just one loss. (NC State lost by double digits to Mississippi State; Pitt lost at home to Western Michigan, which lost by 25 points to Ball State on Saturday.) What does that say about ACC chances for the CFP Final Four?
The Big Ten finds itself in a position which the SEC has experienced often with multiple teams still with a legitimate CFP shot at the season's midway point. Most of those teams still have to play each other, so they all won't stay there. But, it's possible, if not probable, that more than one will reach the Big Ten Championship Game undefeated, playing in a league that should easily be considered the strongest this season. If so, should one of those teams be omitted from the CFP for a team with an equal or lesser record from another conference?
If that happens, any objective observer would say "no."
How about the rest of the SEC season?
Except for Georgia, Alabama finds itself in the best position. It doesn't play Georgia or Kentucky in the regular season. (Forget it, conspiracy theorists. That schedule was set up years in advance. Bama just got a lucky break.)
Only four SEC teams (Auburn, Mississippi, Mississippi State, Tennessee) have as few as one conference loss and none of those will stand.
So, what does Alabama need to do to make the CFP final quartet?
First, win all of its regular season games and keep the No. 5 ranking. Since Bama was allowed to keep a ranking that high, it now has to hope that no other teams with better records are impressive enough to jump them in the polls.
Then, defeat Georgia in the SEC Championship Game.
Then, hope that there is outside help in key games in other conferences so that teams that appear now to be better CFP candidates than Alabama get eliminated from the discussion.
For those that might say that's impossible … not so fast. Maybe unlikely, but not impossible.
Recent history is on Bama's side. Just four years ago (2017), Alabama didn't win its state championship. Didn't win its division championship. Didn't play for its conference championship. But, the outcome of non-SEC games and decisions by the voters put them in the CFP Final Four anyway … and the Crimson Tide won the title game.
So, for Alabama fans and fans of lot of other teams and other conferences, don't give up hope. It's still possible that you can be the one sitting on the perch. You might still be the pigeon for 2021.
But, for now, realistically the others are looking more like the statue.