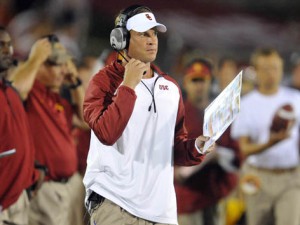 The biggest win of Mike Leach's tenure at Washington State may be the death blow for USC's Lane Kiffin.
The Cougars shut down the 25th-ranked Trojans for a 10-7 win at the L.A. Coliseum Saturday night, bringing out the boo-birds to put even more pressure on Kiffin, who began the season on the hot seat after a disappointing 2012 season.
"You can't worry about that," Kiffin said of the boos. "I think I heard those before the game started, during warm-ups, so I'm used to it. … When you don't play well, it falls on the head coach. We obviously weren't well-prepared on offense."
USC once again used two quarterbacks and Max Wittek and Chad Kessler combined to pass for just 54 yards as USC finished with 193 yards of total offense. USC had more yards than that passing to the Cougars as WSU's Damante Horton returned an interception 70 yards for the Cougars' lone touchdown.
The Cougars came close to opening the season with a win at Auburn before falling 31-24. WSU bounced back to get its first win over a ranked team since Leach was hired last season and just the fourth win overall under the coach.
Pac-12 favorites Oregon and Stanford cruised to victories while Utah, Arizona, and Arizona State all lit up the scoreboard in victories.
FIVE BIGGEST TAKEAWAYS FROM WEEK 2 IN THE PAC-12
1. USC has not found a quarterback. Neither of its two finalists for the job has even thrown for 100-yard in a game yet. In an opening win over Hawaii, Cody Kessler was 10-for-19 for 95 yards and one touchdown with an interception. He was 8-for-13 for 41 yards and a loss to Washington State. That's a 56-percent completion mark and 136 passing yards with two interceptions and one touchdown. Max Wittek was 5-for-10 for 77 yards against Hawaii and 3-for-8 for 13 yards with an interception against Washington State. He has completed 44 percent of his passes for 90 yards and an interception.
2. Oregon has two players who may split votes for the Heisman Trophy. Quarterback Marcus Mariota has run for at least 100 yards in both games and has 668 yards of total offense with six touchdowns. He has thrown for 433 yards and three scores and run for 235 yards and three scores. Junior running back De'Anthony Thomas has also gone over 100 yards on the ground in both games. He had 128 yards and two touchdowns in an opening win over Nicholls and added 124 yards and three scores against Virginia, giving him 252 yards and five scores on the ground.
3. The conference may not beat up on Washington State and Colorado again this season. Those two schools combined for only six conference wins over the past two seasons and two of those came against each other. Both schools look rejuvenated this year as WSU played tough against Auburn before losing 31-24 and then bounced back to win 10-7 at USC. The Buffaloes are averaging nearly 40 points per game in two wins.
4. Taylor Kelly's strong 2012 finish last season was no fluke. The Arizona State junior followed up three strong games to close out the 2012 season with another good effort in the season opener. He has gone 76-for-102 for 1,005 yards and 13 touchdowns without an interception in his past four games. He tied his career high with five touchdown passes against Sac State and completed them to five different receivers. "I think he's much more mature and he has a lot more of a mastery of what we're doing," coach Todd Graham said.
5. The Pac-12 is boosting its reputation by taking care of business in nonconference games. The conference is 15-3 against nonconference foes this season and the only team that was upset in a loss was Oregon State against Eastern Washington, an FCS foe. The other losses were Washington State at Auburn and California at home against Northwestern. Many of the conferences wins have come against FCS foes, but Washington beat Boise State and Oregon went on the road to crush Virginia in the two best victories for the conference thus far.