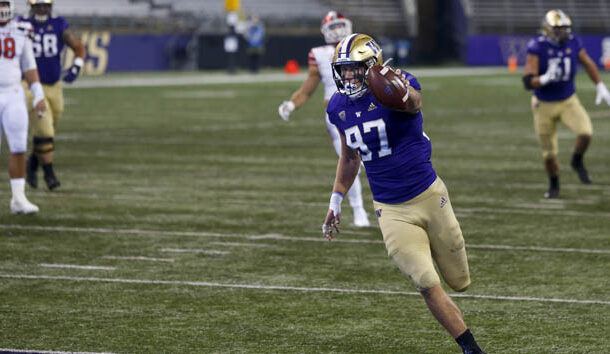 It was a tale of two halves in Seattle on Saturday night as Utah traveled to face Washington at Husky Stadium.
The first half went all the Utes way. The visitors led 21-0 at intermission and it could have been worse.
But, that was it for Utah.
Washington stormed back in the second half and with just 36 seconds remaining in the game, the Huskies had cut the lead to 21-17. It was now or never for quarterback Dylan Morris and tight end Cade Otton.
Otton pulled in a 16-yard scoring strike from Morris to give the Huskies the final 21-17 lead and the win. It was the first time that Washington had come from behind by as many as 21 points since the 1989 season.
For the game, Morris completed 23 of 38 passes for 272 yards. He threw two touchdown passes, both caught by Otton, who had eight receptions for 108 yards. His 16-yard game winner is this week's U.S. Farm Raised Catfish "Catch of the Week."
Remember … for the tailgate tent or the pre-game party, U. S. Farm-Raised Catfish is always "the winning catch."
The Catfish Institute, or TCI, was formed in 1986 by catfish farmers and feed manufacturers to raise consumer awareness of the positive qualities of U.S. Farm-Raised Catfish. Since its formation, U.S. per capita consumption has more than doubled.
U.S. Farm-Raised Catfish is a sustainable and environmentally friendly seafood product. The National Audubon Society, Monterey Bay Aquarium, and Environmental Defense all recommend U.S. Farm-Raised Catfish as a safe environmental choice. To find out more, visit www.uscatfish.com.