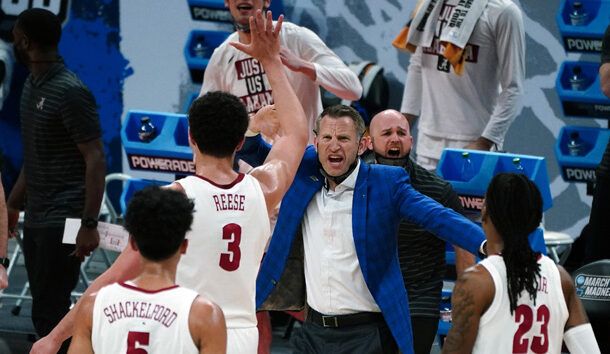 OK, to those of you – and there are a good many – who pointed out my mistake … you have it right.
I had it wrong.
My error started back in January and I never veered away from it until the last couple of minutes of Alabama's basketball game with UCLA. I thought the Alabama men's basketball team, under head coach Nate Oats, would play in the NCAA Final Four and I consistently said so. On weekly radio segments in Texas and Tennessee, Louisiana and Alabama, I stuck to my guns. The Crimson Tide was going to play for the first time ever on college basketball's last weekend of the season. It was almost a done deal.
That's one of the problems when you write columns or talk on live radio. It's there in print or they've got it recorded. You can't take it back.
At least I was in good company. None other than Charles Barkley … Sir Charles, the Round Mound of Rebound from back in his Auburn days … picked Alabama to play in the Final Four and solidly said so. He actually said "Roll Tide" on national television. He even promised to wear a hounds-tooth hat on the day of Bama's first Final Four match-up.
I didn't go that far, but I was just as confident as Sir Charles. And if I had it to do over, I would make the same pick again.
This Alabama team was good enough to be among the final quartet of teams and came close to causing Barkley to find that hat.
Significant men's basketball success had been a while coming back to Tuscaloosa. The Tide had captured six SEC Tournament championships in the past, but none in 30 years (1991). It had won eight conference regular season titles, but none in 19 years (2002).
Seven other SEC teams had won the league regular season championship since Bama did it. Eight other conference teams had captured the tournament title since the Tide won it. And, in NCAA tournament history, seven SEC teams had played in the Final Four.
I expected Alabama to be the eighth team.
It's not that Crimson Tide basketball has been bad over the years. In fact, by non-Kentucky SEC standards, Bama basketball has been reasonably successful and pretty colorful.
Look back at Bama hardcourt history.
Hank Crisp, who lost his right hand in an accident when he was 13-years old, went on to letter in football, basketball and track for Virginia Tech (then known as the VPI Gobblers). He coached all three of those sports in Tuscaloosa, as well as baseball, and served two terms as athletic director. He recruited Paul Bryant to Alabama.
Hayden Riley was Tide head basketball coach for eight years, head baseball coach for 10 years, and was Bryant's football recruiting coordinator.
C.M. Newton set the all-time wins record (211) at Alabama, won three SEC titles, took teams twice to the NCAA Tournament and played in the National Invitation Tournament (NIT) four times.
His winning record was broken by his assistant Wimp Sanderson, who took over when Newton moved to the Southeastern Conference office. His teams won 267 games, averaging 21.8 wins per season. A three-time SEC Coach of the Year, he was almost as well-known for his plaid sport coats and side court scowls. But, don't let the scowls fool you, Wimp, in reality, is a good guy.
David Hobbs was next, taking three teams to the NCAA Tournament Sweet Sixteen during his seven seasons. Mark Gottfried's team in 2004, one of his 11 seasons as head coach, is the only Crimson Tide team ever to make it to the Elite Eight. Anthony Grant and Avery Johnson filled the gap between Gottfried and Oats.
But, it's fair to say that Alabama basketball hasn't been at this level in a long time.
There were a lot of factors that led to success in this unusual COVID-impacted season. Start with Oats, who played his college ball at Marantha Baptist in Watertown, Wis., and took the Buffalo Braves to the NCAA Tournament three times in four seasons as head coach before moving to Tuscaloosa.
The best job done by Oats and his solid coaching staff was bringing back three key seniors – guard/forward Herbert Jones, guard John Petty and forward Alex Reese – who signed with Johnson four years ago with the goal of reviving Crimson Tide basketball. That has been a job well done.
Petty and Jones, who was named SEC Player of the Year and Defensive Player of the Year, were named first-team All-SEC. Reese, a leader off the bench, hit the three-pointer to force the UCLA game into overtime. Those guys were joined by another senior, 6-10 Yale graduate transfer Jordan Bruner, an All-Ivy League selection who already had NCAA Tournament experience (2019).  That senior leadership was a crucial advantage for the Tide against several less experienced conference opponents.
They were joined by talented underclassmen including sophomore leading scorer Jaden Shackelford (14.7 ppg.), sophomore guard Jahvon Quinerly (13.4 ppg.), freshman guard Joshua Primo (9.0 ppg.) and others.
And, it helped that the team was able to maintain its rhythm throughout its season, not suffering major impact due to COVID-19 postponements. The Tide was one of only five SEC teams to play a complete 18-game schedule, while others had multiple postponements and cancellations. Texas A&M only played 10 league games and went 32 days between games. Iona, Bama's first-round NCAA opponent, went more than 50 days between games.
It was a near-perfect situation for Bama basketball … solid coaching, a talented deep roster, outstanding recruiting and some elements of good fortune. While Kentucky was having a historically poor season, the Crimson Tide was rolling to the top.
The finale was disappointing. Any time that a team misses 14 of 25 free throws, including the front end of some one-and-ones, in a 10-point loss, it doesn't take a basketball expert to see where the game was lost. But, that doesn't take away from what Oats' team accomplished.
So, what's next for Bama basketball? Loss of the four seniors will be felt next year. Can fans count on Kentucky having another non-Wildcat-like season? Will teams still be impacted by COVID-19 restrictions?
Don't count on the Crimson Tide going very far away. Listen to some folks said after the season-ending loss to the Bruins.
"This year was fun to watch every step of the way," said former Bama star Kira Lewis, now a New Orleans Pelicans rookie. "Alabama is in good hands for years to come."
Former Tide forward Robert Horry, who played 16 NBA seasons and whose hands are loaded with NBA championship rings, agreed.
"What a great season!" he said. "It is not how any of you or any Tide fans wanted it to end. With that said, thank you and welcome back to being a top basketball program."
Chris Stewart, the voice of Crimson Tide basketball and baseball, is one of the most talented play-by-play announcers in all of college sports. He and other SEC announcers had to call many games this season while watching on a television screen hundreds of miles away due to COVID-19 restrictions. He is uniquely qualified to reflect on the season and look ahead to 2021-22.
After returning from the Indiana site of NCAA Tournament games, he expressed that he wasn't surprised at the team's success this season and acknowledged the importance of the senior players who will be gone next year. He also said that he won't be surprised if Alabama is "in this same place next season, including winning the conference championship and advancing in the NCAA Tournament."
Tide opponents should take notice. There's reason to think that could happen. At this point, no undergraduate players have announced a transfer or intention to leave the team early. If so, there are six returning players who averaged at least seven minutes per game, including three that averaged over 23 mpg.
Bama will be bringing in a Top 10 recruiting class, including the state's top player, 5-star point guard JD Davison from Letohatchee, Ala., while several other highly-regarded players still have the Crimson Tide on their lists.
Will I pick Alabama again for next season's Final Four? Not sure about that, and it wouldn't be any time soon. And, I doubt that Sir Charles will be searching for that hounds-tooth hat any time soon.
But, don't be shocked if Alabama basketball is right in the thick of it again next season. If so, that will be good for the SEC and for basketball in the state of Alabama.