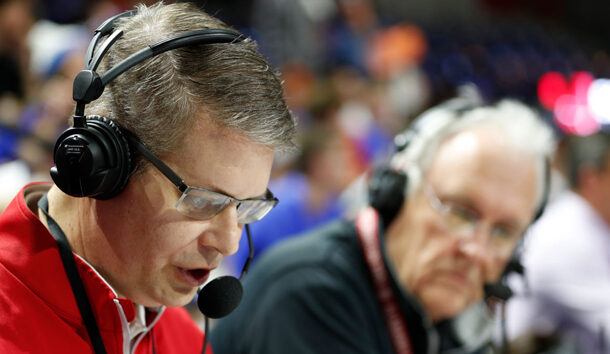 Chris Stewart was living a dream, his dream.
He did the things that young boys do. He played Little League baseball, then played ball at Central Park Christian near Birmingham. Sports became a passion, and while playing college and professional sports might not have been realistic, broadcasting could be.
So, he became a sports broadcaster. He was on the UAB Blazer sports team for football and basketball in the 1990s. For eight years, he was play-by-play announcer for Birmingham-Southern, calling two national championship victories (1995 basketball, 2001 baseball).
Then came the University of Alabama opportunity.
He took over as radio play-by-play announcer for Crimson Tide baseball. Basketball play-by-play came next. Then a spot on the football broadcast team and television host of "The Nick Saban Show." He was calling games "for the team that I had been a fan of since I was a little boy. It's an indescribable thrill."
Recognized as one of the best in the business, he has been named Alabama Sportscaster of the Year five times by the National Sports Media Association.
In 2009, he was honored by his alma mater (the University of Montevallo) with its Alumni Achievement Award. Chris Stewart was living a dream.
On April 16, 2018 that dream became a nightmare.
Over the next two years, there were times when friends and family didn't know if Chris would ever broadcast another game. They weren't sure he would ever be in another stadium. They weren't even sure that he would live through another night.
It started when Chris was sound asleep.
"I had been on the road with Alabama baseball and I felt fine when I went to bed at midnight," Stewart recalled. "When my wife (Christy) woke up at 4:30 a.m. to check on our son, I was twitching and moaning and she thought I was having a bad dream. She realized something was wrong and called paramedics. If she hadn't made that call, doctors said I would have died right there in the bed."
He was taken to Brookwood Baptist Medical Center near Birmingham where Dr. Jitendra Shara and his team removed two clots from Stewart's brain. Despite the length of time that passed before the surgery and its magnitude, 10 months later he showed no effects from the stroke.
But, the nightmare wasn't over; it was really just beginning. A little over a year after the stroke, Stewart had tingling in his arm. An arteriogram showed a 95 percent blockage of the artery commonly called "The Widow Maker."
"Dr. Russ Ronson and his team performed the surgery on a Monday," he said. "I was released on Friday and attended church on Sunday."
Within a few days, his lungs, liver and kidneys all were shutting down. He had MRSA in his blood and lungs. He had pneumonia and something called rhabdomyolysis, a breakdown of skeletal muscle that releases a dangerous protein into the blood.
Stewart has no memory of the next four weeks. He was "as sick as you can possibly be without actually dying."
He was placed in a two-week medically induced coma, and dropped from 165 pounds to 115.
"I didn't know that I had been so close to death in the case of the infection until several days, or even weeks, after I came out of the coma," he explained.
During his long recovery time, his medical team included nurses, PCTs and therapists at Brookwood and at UAB's Spain Rehabilitation Center. They became known as "Chris's Angels."
"The lady who spent the most time working with me, saw me at my worst, was Brookwood physical therapist Dawn Hind," he said. "Her love, toughness and patience were instrumental in getting me back to work and living. Of all my wonderful 'Angels,' her halo shines like no other."
Stewart also couldn't know how many people had him and his physicians in prayer.
"When I came out of the coma, I was told about phone calls, texts and e-mails — literally from all over the country," he said. "I was receiving prayer from not only family and friends, but from total strangers.
"I was stunned by the number of people who would begin by saying, 'Chris, I'm an Auburn/Tennessee/Georgia, etc. fan, but I've been praying for you."
His visitor list was a Who's Who from Alabama athletics. Nick and Terry Saban reached out with Coach Saban also sending a video message. Baseball coach Brad Bohannon and Athletic Director Greg Byrne came by.
New basketball coach Nate Oats and two players visited. Bryan Passink, color analyst for Alabama basketball, was there almost every day and his Crimson Tide Sports Network co-workers visited, as well as "my longtime friends from the Auburn radio network."
This has been a life-changing experience for Stewart.
"A lot has changed in the last two years," he said. "I'm so thankful that I have the ability to call each game. But I no longer live for each game. I don't long to call them. Broadcasting is a wonderful job and I am grateful for it. Being a broadcaster is what I do. It's no longer who I am."
He knows where the credit belongs.
"I don't know why God spared my life twice in 16 months," he said. "You could say it was to give me more time to help raise my children. You could say it was to give me another chance to put my priorities in order. The reality is that I don't know. I was brought into this world because of God's timing and that's when I'll leave.
"But because I accepted Jesus Christ as my Lord and Savior as a 14-year old, I know exactly where I'll be when my time here is done. I will be in the presence of the Lord and that provides a comfort that I can't articulate.
"It has nothing to do with what I've done. It has everything to do with what He has done. It's OK that I don't know exactly why I'm still here. I just hope that I can serve Him well while I am."