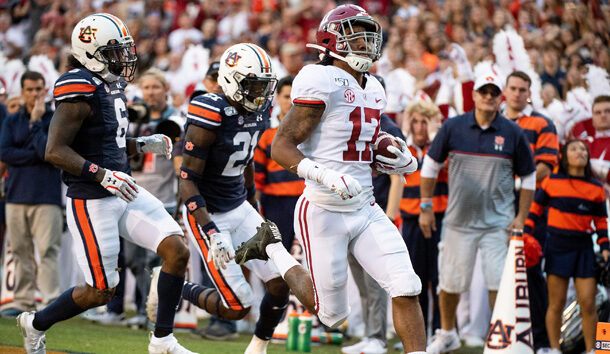 –by Christopher Walsh
The Jaylen Waddle buzz began well before his freshman season in 2018. Fellow wide receiver Jerry Jeudy was calling him "very shifty and quick," and just about everyone on the Alabama roster had an eye-popping story to tell.
"The dude is explosive. He really might be the fastest dude on the team. He has legit speed," running back Josh Jacobs said. "He's going to make a lot of big plays."
That was Jacobs, not last season, but before Alabama played its 2018 season opener against Louisville in Orlando.
Waddle's debut with the Crimson Tide resulted in three receptions for 66 yards, including a 49-yard play that set up a 1-yard touchdown run by running back Najee Harris. He also had four punt returns for 80 yards with a long of 31.
The play that really made people's jaws drop that night was one that didn't count. Waddle had a punt return for a touchdown nullified by a penalty. "He's got great quickness on change of direction and run after catch," coach Nick Saban said.
Waddle was so good that he immediately forced his way into playing time even though Alabama already had Jeudy and Henry Ruggs III, who were top-15 selections in the 2020 NFL Draft, and DeVonta Smith, who caught the game-winning touchdown in overtime of the 2017 national title game.
And Waddle has only gotten better.
Last season as a sophomore, he was a consensus second-team All-American, but landed first-team honors by the Football Writers Association of America after leading the nation by a wide margin in punt return average (24.4 yards).
He was chosen the SEC Special Teams Player of the Year.
When coaches put him deep on kickoffs against Auburn, he returned one 98 yards for a touchdown. It was one of four times he reached the end zone that Saturday, the other three all coming on receptions of 58, 12 and 28 yards as he tallied four catches for 98 yards.
Waddle finished with 33 receptions for 560 yards and six receiving scores despite quarterbacks Tua Tagovailoa and Mac Jones spreading the ball around.
The most exciting player in college football?
Perhaps.
"Every time he touches the ball I hold my breath because he's just an explosive receiver, explosive punt returner," said Jeudy, the 2018 winner of the Biletnikoff Award as the best receiver in college football. "So no matter what, he's going to always make plays, find a way to make plays because that's the kind of player he is."
The part — other than the blazing speed — that should scare opponents is that Waddle has yet to be considered a full-time starter — at least on the for-public release depth chart. But the secret is out. Alabama treats him as one, but he lined up on the first play just three times during the regular season.
"I think people try to make this like I'm a returner that plays receiver, but I work really hard at receiver," Waddle said. "So I'm a receiver who returns punts."
Well, when someone averages 20.0 yards per return for his career, he should be able to claim to be both. To put into perspective, Javier Arenas, who is now on the Alabama staff and helping Waddle, holds the Crimson Tide record at 14.1 yards.
The NCAA record (since 1976) is 17.9 by Dan Sheldon at Northern Illinois in 2001-04. The minimum to qualify is 50 career returns, and Waddle has just 36 — and most teams are doing everything they can to not kick the ball to him.
"It's very diffi cult when he's in space because he's very fast and quick," Crimson Tide cornerback Patrick Surtain II said. "You don't know what he's going to give you.
"He's probably 5-10, 5-11 — but he plays big. That's why he's on the football field because he can jump, high point the ball. He can do all that. I treat him like any receiver, a big receiver or a small receiver."