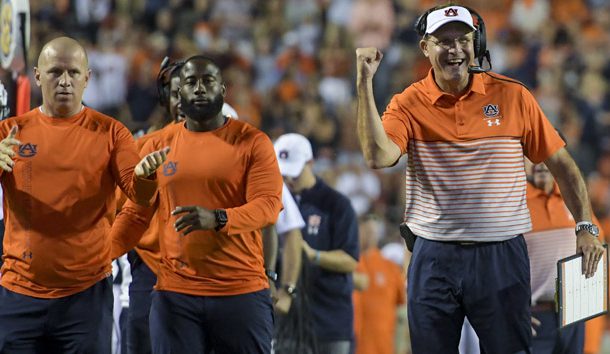 Walt trusted his talents and instincts in spite of the criticism.
Early in his career, a newspaper fired him for "not being creative enough." A cartoonist, his lead character was rejected by another employer for being "too scary for women." Another one of his creations was turned down because it didn't utilize enough characters.
Still, Walt persevered. He was confident. He never lost his passion for his profession or his belief in his abilities.
The world is fortunate for it.
Walter Elias Disney, a pioneer of the American animation industry, was the young newspaper man who lost his job. Mickey Mouse was the rowdy rodent that frightened females. And, "The Three Little Pigs" was the work that wasn't any good since it only used four characters.
Decades later, few icons anywhere are better known than Mickey Mouse and Disney properties are the most visited by vacationers on the planet.
"Hey there, hi there, ho there! You're as welcome as can be!"
That brings us now to Gus Malzahn.
I've wanted to put these thoughts on paper for a while now, but decided to wait until there was plenty of opportunity for Gus … that's Arther Gustavo Malzahn III, a pioneer of the hurry-up, no-huddle offense … to lay an egg, adequate time for the Gus Bus haters to have more things to add to their list of reasons why the Auburn head coach should be impeached … oops, make that fired.
The 2019 season for the Tigers has seen plenty of eggs, but all of them have been golden. That's really nothing new. Auburn has had more than its share of gold eggs since Malzahn took over as head coach to begin the 2013 season, regardless of what you incessantly hear from too many supposed Tiger fans. According to them, the program has done little good in those six-plus seasons, nothing but provide frustration, errors, disappointment and underachievement. And the primary culprit, the one where all things bad for Auburn football originate, has been Gus Malzahn.
Nothing could be further from the truth.
It seems that to some, the Auburn head man has been unable to do much right. If he won the national championship, he should have won the Super Bowl, too.
It's overdue that the record be set straight about Auburn football since the start of the 2013 season when Malzahn replaced his former boss, Gene Chizik. At least add some objectivity and truth to the discussion because it's needed. Fans that understandably accuse others of being "delusional," can be delusional themselves, in a negative way.
So, here are some facts and stats:
From the start of the 2013 season until this past Saturday … about 6½ years … Auburn is the fourth winningest team in the SEC, winning over 66 percent of its games. The Tigers trail only Alabama, Georgia and LSU.
During that same time span, Auburn trails only those same three teams in conference wins. Alabama leads with 45 league victories, while Georgia has 35, LSU 31 and Auburn 30.
In the last 10 years (2009-2018), Alabama has won six SEC Championship Games. Only one other team has won more than one … Auburn. The Tigers won it in 2010 and 2013, and played a third time in 2017, losing to Georgia. Only Georgia and LSU with one each have captured a championship. That 2010 team had Malzahn as offensive coordinator; the 2013 and 2017 teams had him as head coach.
How about the SEC Western Division title since 2013? Alabama has won it four times and Auburn has won it twice. The rest of the division – ZERO.
So, how about the quality of competition that Malzahn's teams have faced in compiling that record? An argument can be made that Auburn has faced the nation's most difficult cumulative schedule during those years.
For the record, here are the rankings based on the Strength of Schedule of NCAA teams:
2013 season – No. 3 most difficult nationally, No. 1 most difficult in the SEC
2014 season – No. 1 most difficult nationally, No. 1 most difficult in the SEC
2015 season – No. 15 most difficult nationally, No. 7 most difficult in the SEC
2016 season – No. 7 most difficult nationally, No. 3 most difficult in the SEC
2017 season – No. 1 most difficult nationally, No. 1 most difficult in the SEC
2018 season – No. 7 most difficult nationally, No. 6 most difficult in the SEC
2019 season – No. 2 most difficult nationally, No. 1 most difficult in the SEC
This season may be the worst of all.
By season's end, based on Lindy's preseason Top 10 ratings, Auburn will have played five of the preseason Top 10 and six of the Top 13. Four of those will have been on the road (already with two wins as road underdogs over nationally ranked opponents), ending with Georgia and Alabama at home.
To get more ridiculous, after the massacre of Mississippi State this past Saturday, Auburn doesn't play at Jordan-Hare again until November. Before then, they will have played three more consecutive SEC road games, including in Gainesville (undefeated No. 8 Florida) and in Baton Rouge (undefeated No. 4 LSU).
And one more little thing … Malzahn and his staff are doing this with two freshmen quarterbacks, neither ever starting a college game before facing No. 10 Oregon at Jerry World in Dallas a month ago.
Even with all of that, Auburn is still undefeated and No. 7 in the national polls.
But, surely criticism of Tigers' recruiting is fair game. After all, they can't recruit offensive linemen, and they can't bring in the best in-state talent, and they're never ranked as the top SEC team.
Before buying into that, consider this:
Lindy's recruiting partner, 247Sports, ranks 275 teams each year, and keeps a real-time ranking throughout the year. How has Auburn fared since the 2014 signing class, the first full cycle under Malzahn and his staff?
2014 class … No. 6 nationally, No. 4 in the SEC
2015 class … No. 8 nationally, No. 4 in the SEC
2016 class … No. 9 nationally, No. 5 in the SEC
2017 class … No. 9 nationally, No. 4 in the SEC
2018 class … No. 12 nationally, No. 3 in the SEC
2019 class … No. 11 nationally, No. 6 in the SEC
2020 class … No. 7 nationally, No. 3 in the SEC (based on current commitments)
It doesn't help with Malzahn's critics that he is the only major head coach in the country with the challenge of working in the same state with Nick Saban, the head coach in Tuscaloosa. In his six seasons, Auburn has defeated Alabama twice. Make that three times in the last nine seasons if you include 2010 when Gus was offensive coordinator.
Of course, nobody likes to only win one-third of its games against its in-state rival. But, what other SEC team has been as successful against Alabama during their decade of national prominence? That would be NONE.
The Crimson Tide has lost just four conference games in the last six full seasons … two to Auburn and two to Ole Miss. In the past decade, Bama has lost nine SEC games … one each to South Carolina and Texas A&M, twice each to LSU and Ole Miss, and three times to Auburn.
Of course, if you're goal is to find reasons to push the Gus Bus over a cliff, they're out there.
Auburn has lost four of the last six to LSU, including in 2013, keeping the Tigers from an undefeated regular season. They have lost five of the last seven against Georgia, including in the SEC Championship Game, costing Auburn a place in another national championship playoff. And, while Auburn has played in a postseason bowl game after all six seasons, only two have been wins.
So, where does Auburn stand right now, heading for Gainesville on Saturday at the midpoint of the 2019 season?
Better than most anyone could have expected.
Freshman quarterback Bo Nix has played 20 quarters with only two interceptions (both in the first quarter of the season opener). The defense, featuring arguably college football's best defensive line, is dominating opponents. (Did you know that in the past 3 ½ seasons, only four teams have given up fewer points than Auburn?) And, for the first time this season, the Tigers hit the road as a favorite, opening with Florida as a 2 ½-point underdog.
Auburn has been the Gators' nemesis over the years. The Tigers had back-to-back wins (1993, 1994) when Florida was undefeated and ranked No. 4 and No. 1 respectively. They beat the No. 1 Gators again in 2001, won in Gainesville in 2007 when Florida was No. 4, and won by 10 points in 2006 – the only blemish on the National Champion Gators' record.
And, Florida is currently in the midst of the all-time record for the longest streak of consecutive games without being shut out (372). Their last scoreless game … a 16-0 loss to Auburn in Gainesville in 1988.
You can bet that Gator head coach Dan Mullen has informed his players about all of that. Longtime Florida fans know it for sure and realize how much is on the line for both teams.
SEC Gameday was in Auburn for the Mississippi State game. In making predictions about the Tiger-Bulldog match-up, analyst Paul Finebaum said this: "If Auburn gets by this one today, they become a legitimate national championship contender. Then, we'll see what happens next week."
Auburn did "get by that one" and now that next week game is just a few days away.
What will happen in Gainesville? Is it realistic that Auburn can keep on winning away from home against this schedule with this quarterback inexperience? Don't know that one.
And, what will happen the rest of way this season? With a loss, will things fall apart? With a win, can Auburn keep it up in Baton Rouge and beyond? Don't know that one either.
I am pretty sure that I do know this. If Auburn goes into Ben Hill Griffin Stadium and doesn't leave with a win, it will start up again. Here's what we'll hear and read:
"The play calling was too predictable."
"The offensive line can't block."
"He's paid too much."
"They can't recruit good players."
"Malzahn can't win the big one."
Blah, blah, blah.
We also don't know how much longer Gus Malzahn will be Auburn's head coach. It could be two seasons or less, could be two decades or more.
Regardless, expect the Tigers head coach to persevere. Expect him to keep his confidence, his passion for his profession and his belief in his abilities.
That's who he seems to be, and up to this point, Auburn is fortunate for it.