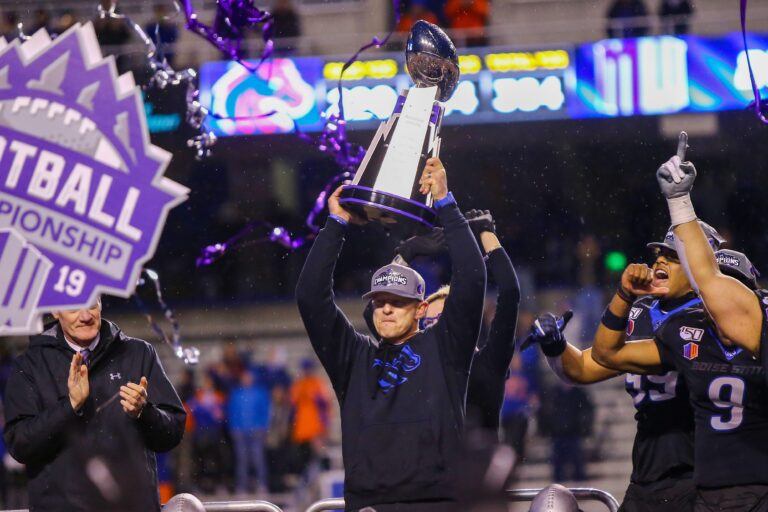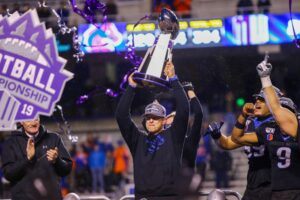 It's usually smart to wait until the smoke clears to determine where you are and where you're headed.
That's been especially the case regarding Auburn football, the dismissal of head coach Gus Malzahn, the hiring of Brian Harsin, and what might be expected for the program in the near future.
In looking back and looking ahead at the Tiger football situation, there are really three aspects to evaluate … the firing, the hiring and the aspiring.
Firing – When Auburn fired Malzahn after eight years heading the program, there was surprise with the move, but not much shock. It had been discussed for a while among fans, and more importantly, among people with influence on Auburn decisions.
Anti-Malzahn folks made their thoughts known through social media and water cooler conversations for several years. It was much like with the people who opposed Les Myles when he was winning at LSU.  Nothing good that they did was ever going to be good enough.
A lot of people felt the same way about Malzahn. A pretty solid case can be made for why he was let go, but the same can be made for keeping him.
After his first season when the 12-2 Tigers fell just a few seconds short of the national championship against Florida State, his teams won over 66 percent of their games, but never lost fewer than four in a season. His teams has eight consecutive winning seasons and played in a postseason bowl each year, but won only two of those games.
They defeated No. 1 Georgia and No. 1 Alabama back-to-back in 2017, defeated the Crimson Tide twice when it was ranked No. 1 and won three times in eight games in that series – more than any other coach and team was able to do.
Malzahn's record against Texas A&M was 5-3 and Auburn split eight games with LSU (4-4). But, the record against Georgia, the Tigers' oldest and second-biggest rival was only 2-7, with many of those losses by large margins. That was probably as big of a factor in fan disenchantment as losses to Alabama.
Regardless how you felt, Malzahn was fired, so that's in the past.
Hiring – You know the idiom that you can't make something out of nothing. You may have heard it other ways, maybe something about silk purses, sow's ears or barnyard animals. But, that's more or less what happened for Auburn.
When it looked like the Tiger program was near taking a third strike, it hit a home run.
In the early days of the search, Auburn appeared to be its own worst enemy. Rumors raged and supposedly "inside" information had everybody from Urban Meyer or Bob Stoops to Bill Clark or Kevin Steele as "a lock" to be the next coach. Leaks turned out to be waterfalls of bad information. As has too often been the case, people out of the spotlight apparently attempted to again play the deciding role.
Much to the credit of university president Jay Gouge and athletic director Allen Greene, that didn't happen. In hiring Harsin, who was completing his seventh season as head coach at his alma mater, Boise State, Auburn got a replacement that checked off almost all of the boxes.
He's young (44), experienced (coordinator at Texas, head coach at Arkansas State, plus Boise State) and successful (Boise State record 69-19, 88.4 percent). His teams won outright or tied for seven conference or division titles in eight coaching seasons and played in a postseason bowl game after all eight. His overall career winning percentage (76.0) is 11th best nationally among all active head coaches.
He's from a high profile program with a reputation for wide open offense and conference championships. It would have been difficult for Auburn to do better, short of getting those guys named Meyer or Stoops.
Aspiring – So what's ahead for Auburn football? The jury has not even convened yet and deliberations could still be lengthy before a verdict is reached.
The case for future success starts with the coaching staff … and that's gotten off to a good start, an impressive mixture of coaches from his Boise State staff, coaches with varied SEC experience and coaches from the Auburn "family."
Those coming from Boise State include co-defensive coordinator/defensive line coach Spencer Danielson, defensive coordinator Jeff Schmedding (will coach inside linebackers), offensive line coach Brad Bedell (will coach tight ends) and Jeff Pittman, the longtime, highly respected strength and conditioning coach, who will have the same position on the Plains. Pittman's loss could be the biggest for the Broncos, except for Harsin himself.
Those with SEC coaching experience include former Vanderbilt head coach Derek Mason, who will be defensive coordinator; Mike Bobo, former South Carolina offensive coordinator, who will have the same position at Auburn; and Will Friend, who was offensive line coach for the Gamecocks last season and will have that same post on Harsin's staff. It's significant that Bobo and Harsin were head coaches in the Mountain West for five seasons when Bobo was at Colorado State, so they know each other well, on and off the field.
Carnell Williams, one of Auburn's greatest ever runners, is retained as running backs coach; Zac Etheridge, one of the captains of the Tigers' 2010 national championship team who comes from the Houston Cougars staff, will coach cornerbacks, and Tracy Rocker, one of the SEC's greatest ever defensive linemen, comes to the Plains for his second stint, as defensive line coach. When Rocker played at Auburn, they should have won the national title. When he coached at Jordan-Hare, they did win it.
How about the players with whom they'll be working.
Auburn has lost players leaving early for the NFL Draft, including junior receivers Seth Williams and Anthony Schwartz, who will join senior Eli Stove. During their careers, the three combined for 385 catches for 4,743 yards and 29 touchdowns. In addition, Schwartz and Stove combined for 11 rushing scores. That's a lot of offense to lose.
In addition, players have entered the transfer porta, including running backs D.J. Williams and Mark-Antony Richards, receiver Matthew Hill, defensive back Christian Tutt, quarterback Cord Sandberg, linebacker K.J. Britt, and defensive linemen Daquan Newkirk and Big Kat Bryant. Others could be added, but entering the portal doesn't automatically mean the player will not return to his team.
But the cupboard is far from bare.
The 2020 team did not have returning offensive linemen. The 2021 team loses very little there. There are several returning tight ends and talented young receivers, as shown in the bowl loss to Northwestern. Shaun Shivers and Tank Bigsby, the top freshman running back in the SEC and one nation's best, are a strong duo. Quarterback Bo Nix returns for his third season as starter, joined by signee Dematrius Davis, one of the country's best, if not the best, dual-threat quarterbacks.
Several talented junior defensive players should be returning including cornerback Roger McCreary, safety Smoke Monday and linebackers Chandler Wooten and Zakoby McClain, plus sophomores and freshmen with experience.
Opinions about Auburn's signees in December were all over the board. ESPN ranked the Tigers' class No. 17 nationally, seventh in the SEC. With only 14 signees, Auburn had the highest national rating for any team with under 15 signees. On the other extreme, 247Sports ranked Auburn No. 48, 12th in the SEC, crediting it with only 12 signees. Regardless of which is closer to the truth, with so few December signees, Harsin and his staff have more spots available than almost any other team and can offer more certainty than the staff could  offer when players were signing just a few days after Malzahn was released.
The 2021 schedule will test Harsin and Auburn. The third week of the season the Tigers travel to State College, Pa., for its first game ever at Penn State. The Nittany Lions play in Jordan-Hare in September, 2022. Auburn plays at LSU and Texas A&M, and entertains Georgia and Alabama, in addition to the rest of the conference line-up.
From the perspective of Tiger followers, Harsin has said the right things, and made strong staff hirings. So far, reaction to the coaching change has been positive and there is an increased level of excitement. Even among those who didn't favor Malzahn's departure, Harsin's support has been solid.
This situation isn't unusual for Auburn and there is history in Harsin's favor. In case you've forgotten …
** In 1980, under head coach Doug Barfield, Auburn was 0-8 in the SEC. He was fired and expectations were historically low. Everybody knew that the new coach would be inheriting a talentless program. When could things ever get better again? After a 5-6 first season, new head coach Pat Dye won four SEC championships in the next eight seasons, defeated Alabama six of eight times, and took teams to postseason games after nine consecutive seasons.
** In 1992, Dye was released (or resigned) after winning only two SEC games and facing NCAA sanctions. Expectations and comments were the same as when Barfield exited. New head coach Terry Bowden's team went undefeated in 1993 and Auburn finally lost a game in its 22nd game under Bowden. His Auburn teams won 76.2 percent of its games.
** In 2008, head coach (now U.S. Senator) Tommy Tuberville was fired after a losing season and a 2-6 SEC mark. That was despite his Auburn teams winning four SEC Western Division titles, going to postseason bowl games eight consecutive years and defeating Alabama in seven of eight seasons, six consecutively. Expectations and comments were the same as when Barfield and Bowden had exited. In his second season, new head coach Gene Chizik's team was undefeated, beating Oregon for the national championship. In his first three years on the Plains, his teams were 30-10 and won three consecutive bowl games.
** In 2012, Chizik was fired after a 0-8 SEC record. Expectations and comments were the same as when Barfield, Bowden and Tuberville had exited. In his first season, new head coach Gus Malzahn's team went 13-1, defeated Georgia and Alabama back-to-back, won the SEC title, and came within 19 seconds of winning another national championship.
All of that isn't to say that Auburn's new coach will unexpectedly strike gold for a fifth time. But for Auburn fans, it's way too early to throw in the towel and accept defeat. History has shown pretty often that there can be a different outcome.
Of course, there is an unknown factor that still could impact the verdict on Harsin's team and all others.
This time last year, fans had not even heard of China virus. Now, they don't hear about much anything else.
Will there be normal spring practices and intra-squad games? Will fall practice start on time? Will there be a regular schedule? Will players decline to play and will there be full stadiums when games kick off?
Answers to these questions will impact every football program, with even more potentially damaging fallout for teams that are bringing in new coaching staffs.
Auburn, like every program, will aspire for championship contention. It will have more weapons that a lot of other teams. But, it faces a lot of challenges.
Will the Tigers end up with a silk purse or a sow's ear? Will it prove to be a grand slam home run or a called third strike?
I lean toward the first options, but when the jury finally convenes, deliberations could still be lengthy before a verdict is reached.