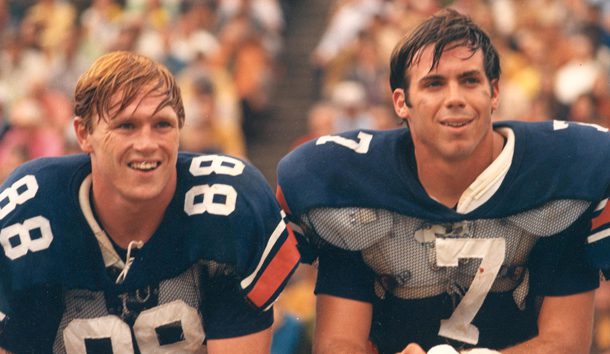 This column isn't one that had been planned for this space for the days following the 2019 Iron Bowl.
It isn't one that any sports columnist ever wanted to write, even though most knew that it was something that would likely have to be done.
The football game played in Auburn on Saturday afternoon was just that … a game.
The news the next morning was much more. It was life and death. A death to be mourned, a life to be celebrated.
Pat Sullivan, Auburn's 1971 Heisman Trophy winner, former Auburn coach and broadcaster, one of the most admired and beloved figures in Auburn history, passed away during the night, just a few hours after another Tiger win over Alabama on the field where Sullivan created his football legacy. It was one of the greatest Iron Bowl games ever played.
But as news of his death spread on Sunday morning, the roller coaster of emotion among Auburn fans may have never been more extreme, first the euphoria of another win over Alabama … then this.
Pat Sullivan was more than just a football player, even though he was one of the best to ever play the game. A multi-sport all-star athlete at John Carroll High School in Birmingham, he took his football talents to Auburn to play for Coach Ralph (Shug) Jordan. He could have chosen any program anywhere. In three varsity seasons, he set career total offense and passing records, and became the first player to win the Heisman Trophy at a school where legendary John Heisman had coached.
After several NFL seasons, Sullivan worked in the insurance and tire businesses in Birmingham, living there with his wife, Jean, and their three children, daughters Kim and Kelly, and son Patrick. He stayed connected with Auburn football, serving as color analyst with the late Tiger football and basketball announcer, Jim Fyffe, from 1981-1985. But his passion and calling for coaching was drawing him back into the game. With his family's support, he joined the offensive staff for Coach Pat Dye at Auburn in 1986.
Those Tiger teams won multiple Southeastern Conference titles and produced several all-conference quarterbacks. He was named head coach at TCU in 1992, won the Southwest Conference championship two seasons later, and led the Horned Frogs to their first win over Texas in 25 years.
Sullivan later was on UAB Coach Watson Brown's staff as offensive coordinator before serving as head coach of the Samford Bulldogs from 2007-2014.
In December, 2006, Sullivan was honored as the first recipient of the Legends of Birmingham Award, presented in conjunction with the Birmingham Bowl to "the Birmingham resident, past or present, for accomplishments which have brought recognition to the Magic City."
These things just scratch the surface of Pat Sullivan's achievements and honors during his career as player and coach. It would take up too much space to list them all here. And, it would miss so much about who Sullivan was and the difference he made in the lives of so many.
He had friends and admirers across all time zones and across all walks of life.
There will be a memorial service for Sullivan on Friday in Birmingham. In that packed auditorium will be coaches and former players, nationally recognized people from the sports and media fields, business and civic leaders, and other members of the brotherhood of Heisman winners. They will come from all parts the country.
There will be people who bought from his businesses, who attended his church, who lived in his community, who played with his children.
And, there will be people who never met Pat Sullivan, but who feel like they knew him. There are so many of those. People whose lives were impacted by the example that he set, who prayed for his recovery during the 16 years after he was diagnosed with cancer, who will be there to show their respect and admiration, to say thank you for the impact on their lives even though they may have never met.
Pat Sullivan was special. Perhaps nobody realized that better than friends with whom he worked, on the field and in the broadcast booth.
Cary Estes, a Lindy's contributing writer and Auburn journalism graduate, wrote a feature about Sullivan before the start of the 2014 season, which would end up being Sullivan's last before his retirement at Samford. For that feature, Estes talked with Larry Blakeney, former Troy head coach, about Sullivan, his former Auburn teammate.
"I can't express how deeply I feel about Pat Sullivan," Blakeney said. "He is a very dear friend. He was always on his game in college. He seemed to always have a way of coming through. And as a coach, I've seen the way guys respond to him and what he's trying to teach them.
"There are a lot of good men in our profession. But if I had to rank them, Pat would be at the top."
Tuffy Crowe served on the UAB coaching staff with Sullivan, then coached for him as a member of his Samford staff.
"It was a blessed experience to work with Pat and have him as my friend," Crowe said. "It was important to him to have a strong relationship with his players and his coaches and he was so well thought of. I asked him one time, 'Do you realize how admired you are by so many people, how highly people regard you?' He said, 'I think I do. Jean told me that she thinks it's because I'm just Pat.'"
Fyffe felt the same way about Sullivan. After the 2002 football season, shortly before his death, the Auburn announcer and I were talking about his 22 years behind the Auburn play-by-play microphone and the subject turned to his former color analyst, who at that time was the UAB offensive coordinator.
Fyffe explained that when they traveled and were at Tiger games, there were always fans wanting to see Sullivan, to shake his hand, get an autograph, just to say hello. Not all of them were Auburn fans. Sullivan's popularity transcended team loyalties and state boundaries.
"I'm not sure that Pat knows who he is," Fyffe said. "By that, I mean he probably doesn't realize just how much he is revered, how much people look up to him and what he represents, especially to Auburn people, but to others, too."
Being "just Pat" was enough. No pretense, no arrogance.
Those feelings toward Sullivan increased in 2003 when he was forced to enter his biggest challenge with the diagnosis of mouth cancer. Chemotherapy and radiation treatments were rough, but he never gave in; he kept his positive approach and continued to coach his team. He allowed his fight to be known to the public. His example was an inspiration, not only to his players, but especially to others that were battling cancer, people he didn't know and would never meet.
Lindy's includes a Christian emphasis feature – "Keeping the Faith" – in our college football editions each year. In our 2004 publications, the feature was about Sullivan's disease, treatment and faith. He acknowledged the magnitude of support from people everywhere.
"Overwhelming is the only word that comes to mind," he told Lindy's. "Almost not a day goes by that we don't get mail and phone calls, saying that our family has been on prayer lists. I can't overstate the importance of this, faith and prayer."
Pat Sullivan's long, courageous fight with cancer ended on Dec. 1, 2019.
It was another in a series of deaths which have devastated the Auburn family in recent times, but which have also made it stronger … tight end Phillip Lutzenkirchen, play-by-play announcer Rod Bramblett and now Sullivan.
Ironically, Sullivan's death was 50 years and a day after his first varsity game against Alabama, when he led Auburn to a come-from-behind win over its in-state rival, defeating the coach considered by many to be the best in the game at that time. It was a similar game with a similar outcome 50 years later.
During those five decades, Pat and Jean Sullivan have been involved with their community, church and family. Pat served on numerous boards, including the O'Neal Comprehensive Cancer Center at UAB. The Sullivans have impacted people as few others have done.
Pat Sullivan's obituary described his life as well as it can be said:
"Everyone who knew Pat knew his warmth, kindness and exemplary positive spirit. Those traits and strengths of character had a positive effect on so many friends and acquaintances. He offered love and encouragement to everyone he came in contact with. He viewed life with a grateful heart … "
In October, 2016, he was honored by his alma mater, John Carroll High School, with the naming of its football field, Pat Sullivan Field.
"Hopefully, I did things the right way," he said at the festivities that night.
You did do things the right way, Pat … with integrity, courage, humility.
You will be missed by many.
Thank you for being "just Pat."