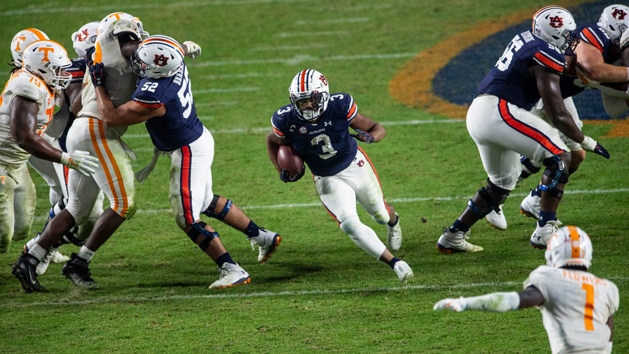 Most of us are familiar with the old idiom, first penned by American poet and educator Henry Wadsworth Longfellow in his Tales of a Wayside Inn, written in 1863. It was about a group of travelers spending a night in a Sudbury, Mass. Inn, each with a distinct story, telling it in the form of a poem, then heading on in different directions.
He referred to it as "ships that pass in the night."
That happened in Jordan-Hare Stadium on Saturday evening, two groups with different stories, meeting briefly, then heading on in different directions.
Tennessee, the travelers who headed south, spent the evening on the football field with Auburn, the group that was staying at home.
When the night was over, Auburn had won the football game, 30-17, sending the Volunteers from the field with a 2-5 record and no flexibility remaining if they hope to avoid another losing season. Next on the schedule, in-state rival Vanderbilt.
Auburn left the field with a 5-2 record, insured of avoiding a losing season, virtually guaranteed of a postseason bowl invitation. Next on the schedule, in-state rival Alabama.
If this story sounds familiar, that's because it is.
Auburn and Tennessee, heading in different directions … again.
There was a time, seems like not that long ago, when Tennessee … joining Alabama, Georgia, Florida, LSU and Auburn … was considered annually among the league's elite programs, among the nation's best.
But that has been a while. Quite a while.
The Volunteers won the national championship 23 seasons ago, in 1998. Since then, they have finished in the Top 10 just twice, most recently in 2001 – 20 years ago. Since 2008, they've also ended a season in the Top 25 just twice (both times at No. 22). And, since winning the SEC Championship Game 23 years ago, Tennessee has not won it again, losing three times (LSU twice, Auburn once). Only two of the last 11 years have produced a winning season.
What has happened since that last Vol league title 23 years ago? Auburn, Florida and Georgia have each won three championships; LSU has won five; Alabama has won seven.
Too many times there has been a painful pattern in Knoxville. Show promise, have early ranking, raise expectations, give hope, then start losing, and lose some more.
This season may be the worst on that long list. After winning its first two games, Tennessee climbed to No. 14 nationally. The loss to Auburn on Saturday was its fifth consecutive double digit defeat, the first time that has happened in the 130-year history of Volunteer football. In its last two games, Arkansas and Auburn won by a combined 54-30.
Three games are left in the Tennessee regular season. What will likely happen? Winless Vandy is first. That should be a win, but that's far from a sure thing. The Commodores have defeated Tennessee three of the past four seasons and five of the last eight. The other two opponents are No. 6 Florida and No. 5 Texas A&M. Being realistic, a three-win season is likely.
For Tennessee, Longfellow's words fittingly end, "… then darkness again, and a silence."
Auburn's course has been different from Tennessee's in the past couple of decades and in 2020.
Since 2010, the Tigers have 10 winning seasons, playing in a postseason bowl after all but one. They have played in two national championship games and three SEC Championship Games, with six Top 25 rankings, including three in the Top 10.
Auburn is one of five SEC teams already with five wins this season. Since their loss at Georgia, the Tigers have won four of five, defeating its last two opponents, LSU and Tennessee, by a combined 78-28.
Three games are left in the Auburn regular season. What will likely happen? The season ends with a game against Mississippi State. Despite the MSU passing explosion against Georgia on Saturday, the Tigers should win that one.
Texas A&M is in Auburn the preceding week, a place where the Aggies have won twice. But, Auburn has won three consecutive in the series and four of the last five. The game is at least a toss-up.
But, first there's Alabama. The undefeated Crimson Tide is No. 1 in national polls this week, a well-deserved recognition. Alabama has easily been college football's best team this season, especially in recent weeks since giving up 48 points to Ole Miss and 24 to Georgia.
The Tide's lowest output of the season is 38 points. Auburn has only scored that many points one time in seven games. In Bama's last two games, the combined victory margin was 104-3 (Mississippi State, Kentucky).
Alabama hasn't had a consistent nemesis. But, if there is one, it's Auburn with four wins in the last 10 games in the series, including two of the past three seasons and three of the last seven. The Tigers have defeated two No. 1 Alabama teams since 2013. No other team comes close to that mark against the Crimson Tide, an early 25-point Iron Bowl favorite.
So, could Auburn win? Sure, and a meteorite could hit at midfield at Bryant-Denny, but probably not. Stranger things have happened … but not much stranger, and never in this fabled series. And, the crippled Tigers, with several key players doubtful, are not likely to limp out of Tuscaloosa with a win this time, either.
Being realistic, a season with three losses is probable, maybe four.
"Ships that pass in the night … and speak to each other in passing," Longfellow wrote.
That will be Tuscaloosa on Saturday.
Again, teams with different stories, but paths that haven't been quite as different. We'll have that at lighted Bryant-Denny as the game plays on after the sun goes down.
Ships, guided by the two of the longest tenured captains in the SEC. Charting courses across the state and across the college football ocean.
It's time for both teams to make a statement.
Looking forward to finding out what they will have to say.