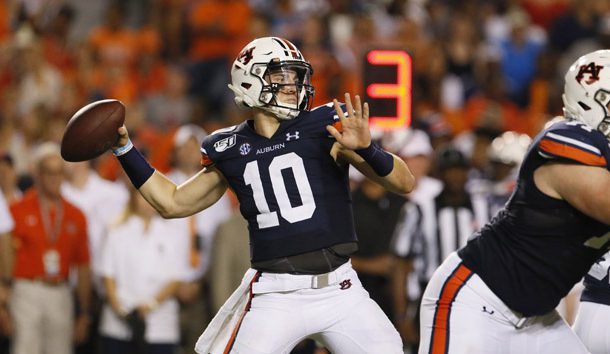 AUBURN — No. 7 Auburn continued its impressive start to the season by steamrolling Mississippi State 56-23 in front of a capacity crowd of 87, 451 decked out in orange in Jordan-Hare Stadium.
True freshman quarterback Bo Nix, sophomore tailback JaTarvious Whitlow and sophomore wideout Seth Williams fueled a Tigers offense that scored 42 first-half points and rolled up an impressive 579 total yards for the game.
"Our fans were electric, really got in the game, helped us," Auburn head coach Gus Malzahn said. "Our special teams and our defense gave the offense some short fields and they capitalized with some touchdowns and really gave us some momentum."
Auburn's defense turned in another impressive performance by limiting Bulldog junior tailback Kylin Hill, who entered the game as the SEC's leading rusher, to just 45 yards on 17 carries. Defensive coordinator Kevin Steele's unit also racked up two sacks and held Mississippi State to 3-of-12 on third-down conversion attempts.
Nix completed 16-of-21 passes for a career-high 335 yards and two touchdowns. He also added 56 yards and a score rushing.
Whitlow was the team's second-leading rusher with 55 yards, but his three scoring runs paced the Tigers ground attack. Senior tailback Kam Martin and sophomore receiver Anthony Schwartz also added rushing scores for a Tigers ground game that outrushed the Bulldogs 217 to 118.
Williams headlined Auburn's receiving attack by establishing career-highs in receptions (eight) and yards (161). He also tied his career-high with two touchdown receptions.
"We're back to being an Auburn offense," Williams said. "This is what Auburn is about; fast-paced and scoring touchdowns. That's what (Gus) Malzahn likes to do, so that's what we're doing."
The win pushed the Tigers record to 5-0 overall and 2-0 in the SEC West. Mississippi State fell to 3-2 overall and 1-1 in the SEC West.
Auburn opened the scoring with a Whitlow 30-yard scoring run on its opening drive.
After holding the Bulldogs to a three-and-out on their second possession, Malzahn's squad took a 14-0 lead when Nix scored on a 9-yard scamper off right tackle. The TD run capped a five-play, 45-yard drive that was aided by a late-hit out-of-bounds on Whitlow.
The Tigers scored their third touchdown of the opening quarter when Schwartz scored on a jet sweep from 13 yards out.
Mississippi State cut the lead to 21-6 with 2:20 remaining in the opening quarter when freshman quarterback Garrett Shrader, who entered the game on the Bulldogs third possession in place of senior Tommy Stevens, found senior wideout Stephen Guidry for a 9-yard scoring pass just moments after picking up a crucial fourth-and-1. The scoring drive covered 12 plays in 6:39, but the extra-point attempt by junior Jace Christmann was no good.
Whitlow pushed the Tigers lead to 28-6 early in the second quarter when he hit pay dirt from 3 yards out. The scoring play was set up by a 30-yard reception by Williams on third-and-7.
Following a Mississippi State field goal, Nix found Williams for a 39-yard touchdown. The TD pass capped a five-play, 74-yard drive and put Auburn up 35-9.
The Bulldogs threatened again when Shrader connected with senior tight end Farrod Green for a 47-yard completion to the Tigers 1-yard line. But a false start and a fumble by Shrader cost Mississippi State a golden scoring opportunity.
That led to another impressive 11-play scoring drive by the Tigers that was capped by Whitlow's third scoring run of the half.
Williams added his second score of the game early in the third quarter when he hauled in a 32-yard reception from Nix on the Tigers first possession in the second half to put the Tigers up 49-9.
Martin capped Auburn's final scoring march of the night by scoring from 7-yards out in the fourth quarter.
Shrader, the SEC Freshman of the Week in the win over Kentucky, played well despite being harassed for most of the game. He completed 12-of-23 passes for 209 yards and two touchdowns. He also led the Bulldogs in rushing with 89 yards and a score. Junior Osirus Mitchell and senior Stephen Guidry were on the receiving end of Shrader's two scoring throws. Green led MSU in receptions with three for 69 yards.
Senior safety Daniel Thomas led the Tigers in tackles with six. Junior linebacker K.J. Britt had five tackles, including two for loss, and a sack. Senior safety Jeremiah Dinson also had a solid game with four tackles, a sack and a fumble recovery.
True freshman linebacker Owen Pappoe added two tackles and a forced fumble. Sophomore linebacker Zacoby McClain added four tackles and a forced fumble.
With the win, the Tigers improved to 64-27-2 in the series.