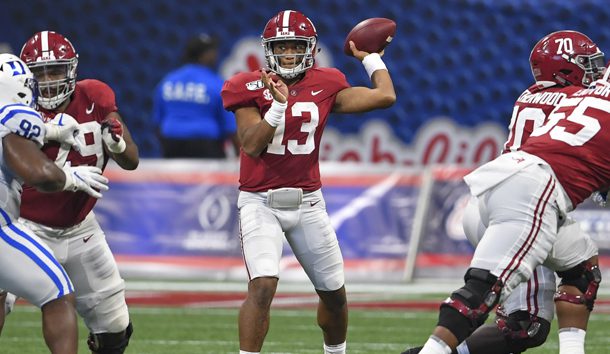 It's uncanny how often history repeats itself or at least how often there comes a chance for that to happen.
One of those opportunities is the 2019 Southeastern Conference football season. The possible repeat scenario gets started in Columbia, S.C. on Saturday when Alabama, a 24-point favorite, travels to face South Carolina.
Could this be a repeat of what happened in 2010?
Already this season, the undefeated Crimson Tide has soundly defeated Duke, 42-3, and is ranked No. 2 nationally. Nine years ago when Alabama went on the road to play the Gamecocks, it was also undefeated and ranked No. 1 in the national polls. The Tide had also already beaten Duke, 62-13.
South Carolina enters the game on Saturday having lost one game, a four-point loss to North Carolina. In 2010, the Gamecocks, an eight-point underdog, also entered the Bama game with just one loss, an eight-point defeat by Auburn.
At the same time nine seasons ago, the Tide's two primary contenders in the SEC Western Division were LSU and Auburn. By mid-October, both teams of Tigers were undefeated and ranked in the Top 6 nationally.
There's still a lot of football to be played this season, but at this point LSU and Auburn appear to again be the biggest threats to Alabama's SEC West supremacy. Both are undefeated, ranked in the Top 8 and have already won away from home over teams in the national Top 10. Texas A&M and Mississippi State, especially the Aggies, still have to be considered dangerous in the SEC West with talented skill position players and strong defenses.
In 2010, South Carolina spotted Alabama an early field goal, then took control and never looked back. With three touchdown passes by quarterback Stephen Garcia, the Gamecocks led 21-3 at halftime on the way to a dominating 35-21 win.
LSU and Auburn met on the Plains in late October that year, both still undefeated, and Auburn took a narrow 24-17 win. The following week, Bama went to Tiger Stadium in Baton Rouge with both teams having just one loss. LSU won that game, 24-21.
LSU went on to have just two losses, defeated future SEC rival Texas A&M in the Cotton Bowl and finished No. 11 in the final Associated Press poll. Auburn finished undefeated and won the national championship with a win over Oregon. Alabama had a 10-3 mark and massacred Michigan State, 49-7, in the Capital One Bowl.
Things have changed since 2010.
LSU defeated Bama during the following regular season (2011), but lost to the Tide in the national championship game rematch in January, 2012. The Crimson Tide has won the game over LSU eight consecutive times since then.
Auburn has beaten Alabama twice in the ensuing seasons, played in one National Championship Game and won two SEC West titles.
Alabama has won four national championships and has lost only 10 games in those eight seasons.
Of course, the players are different now, too.
South Carolina won't have the long-departed Garcia. Against the Tide, the Gamecocks will be without senior quarterback Jake Bentley, the program's career record holder in several passing and total offense categories. He is replaced against Alabama by freshman Ryan Hilinski from Orange, Calif. – not yet looking like Bentley.
Auburn won't have the long-departed Newton. The Heisman Trophy winner, now playing for the Carolina Panthers in the National Football League, was a once-in-a-lifetime talent. He led the team to comeback wins over seven opponents, including Oregon in the final drive of the 2011 season. He is replaced this season by true freshman Bo Nix, talented but inexperienced … multi-threat, a leader … not yet looking like Cam Newton.
Alabama won't have its strong skilled players from back in those days either. It won't have quarterback turned-announcer Greg McElroy, All-Pro wide receiver Julio Jones or Heisman Trophy winning running back Mark Ingram.
But, the Tide's replacements include Heisman Trophy finalist quarterback Tua Tagovailoa, Biletnikoff Award winning wide receiver Jerry Jeudy and junior running back Najee Harris, among a team stocked with All-American candidates and highly touted newcomers.
That's a line-up that will be hard to beat.
But stranger things have happened … just ask the Tennessee Volunteers.
So, could history repeat itself? Could the 2019 season, which has started much like the 2010 campaign, end up the same way?
Of course, it could. It starts in Columbia, S.C. on Saturday,
But, don't expect it to happen.