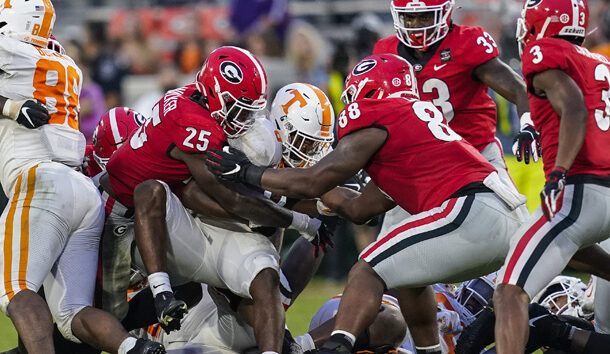 With apologies to Pete Seeger, The Kingston Trio and Peter, Paul and Mary …
Where have all defenses gone, can't stop passing?
Where have all defenses gone, not long ago?
Where have all defenses gone?
Offense kicked them, every one.
When will they ever learn? When will they ever learn?
Remember when defenses ruled college football? Doesn't seem like many seasons ago.
But, based on the first three weeks of the 2020 season, it looks like defense has gone the way of the drop kick, the Statue of Liberty play, and the hidden ball trick.
Where are you Knute Rockne and General Neyland when we need you? You know Bill Oliver's still with us. Hey, Brother, can you help us?
Somebody needs to do something before great defense goes the way of the dinosaur.
There have been a few effective defensive efforts this season.
Missouri stopped LSU four times inside the 1-yard line last Saturday to preserve the second major upset of the defending national champion. Kentucky beat Mississippi State, 24-2, holding Bulldog quarterback K.J. Costello to about 400 fewer passing yards that he got in the first upset of the Tigers in Baton Rouge. And, Georgia, looking like the SEC's best defense, held Tennessee to minus-1 yard rushing and shut out the Volunteers in the second half.
There may have been a few more, but that's about it. Maybe with the Big Ten and Pac-12 joining soon, along with the Mountain West and the MAC, somebody will play defense, which has never been the forte of teams out West. But, don't count on that happening either.
It's hard to argue with statistics and this season stats tell the story, including about a good many traditional college powers.
Start with passing yards allowed. There are 76 teams that have played at the FBS level so far this season. Among teams that have played more than one game, South Florida is best giving up an average of 149.5 yards. But, the Bulls are 1-3, having given up 52 and 44 points, and rank 67th in rushing defense and 54th in scoring defense. UAB is second, allowing just 152.3 yards per game.
Among SEC teams, none come within the Top 20, but Georgia is at 21st (198.3 ypg). Only four are among the Top 50 – Mississippi State, Vanderbilt, Tennessee, Arkansas – losers of nine games combined already. Alabama ranks 70th out of the 76 teams; Florida is 71st; Ole Miss is 73rd; and LSU is 75th. Only Memphis has given up more passing yards per game.
How about rushing defense? Georgia leads nationally, giving up just 38.3 yards per game, including the one negative yard against Tennessee. Mississippi State and Kentucky are also among the Top 10. Six SEC teams have given up over 150 rushing yards per game, including Alabama, Auburn, Arkansas and Florida, who make it into the Top 50. Ole Miss is last (No. 76) nationally allowing 303.3 yards per game.
Regarding total defense, among teams playing more than one game, Georgia leads all teams giving up just 236.7 yards per game and Mississippi State is close to the Top 10, ranking 12th at 285.7 yards per game. How about some of the traditional SEC powers? Nine conference teams have given up over 400 yards per game, including No. 65 Alabama (473 ypg), No. 71 LSU (494.7 ypg), No. 72 Florida (495 ypg) and Ole Miss, last again giving up 641.3 yards per game … and that is NOT a typographical error.
What about scoring defense, the stat that counts the most? Marshall gives up just seven points per game, followed by Oklahoma State at just nine points per game and Brigham Young (11 ppg.). Georgia leads the SEC giving up 12.3 per game, and Auburn is second yielding 22.7 ppg, which is three spots behind UAB (22.3 ppg). Heading in the other direction among SEC teams, Alabama has allowed 30.3 points per game; LSU has given up 32 ppg; and Vanderbilt is next allowing 33 per game. At the bottom nationally … surprise, it's Ole Miss, giving up 51.7 ppg.
If defenses are bad, offensive numbers should look good and in many cases that's true.
UCF leads the country with 582.3 total yards per game. Ole Miss flips the chart, coming in second with 573 yards per game with Alabama about 13 yards behind in third. LSU, Florida and Texas A&M are all in the Top 20.
Individual performances are looking like a pinball machine, but not all in winning efforts.
Last Saturday, LSU's Myles Brennan passed for 430 yards and four touchdowns, but the Tigers lost to Missouri, 45-41. It was the second game where he passed for over 400 yards … and lost. Mizzou quarterback Connor Bazelak threw for 406 yards and four scores.
Sam Ehlinger threw for two touchdowns and ran for four more, but Texas lost to Oklahoma, 53-45. Oklahoma's Spencer Rattler threw for three touchdowns, a week after throwing for 387 yards and four scores, in a loss to Kansas State.
Florida's Kyle Trask passed for 312 yards and four touchdowns, but lost to Texas A&M, with quarterback Kellen Mond throwing for 338 yards and three scores.
Among individual leaders nationally, Ole Miss' Matt Corral leads in total offense with 407 yards per game. Costello (Mississippi State), Mac Jones (Alabama), Brennan (LSU) and Trask (Florida) are all among the Top 8. In passing yards per game, Costello leads nationally with 389.3 yards per game, while those other four SEC signal callers are all among the Top 6 there.
In the most ridiculous offensive stat of the season, Alabama and Ole Miss had a combined 1,370 yards total offense in Oxford on Saturday, the most offensive yards in SEC history. But, we haven't seen the obvious mentioned … that was also the worst defensive performance in SEC history, one of the worst in the history of college football.
So, why is this happening? Have college defensive coordinators been replaced by those cardboard cut-out figures that we're seeing in stadium seats empty due to the coronavirus?
No, but the virus may be part of the explanation. Offensive dominance isn't a new phenomenon. Defenses have been on the downslope at a lot of programs in recent seasons, but this season has been unique.
Teams didn't get to have spring practice or intra-squad games. Offensive and defensive lines that lost key personnel from 2019 didn't get to drill, work on timing, build camaraderie and become cohesive units. Incoming freshmen who enrolled early didn't get that extra spring experience with a head start on the season.
Almost all players were away from school during the summer. Players at most every program, including some that were counted on as important contributors, opted out for the season or left to get ready for the next NFL Draft. Some key players have been injured, possibly due to reduced conditioning due to the virus.
Maybe today's offenses have just surpassed defenses and it will take a while for the stop-'em units to catch up. That happens periodically in the college game, but after a while the defenses figure it out.
Maybe all of these are true. But, whatever the reasons, defenses are getting torched, and fans at many places aren't liking it at all.
"Our defense is terrible."
 "Can't they recruit better players!"
 "Fire the coach. Fire the staff. It's time for him to go!"
 "We won't win another game!"
All understandable. But, here's some unsolicited advice from the press box.
Be patient. Enjoy this most unusual, most entertaining and most interesting season. We haven't had one like this before and hopefully, we'll never have another one again.
When Pete Seeger wrote that song back in the 1950s and the Kingston Trio and Peter, Paul and Mary sang it in the early 1960s, it was about flowers and soldiers and things lost, concluding that they are gone to graveyards, every one.
Then, it asks the question, "When will they ever learn? When will they ever learn?"
It's not the graveyard for defenses quite yet. In time, they will catch up with the offenses. Sound defense will be back in vogue and things will be more like they used to be.
But not in 2020.
So we better get used to it for a while. Not sure that Knute Rockne, General Neyland or even Bill Oliver could do anything about it now.